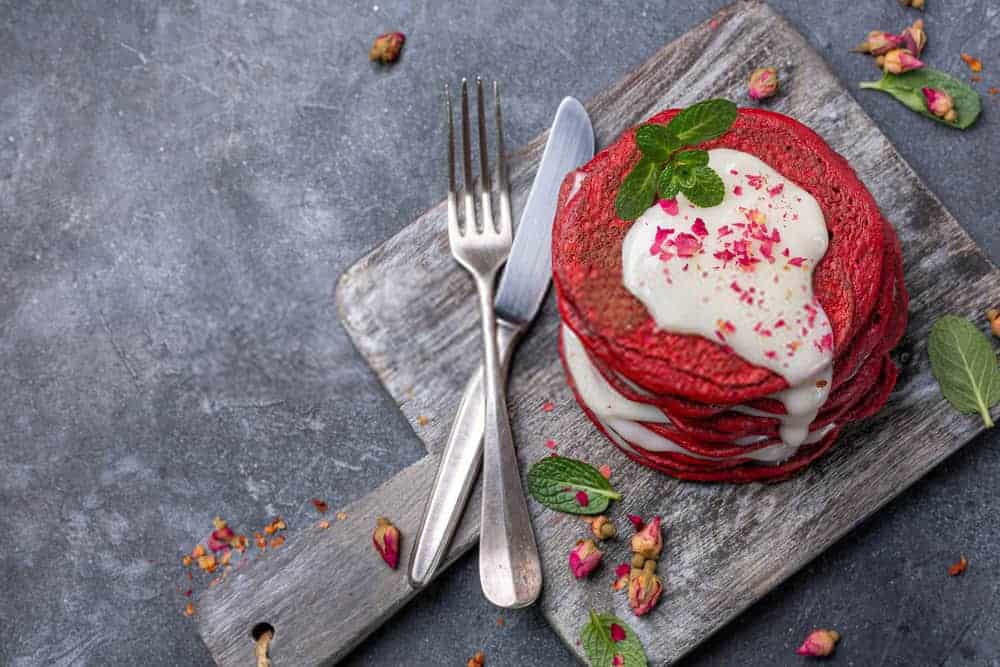 My children love to eat pancakes, especially these super deliciously healthy and gluten-free Red Velvet Pancakes. My children didn't want to eat breakfast earlier but when I started to make pancakes in the morning – they never denied it, in fact, they started to love and eat their breakfast.
And the secret behind it is that there are multiple variations when it comes to making pancakes, right? Sometimes, I make blueberry pancakes, pumpkin oat pancakes, pineapple pancakes, and so on. Thus, my children don't need to eat one kind of pancake every day.
These pancakes are super easy to make using simple ingredients with no artificial colorings, just beetroot!
Moreover, beetroot is a great source of iron, folic acid, high in fiber, and rich in antioxidants. Studies have shown that regular consumption of beetroot can lower blood pressure as well. So, we can easily eat this vegetable more to keep ourselves healthy and prevent disease.
HOW TO MAKE RED VELVET BEETROOT PANCAKES
Basically, you don't need to spend too much time making these deliciously healthy pancakes. They are super easy to make and require fewer ingredients. And you don't need to use any artificial color for the gorgeous red color – simply use 2 small beetroots by following the instructions below. Heat the cast iron grill pan pour the batter onto it and cook until both sides turn golden brown. Serve immediately to enjoy the best out of them or you can also keep them in an oven at 200ºF for later.
Healthy Red Velvet Beetroot Pancakes – Light, Fluffy & Perfect
A tasty, healthy, gluteen free RedVelvet beetroot Pancake. They looks pretty much red in color without any artificial colouring. Just BeetRoot!
Ingredients
1 cup (250 ml) milk

2-3 tbsp honey

2 small beets

1 tsp baking powder

1 tsp vanilla extract

2 large eggs

1.5 cups (gluten-free or regular) plain flour
FOR THE DRIZZLE:
¼ tsp vanilla extract

1 tbsp plain yogurt

1 tbsp milk

2 tbsp cream cheese
Instructions
Peel and chop two small beets; chop into 4 to 6 pieces each one. In a baking dish – transfer the chopped beetroot along with a couple of tablespoons of cold water. Now cover with a lid or foil and bake for 20 to 30 minutes in the oven until cooked through. You may need to add more water so that they don't dry out. So, check the beetroot frequently.

In the meanwhile, let's prepare the ingredients. In a large bowl, add the baking powder and flour. And in a separate bowl – mix together honey, eggs, and vanilla extract.

Now transfer the beetroot to a blender once they are cooked through and add the milk and blitz until blended completely with the milk. Add this puree into the egg mixture and whisk until combined.

Now transfer this wet mixture into the flour and baking powder. To make the batter, whisk with your hand until you have made great quality pancake batter.

Preheat your heavy cast iron or non-stick griddle over medium-low heat. Oil the surface with cooking spray, butter, or vegetable oil.

Take a measuring cup and pour 1/3 cup of batter onto the griddle and cook for 2 to 3 minutes or until you see small bubbles at the edges of the pancakes. Flip and cook for another 90 seconds or until both the sides turn into golden brown.

Now repeat the process with the rest of the batter and make the healthy and delicious red velvet beetroot pancakes.
NOTES:
12 American style pancakes can be made in this recipe.

You must cook these deliciously healthy pancakes over low heat. Because the outside of the pancakes will char, burn, and turn into black – if you cook over high heat. I generally start with medium heat and reduce the temperature to medium-low heat and always get light, fluffy, and perfect pancakes.
I hope you liked the healthy red velvet beetroot pancakes and now you know how to make them super deliciously healthy as well. And if you have made these pancakes – then please let me know how they turned out for you?
And if you have any questions, suggestions, or opinions – then please share them with me as it would be an honor to talk and help wonderful people like you guys!