I love to eat pancakes – because they give me a delicious excuse to eat cakes for breakfast. First and foremost, nothing makes me so giddy in the breakfast like the sight of a plate of pancakes, piled high! And best of all, I love these light & fluffy whole wheat pancakes – because they keep me full until lunchtime.
Since I saw these deliciously healthy carrot cake pancakes in a cookbook – I haven't been able to get them off my mind. These easy carrot cake pancakes are low in sugar and butter – and still incredible.
If you are looking for a tasty but more healthy pancake recipe for your kids – then try our Healthy Carrot Cake Pancakes Recipe. Yummy!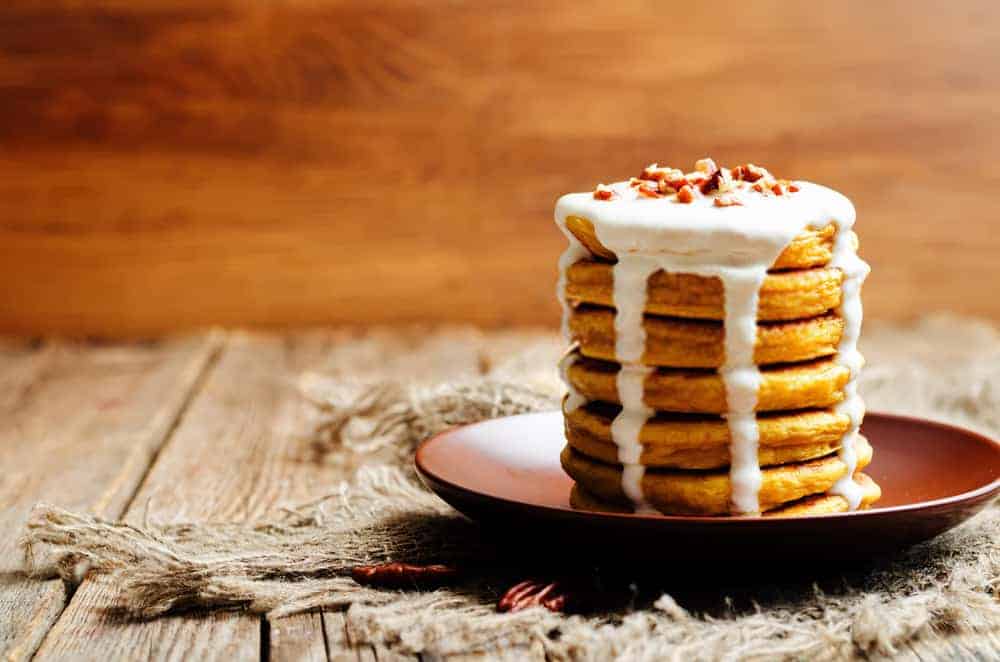 How To Make Carrot Cake Pancakes
These deliciously healthy carrot cake pancakes are super easy to make and a great breakfast treat as well. You just need to make the batter with the ingredients and a griddle to make the pancakes. Serve them immediately to enjoy the best out of it, or you can also keep them warm in an oven at 200 degrees Fahrenheit for later. Enjoy!
INGREDIENTS:
¾ tsp ground cinnamon
½ tsp baking soda
1 tsp baking powder
½ tsp salt
1 cup buttermilk
¼ tsp ground ginger
¼ tsp ground nutmeg
1 tsp vanilla extract
1 egg
1 cup of whole wheat pastry flour – or whole wheat flour
2 tbsp brown sugar or Muscovado sugar
Butter for the griddle
2 cups carrots – finely grated (6 to 8 medium-size carrots)
MAPLE CREAM CHEESE TOPPING FOR PANCAKES
2 tbsp real maple syrup
½ tsp vanilla extract
4 ounces softened cream cheese
2 tbsp milk
Dash of ground cinnamon
GADGETS YOU'LL NEED TO MAKE THESE PANCAKES
DIRECTIONS:
In a large bowl, whisk together the baking powder, baking soda, nutmeg, salt, cinnamon, flour and ginger.
In a small bowl, whisk together buttermilk, vanilla, brown sugar, or Muscovado and egg.
Now stir in the carrots and put the wet ingredients into the dry ingredients all at once. Stir to mix them completely. Set aside and rest the mixture for 5 minutes. Meanwhile, preheat your skillet, or griddle and make the cream cheese topping.
To make the cream cheese uniformly soft and pliable – whisk it in a small bowl so that it lefts no lumps. Try zapping your cream cheese in the microwave for just a few seconds at a time – if it is not soft enough yet. Now whisk in the milk, cinnamon, maple syrup and vanilla. You can also make it sweeten with more syrup or use more milk to thin it out. Set aside.
Melt a big pat of butter in a griddle or heavy cast iron skillet over medium heat. Now take a measuring cup and pour ¼ cup of batter into the hot pan. Now cook the pancakes for around 3 minutes or until you notice small bubbles at the edges of the pancake. Flip the pancake and cook for another 90 seconds or until the pancake turns golden brown on both sides.
Now repeat the process with the remaining batter. You may need to oil the surface of the griddle and adjust the temperature (I generally reduce the heat from medium to medium-low heat) so that you get fluffy pancakes and can prevent burning as well. While you cook the remaining pancakes – transfer the pancakes to an ovenproof plate and keep them in the oven.
Serve the delicious pancakes immediately and top with maple cream cheese. Use extra maple syrup on the side as well – in case your kids want to sweeten it up further.
NOTE:
These extra-yummy pancakes freeze well!
Try to make the buttermilk on your own. Combine 1 tbsp lemon juice with 1 cup of milk. Now let the mixture sit for around 5 minutes, that's it.
Grate the carrots if your food processor comes with a grating attachment. Make sure that you pulse the carrots up to 10 times or until carrots are finely grated. But don't mush them.
I hope you liked these delicious and healthy carrot cake pancakes and now you know how to make them super tasty as well. And if you have made these pancakes – then please let me know how they turned out for you!
And if you have any problems, suggestions, or opinions – then please share with me as it would be an honor for me to help amazing people like you!