These lemon ricotta pancakes are super deliciously healthy and some of the best pancakes you'll ever eat. You will enjoy the bit of brightness and tang from the lemon in these perfectly fluffy pancakes. They are super easy to make and melt in the mouth soft and tender. Once you taste these lemon ricotta pancakes – they are likely to become a new family favourite and I'm pretty sure about that. Whether it's spring or summer – these delicious pancakes are the perfect meal to enjoy with your family.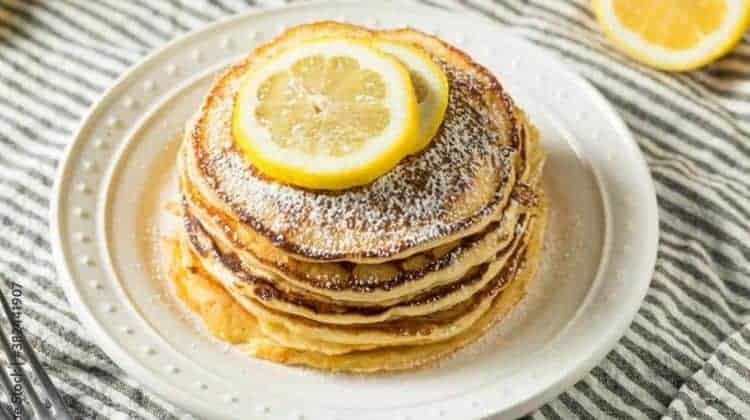 How To Make Lemon Ricotta Pancakes
As I already mentioned that these wonderful and super delicious lemon ricotta pancakes are super easy to make and the perfect meal for any season – whether it's spring or summer. To make these lemon ricotta pancakes – you only need a few required ingredients for the batter and a pancake griddle to cook them, that's it. You can also keep these yummy pancakes in an oven at 200 degrees Fahrenheit for later as well. Though I would suggest serving them immediately to enjoy the best out of it. So, without wasting your time anymore -let's jump into the recipe!
How To Store The Pancakes – Is It Possible?
You can make gigantic amounts of pancakes and keep them warm in the oven for later. But if you want to serve the pancakes at a later date – prepare a baking sheet to place the pancakes on it and now you need to keep them in the freezer for 30 minutes. Now move the pancakes to a freezer-safe container and you can freeze the deliciously healthy pancakes for up to 3 months. And when you feel to eat them – transfer the pancakes to an oven-safe plate and warm for around 30 to 60 seconds. Enjoy!
Lemon Ricotta Pancakes – The Easiest, Simplest & Greatest
The lemon pancakes are most moist and delicious ever! Ricotta adds richness and moisture in it. These lemon ricotta pancakes have been one of my favorites for years, everyone who tries them for the first time, becomes a fan for them ever! 
Ingredients
1 cup milk

3 ½ tbsp granulated sugar

2 tsp baking powder

½ tsp baking soda

1 ½ cups all-purpose flour

½ tsp salt

1 tbsp melted butter

1-2 tbsp lemon zest

3 large eggs

¾ cup ricotta

¼ cup fresh lemon juice

1 tsp vanilla extract
Instructions
Preheat an electric griddle over 350 degrees Fahrenheit. And if you are using a non-stick skillet or a heavy cast iron – then set it over medium heat.

In a mixing bowl, whisk together baking powder, baking soda, flour, granulated sugar and salt for 20 seconds.

In another large mixing bowl, whisk together vanilla, ricotta, milk, and eggs until well blended. Now add lemon juice, lemon zest and butter to milk mixture and blend until combined – you may notice a little curdle, that's fine.

Now make well in the flour mixture and pour the milk mixture into the flour mixture and whisk until combined totally (batter should be slightly lumpy).

Before you start cooking, make sure the surface of the pan is hot enough that a drop of water sizzles on the surface. Now use a measuring cup to pour 1/3 cup of batter onto the hot griddle. Cook for around 3 minutes or until you see small bubbles at the edges of the pancake and the bottom is golden brown. Now flip the pancake and cook for another 90 seconds or until both the sides turn golden brown.

Serve the super delicious lemon ricotta pancakes on the table immediately to enjoy the best out it. Or, you can also keep them in an oven at 200 degrees Fahrenheit for later. Serve warm with maple or berry syrup and dust with powdered sugar in you desire.
Notes
If you notice that the griddle is smoking at any point of cooking – which means the griddle is way too hot. Simply whip the skillet clean and you can easily cook the remaining pancakes with the batter. You may need to use oil the surface of the griddle.
To preheat the griddle – I basically start my cooking on medium heat and then reduce it to medium-low. And I always get fresh, fluffy and delicious pancakes – so don't worry!
While you are cooking the pancakes – keep them in an oven so that you can serve them hot right after finishing your cooking.
Because of the amazing taste of these lemon ricotta pancakes – they will surely as well as quickly become the highlight of your weekend breakfast menu.
I hope you liked the lemon ricotta pancake recipe and now you know how to make it more delicious and other things as well. And if you have made the recipe – then please let me know how they turned out for you!
And if you have problems, suggestions, or opinions – then share them with me as it would be an honour for me to help amazing people like you guys!