Every year, I celebrate the pumpkin-themed week and I love all things about pumpkin. Basically, the pumpkin is packed full of nutrition and so delicious to eat as well. I remember the morning when my brother and I woke up and went to the kitchen. We were super hungry and noticed that our grandma was cooking these super deliciously healthy pumpkin oatmeal pancakes. Whenever I smell the pancakes while cooking – it takes me back to that morning, even today! She was a really nice cook by the way and today, I really miss her.
Well, pancakes are super easy to make and very much healthy, right? Only you need a blender, a pancakes griddle, and no flour required. Pancakes made with pumpkin are naturally gluten-free and dairy-free as well. So, your children will enjoy these easy gluten-free pumpkin pancakes in the morning and in the evening as snacks.
These pancakes are perfectly fluffy on the side and have just the right amount of thickness. Another beautiful thing I like about these pancakes is that – these pancakes are a great treat for breakfast with a drizzle of salted peanut or almond butter plus pure maple syrup.
If your children don't love to eat morning breakfast, don't worry! Try Pumpkin Oatmeal Pancakes Recipe (and they are gluten-free naturally)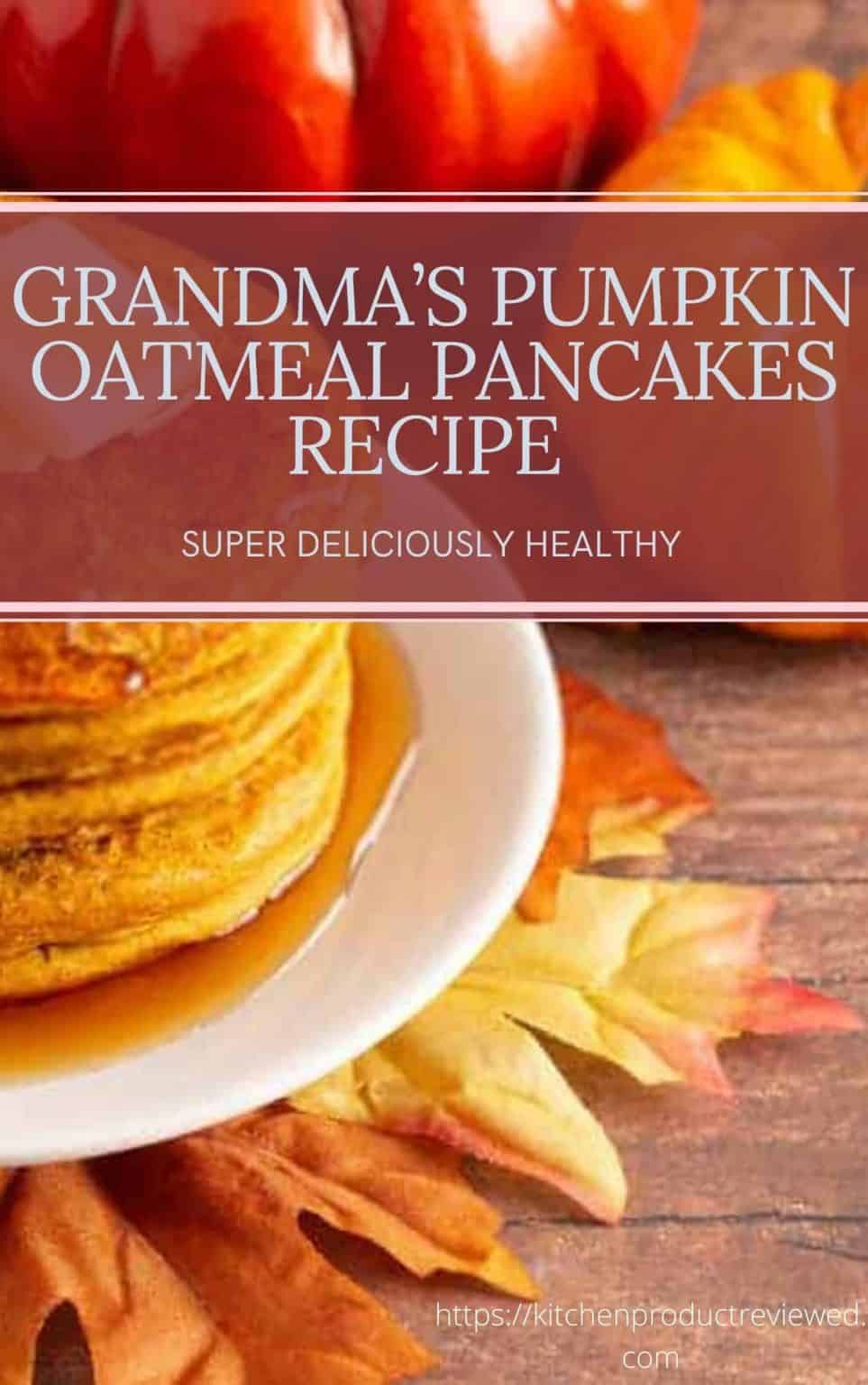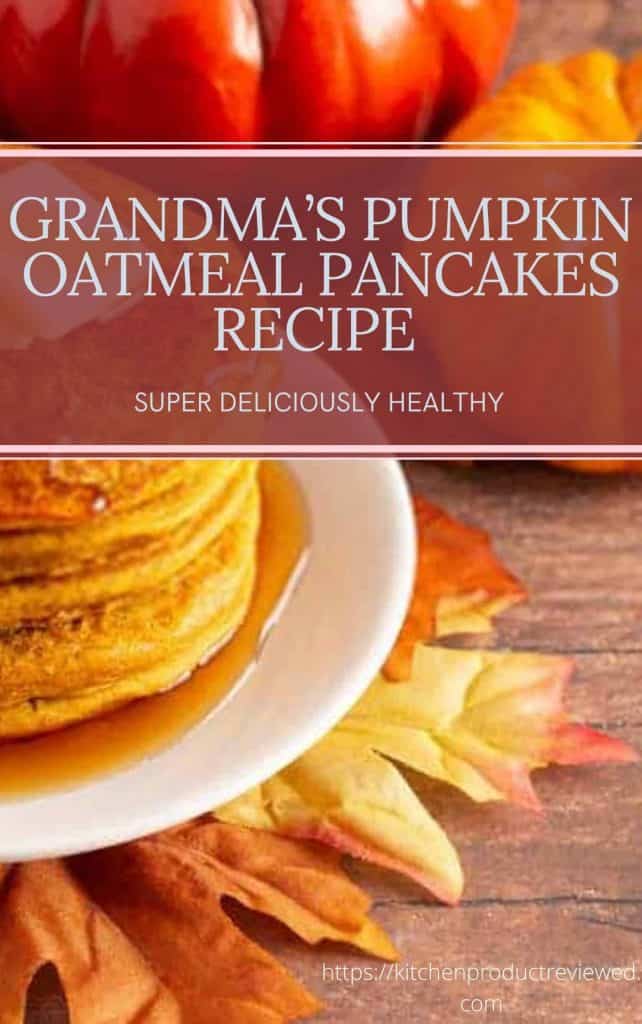 HEALTHY PUMPKIN OATMEAL PANCAKES RECIPE
These yummy and tasty pumpkin oatmeal protein pancakes are super easy to make and have them on the table. You only required some simple ingredients like pumpkin puree, oats, maple syrup, and pumpkin pie spices – that's it. And you can make them right in your blender and by using a griddle for pancakes. Serve them immediately to enjoy the best out of it, or you can also keep them warm in an oven over 200 degrees Fahrenheit for later.
INGREDIENTS:
1 tbsp pure maple syrup
2 tsp baking powder
½ tsp ground ginger
1 ½ cups of (gluten-free) old-fashioned rolled oats (if desired)
1 tsp ground cinnamon
2 tsp vanilla extract
2/3 cup of (unsweetened) vanilla almond milk, or any of your favorite milk
2 large eggs
½ tsp allspice
Olive oil – for cooking
½ tsp nutmeg
¼ tsp salt
¾ cup of pumpkin puree
DIRECTIONS:
Now put all the ingredients into the blender and blend them until smooth completely for 30 seconds to 1 minute on high.
If you are using any non-stick pan or heavy cast-iron skillet – prepare the pan over medium heat. And, if it's an electric griddle – heat it to 350 degrees Fahrenheit. Now you need to oil the surface of your pan lightly with cooking spray, butter, or coconut oil. And if you are using a non-stick electric griddle – then you don't need to oil the surface at all.
Before using the pan – make sure it's hot enough that a drop of water sizzles on it. Now using a measuring cup – pour ¼ cup of batter onto the pan. You will notice small bubbles begin to form around the edges of the pancake – it will take not more than 3 minutes.
Once you notice that the underside of the pancake is lightly golden – take a spatula and flip the pancake. Now cook for another 90 seconds until both sides turn golden brown.
Repeat the process with the remaining batter. You may need to adjust the temperature (I generally lower the heat from medium to medium-low heat) and oil the surface of the pan as well.
Yup, you are ready to taste the super delicious and healthy gluten-free pumpkin pancake. Serve them immediately on the table, or you can also keep them warm in an oven at 200 degrees Fahrenheit.
TIPS:
1. If you notice that the griddle starts smoking – it means the pan is way too hot. Simply wipe the skillet clean and cook the remaining batter and also use additional oil as well.
2. When it comes to managing the temperature – I basically start with medium heat and at some point, reduce the heat to medium-low. And I always get fluffy, delicious, and fresh pancakes and avoid burning as well.
3. Instead of spices – you can use 1 ½ tsp of pumpkin pie spice as well. It's a great alternative by the way and feels free to replace the spice if you want to.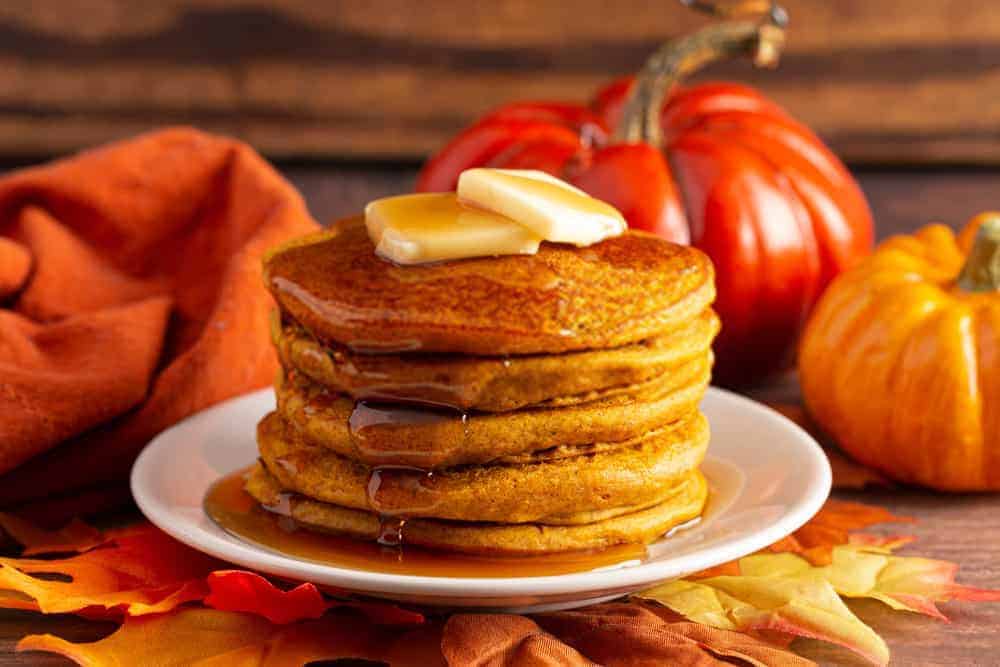 I hope you liked the pumpkin oatmeal pancake and now you know how to make them super deliciously healthy and other things as well. And if you have made them – then please share with me how they turned out for you!
And you are always welcome to share any of your problems, suggestions, or opinions – as it would be an honor for me to help amazing people like you guys!