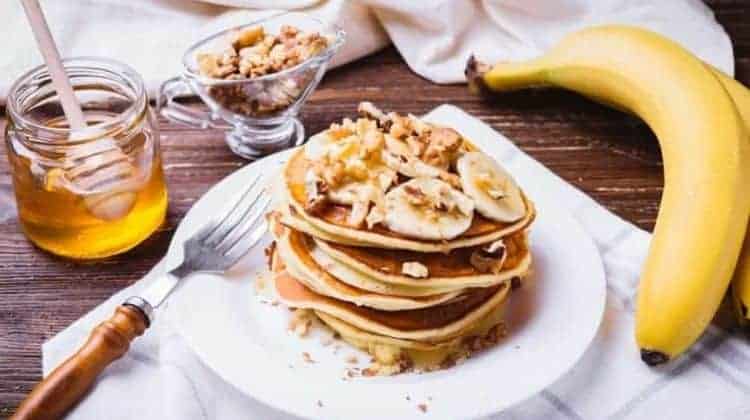 Whenever I see the oatmeal fluffy banana pancakes – it reminds me of those days I saw the banana oat pancakes on the table mom made for me when I was a little angel of her.
There is no sugar, no butter or any kind of added sweetener – in these deliciously fluffy as well as healthy pancakes. And these banana oat pancakes are super easy to make as you can make them right in your blender, can you believe it?
However, to make these super delicious pancakes – you will only need gluten-free old-fashioned rolled oats, almond milk or (any milk of your choice), banana, baking powder, vanilla extract, cinnamon, eggs and salt. Especially thanks to the ripe bananas – as they make these pancakes naturally sweet and fluffy as well.
How To Make Gluten-Free Banana Oat Pancakes
Deliciously fluffy banana oat pancakes are super healthy, tasty and also a great ideal meal for the simple yet delicious breakfast for lazy mornings, right? They are naturally sweetened as well as they are gluten-free and also dairy-free. Only you need to prepare the batter with the ingredients and a griddle for pancakes. Instead of wheat flour – these super deliciously healthy banana pancakes are made with totally oat flour and the recipe yields about 8 pancakes as well.
Gluten-Free Banana Oat Pancakes – Your Kid's Favorite
Banana oat pancakes are really great for lazy mornings; they are healthy, naturally sweetened and tastes amazing. Instead of wheat flour, these pancakes are made with 100% oat flour. They are both dairy and gluten free.
Ingredients
½ tsp baking soda

¼ tsp ground nutmeg

2 tsp butter or coconut oil – melted

1 tsp maple syrup or honey

½ tsp salt

1 tbsp lemon juice – about 1 small lemon juiced

½ tsp ground cinnamon

1 cup of oat flour

2 eggs

Scant 1 ¼ cup of banana, mashed (about 9.5 ounces or 3 small bananas)
Instructions
Use a small mixing bowl and add the mashed bananas, lemon juice, coconut oil or butter, and honey or maple syrup. Stir until combined totally.

Now add the eggs and beat in the mixing bowl. And if you find that the coconut oil goes back to its solid state – put in a microwave for short 20 second or until it is melted again.

Take another medium-size bowl and add baking soda, oat flour, salt and spices. Whisk them together until combined.

Now pour the wet ingredients into the dry ingredients and with a big spoon – stir the mixture until they get mixed and thoroughly moistened. Make sure that you don't overmix it.

Step aside the batter and let it sit for 10 minutes. You can use a bit of milk or water if you desire to thin out the batter.

Now you need to preheat the electric griddle over 350 degrees Fahrenheit or use a non-stick pan/heavy cast iron skillet over medium-low heat. You may need to oil the surface of your pan lightly with cooking spray, coconut oil or butter. (And if you are using a non-stick griddle like I use – then you don't need to oil the surface of your pan.)

When the griddle is hot enough, use a measuring cup and pour ¼ cup of batter on the griddle. Keep some space around the pancakes so that they can expand so easily. Now cook the pancakes for 3 minutes or until you see small bubbles at the edges of your pancakes. Turn them and cook for another 90 seconds or until the pancakes turned brown on both sides.

You may need to adjust the heat at this point to keep the surface hot enough and use additional oil if you desire. Repeat the process with the remaining batter to get most delicious banana oat pancakes.

Now you need to serve the tasty banana pancakes immediately to enjoy the best taste out of it. Or, you can keep them warm in an oven at 200 degrees Fahrenheit as well.
I hope you liked the banana oat pancakes and now you have the idea of how to make these pancakes super delicious once you prepare the recipe for your kids – then they are going to be a fan of the magic of your hands.
These banana oat pancakes are easy to make and require a few simple ingredients. They are gluten-free, dairy-free and there is no added sugar as well. Thanks to the ripe bananas – as they are enough to make the pancakes naturally sweet.
If you have prepared the pancakes – then please let me know how it turned out. And if you have any opinions, questions or suggestions – then please share with me. I would love to hear from amazing people like you.