There is nothing quite like a plate of homemade meatballs and spaghetti – when it comes to satisfying comfort food, right? This is a wonderful dish that you can also serve your guests with confidence that everyone is going to praise your cooking.
This Italian meatballs recipe is super easy as it's called. Using a few simple ingredients for seasoning, ground meat (whatever you prefer), and serving them with your favorite sauce is going to satisfy your cravings and your guests, are going to be your fan also.
Rather than using a stovetop to turn the meatballs brown – you can go for baked meatballs as they will ensure that you cook with much ease and less mess in your kitchen.
Don't skip ricotta cheese to add to your ingredients. I have experienced over years with several recipes and noticed that meatballs are great when you make them with ricotta cheese. And that's the magic to this classic Italian meatball recipe too.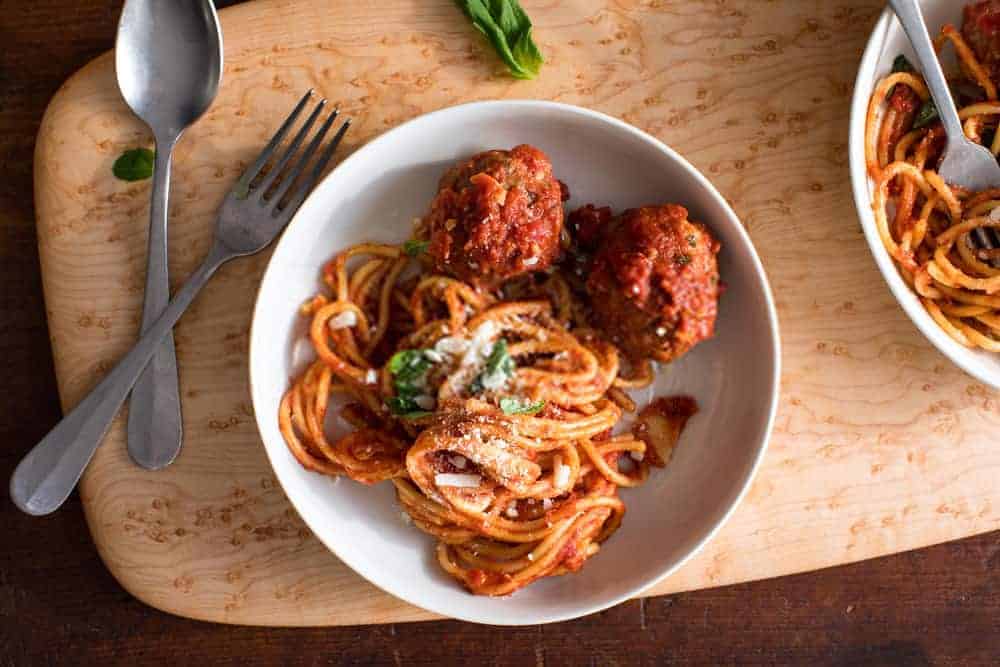 Thinking about delicious meatballs? – there is no comparison with Classic Italian Meatballs Recipe and a great morning food for your kids.a
Easy Italian Meatballs Recipe
However, these delicious meatballs feature the perfect blend of spices, seasoned Italian breadcrumbs, a mix of ground beef & pork, and the seasonings as well. It's okay if you want to use plain breadcrumbs but seasoned crumbs add extra flavor. So, make sure you have added extra seasoning to your meat mixture – if you opt for plain.
It would be better if you ground meat on your own with a meat grinder – because you don't know how fresh it is and the quality as well, right?
To BAKE MEATBALLS:
First of all, you need to preheat your oven to 425 degrees Fahrenheit. Now mix the meats and seasoning all together to prepare the meatballs.
Now prepare an oiled rimmed baking sheet to place the meatballs on it.
After baking for about 10 minutes – use a spatula to turn over the meatballs.
Now keep baking until browned and cooked well for around 10 to 12 minutes.
INGREDIENTS:
1 lb ground beef chuck
Olive oil
2 finely chopped garlic cloves
1 lb ground pork
2 eggs
½ cup fresh bread crumbs
½ cup of pecorino Romano cheese, grated
¼ cup milk
1 tsp ground black pepper
½ cup of (roughly chopped) Italian flat-leaf parsley or basil or a mix
1 tbsp kosher salt
DIRECTIONS:
Take a large size bowl and put the breadcrumbs and milk together into the bowl.
Now you need to add the cheese, egg yolks, garlic, salt, and pepper in that bowl and stir until combined properly.
Now in that bowl – add the ground meat and parsley and blend them all with your hand or a large spoon. To roll the mixture to make balls – use a ¼ cup measuring cup to portion your mixture. (Don't worry if your meatballs aren't perfectly shaped – because craggy meatballs used to hold the sauce better.)
Take a large skillet and place it on over-medium heat. To coat the bottom of your pan – use some olive oil. Add as many meatballs as will easily in the pan – once the pan is hot enough. The meatballs will sizzle at the touch of the surface of the pan (if they don't – means your pan is not hot enough or not ready to start the cooking.)
Now you need to cook the tasty meatballs until they are browned. Now lower the heat, cover the pan and cook until they are cooked through and firm – all these kinds of stuff should take around 15 minutes overall.
Now you just need to repeat the process with the rest of the meatballs. Pour olive oil when you need and this will add a fresh layer to your meatballs.
You are ready to enjoy the meatballs. Serve them immediately with the homemade tomato sauce or you can go with your favorite tomato sauce as well. And I can ensure one thing that you'll never be able to forget these authentic Italian meatballs recipes.
IMPORTANT NOTES:
1. Use a few slices of hearty country bread and trim off the crust from them to make fresh breadcrumbs. Now tear the bread into large pieces and use a food processor to turn them into coarse pea-sized crumbs.
2. After making delicious meatballs – you can easily freeze them for up to 2 months.
3. If you don't want to mix the meat and seasoning by using your hands – you can use an electric mixer to blend them.
4. Use a measuring cup and coat ¼ cup lightly with oil and scoop the meat into portions.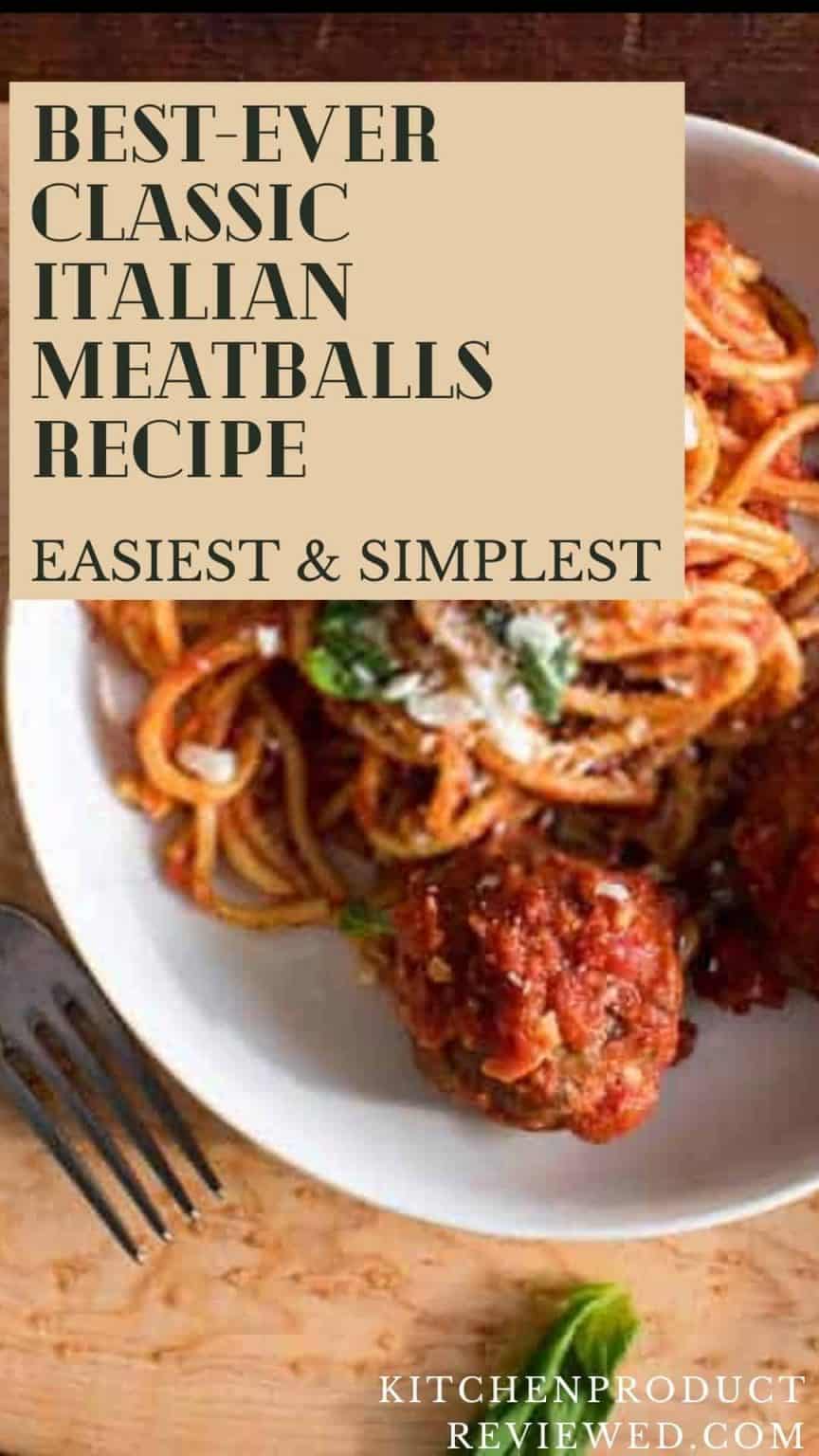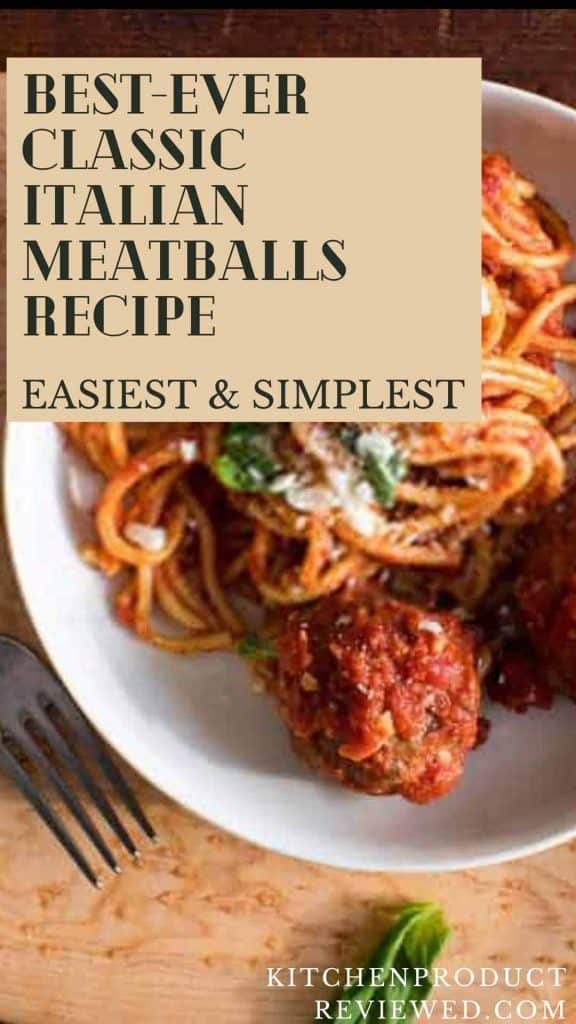 Well, we have talked about everything to make the best Italian meatballs recipe ever for you or your family. Don't miss the ricotta cheese which is the magic trick that makes these classic meatballs are beyond that, right?
And please share if you have made this recipe for your family or friends and how it was. I would love to hear from amazing people like you guys.