If you are the potential customer who wants to buy a meat grinder but don't know from where to begin – then these simple yet useful tips and techniques are going to provide a lot of value to you. If you have no clue at all about it – even I can't tell you which one would meet your preferences, but I can give you some advice that might help you to pick the very best meat grinder which also satisfies your needs.
There are numerous types of meat grinders available in the market – each unit does the same thing, but each one has its own advantages and disadvantages as well. And it's very difficult to choose the best one that meets your requirement, right? Let's see some of the important recommendations to get you started!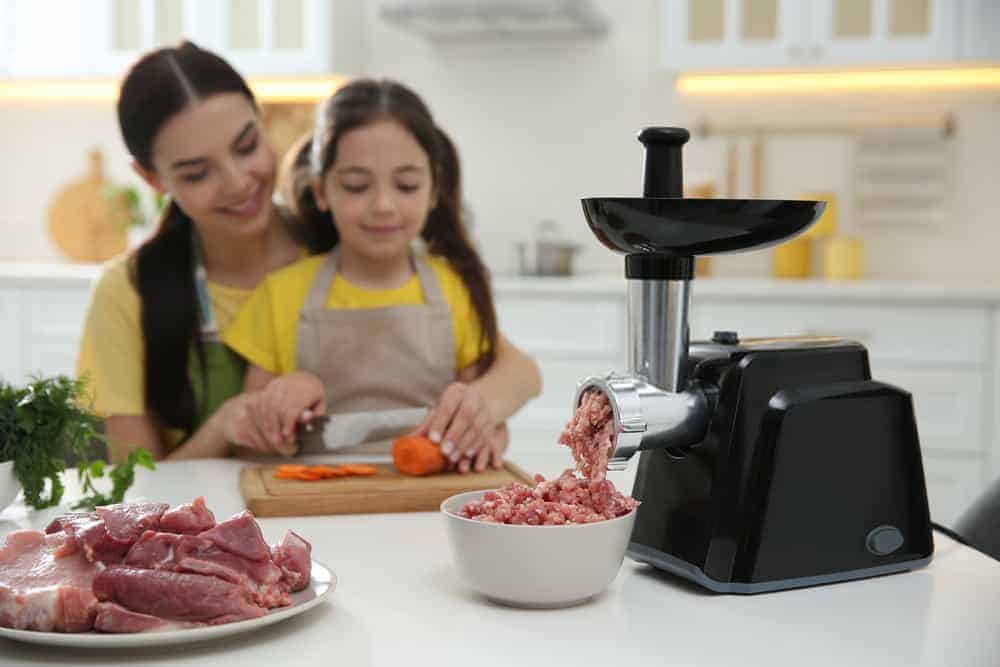 5-Tips

For First-Time Meat Grinder Buyers
1. Purpose of Buying A Meat Grinder
First of all, you need to figure out why are you buying a meat grinder? Is your only purpose grinding the meat? (Meat grinders can process multiple types of food).
You can buy and use a meat grinder to process vegetables, nuts, fruits, and many more things you can imagine, whether it's a manual meat grinder or an electric one.
The machine saves your time, money, and efforts as well. It's a good friend that helps you in the kitchen and after some time you will realize that the unit has become your family favorite.
2. Homemade Sausages Become A Piece Of Cake
You can easily make sausages at home with a meat grinder. Whether it's a manual or electric unit – you just need to add the sausage stuffing tube to the meat grinder to make the beautifully shaped sausages, right?
It becomes a piece of cake making homemade sausages – once you own a meat grinder. And if you are also insane about delicious sausages and frequently eat them – then it would be good news for you, right? If you eat sausages frequently – then owning a meat grinder can save your time and money in the long run. And you get quality and fresh ground meat which adds moisture and texture to the sausages – if you make your meat on your own.
Well, most of the meat grinder manufacturers attach at least two tubes with their products. But don't worry – you can buy another one or more if you desired. You only need to ensure that the grinding tube is compatible with your particular meat grinder. Go ahead!
However, making sausages with an electric meat grinder is much easier compared to the manual one. You can save your time and effort when using an electric unit as the grinder automatically performed by the motors and you can spend time pack the sausages equally.
3. Grind Bones For Your Pet with A Meat Grinder
Well, most of the grinders, even some of the industrial meat grinders, can't grind the bones for your pet or whatever is your requirement. In the market, most of the meat grinders come with motors that are weak enough to grind the bones.
And if you grind bones with your meat grinder – then you may face structural damage. Moreover, if you grind bones in the machine – then it will automatically void the manufacturer's warranty.
Never use a grinder to grind tough bones such as pork and beef – since it will definitely cause internal damage and I'm pretty sure that you don't like it, right?
There are some specialized models designed to process soft bones like poultry. If you want to grind tender bones several times – then you should look for a commercial grinder that comes with a high-power rating and a stronger built-in structure.
4. The Power Source For The Meat Grinder
The power source is the most essential factor – when you are buying a meat grinder, right? Some people like to use a manual-powered meat grinder, but electric meat grinders are very popular to its users.
Why buy a manual meat grinder – when an electric unit can finish the job quicker and easier, right? Because manual meat grinders can do their job for years without a noticeable reduction in its quality. But electric grinders are marginally harder to maintain. Manual grinders are cheaper, easy, and contains fewer moving parts.
5. Where To Use A Meat Grinder
If you are using it outdoor and don't want wires on the ground – then a manual meat grinder would be your first priority, right? But if you are using it indoor where power connectivity is not an issue – then you should definitely go and purchase an electric meat grinder.
I hope you liked the tips and tricks for the first-time meat grinder buyers and now you know what to look for and other necessary things before picking the best meat grinder for you, right?
If you want to share something, whether it's an opinion or a problem – then please let me know as it would be an honor for me to help amazing people like you guys!