Well, a bread machine is such a small yet one of the most commonly used kitchen appliances, right? And if someone asks me to pick my favorite kitchen invention from the last couple of decades, I would definitely pick the bread machine. Because it has helped me a lot and it made my life a lot easier.
The process of bread making becomes easier with the help of a bread machine. Even then, a huge number of people especially beginners can not make the best use of it and as a result, they face a lot of unwanted problems. The most common problems are, the bread has a coarse texture, it does not rise, the loaf is short, the crust is too dark, un-browned top, and other common problems.
But, hey – all these problems can be easily solved. In order to do that you just need to follow some great but simple trips, right? Hence, we have made this complete guide on bread machine tips and tricks that help you a lot for every time you will make the perfect and delicious bread.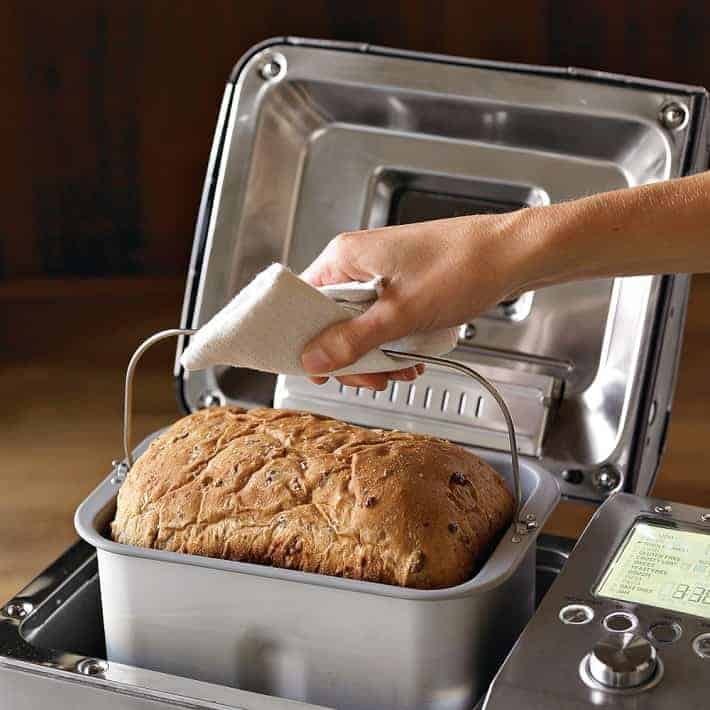 [Top10] Bread Machine Tips And Tricks
Here you have made a quick list of 10 Amazing Bread Machine Tips and trick that you should follow from today, right?
Let's jump into the quick short list of bread machine tips and tricks, shall we?
01. Read The Manual [In-Detail] Of Your Bread Machine
Read the entire manual carefully and try to follow it thoroughly.
02. Most Beautiful Things Are (Most) Simple… And Charming
Try to start as simple as possible. Don't try to make difficult recipes at the beginning. Try making simple recipes first – for example: a pizza dough or a loaf of white bread and you can also try other simple recipes as well.
03. Try Using Fresh Ingredients
Want a delicious bread that won't decrepit quickly then try using ingredients those are good and fresh, right? And we recommend to store the dry ingredients at room temperature. You can follow your own rules as well.
04. Using Bread Flour Is A Great Option
Basically, bread flour is a better choice comparing to other wheat flours, right? Even, the flour will endure the actions of your bread machine better. Also, your bread will get better volume and texture by using bread flour.
05. Make A Better Substitutions Choice
Flour varies, right? It's not same all the time. Also, the all-purpose flour and the whole wheat flour provide different effect on the moisture. Also, we recommend to use ½ tsp of instant yeast and ¾ tsp of active dry yeast for every single cup of flour. While using the express cycle, then the amount of the yeast should be doubled or tripled depending on your beloved bread machine.
06. Give A Separate Time To Your Yeast
Be aware of having a confront contact of the yeast with salt or sugar since this will enhance its activity. Also, protect the yeast from getting too close to the water.
07. Try To Buy Quality Bake Utensils
High-quality baking pans play an important role to maintain your bread quality. You should have a dough scraper which is also we recommend.
08. What Would Be Better [Margarine or Butter]?
If you desire to add these two or one of them, then cut them into small pieces and add to your recipe. By following this process, they will be mixed properly with the other of your ingredients.
09. No More Rush – Wait For Half An Hour
You heard right, give at least 30 minutes to cool down your freshly baked bread. It's necessary before you slice and serve your bread.
10. Maintain The Amount Of Ingredients
Ingredients matter a lot to your bread. In general, we just collect all the ingredients that need and then put it as we want. You may want to add the liquid at the beginning or at the end both are same, but it's actually not. So, try to maintain the order of the ingredients. At the beginning, put yeast, water and the other things at the end.
Therefore, here are the amazing bread machine tips and tricks that we hope, help you out. Yet there are other wonderful tips that exist but these are the great ones we have shortlisted to help you out. And please let us know if you have any problem, question or suggestion.
Please don't hesitate – you are always welcome to share your opinion 😊