There is nothing but a cast iron griddle or skillet that will improve the versatility of any grill. Cooking over an open fire on a grill is basically a simple way to make your meal. The fire is what does the cooking whether derived from gas or burning charcoal. The cooking on a grill can be intense in heat or can be held low to roasting slowly. But the only limitation is that the transfer of heat is slower compared to other forms of your favorite cooking and I am pretty sure that you had already experienced it, right?
When cooking with a grill, hot air helps and finishes most of your cooking. And the heat of the metal is used to cook food when sauteing in a pan. Thus, the heavier and solid the pan, the more heat it can hold to transfer to the food to cook it evenly. And the best part is that there is no pan heavier than cast iron which also makes it extremely cool for cooking. Again, you will definitely be surprised to know that cast iron imparts nutritional iron to foods as well.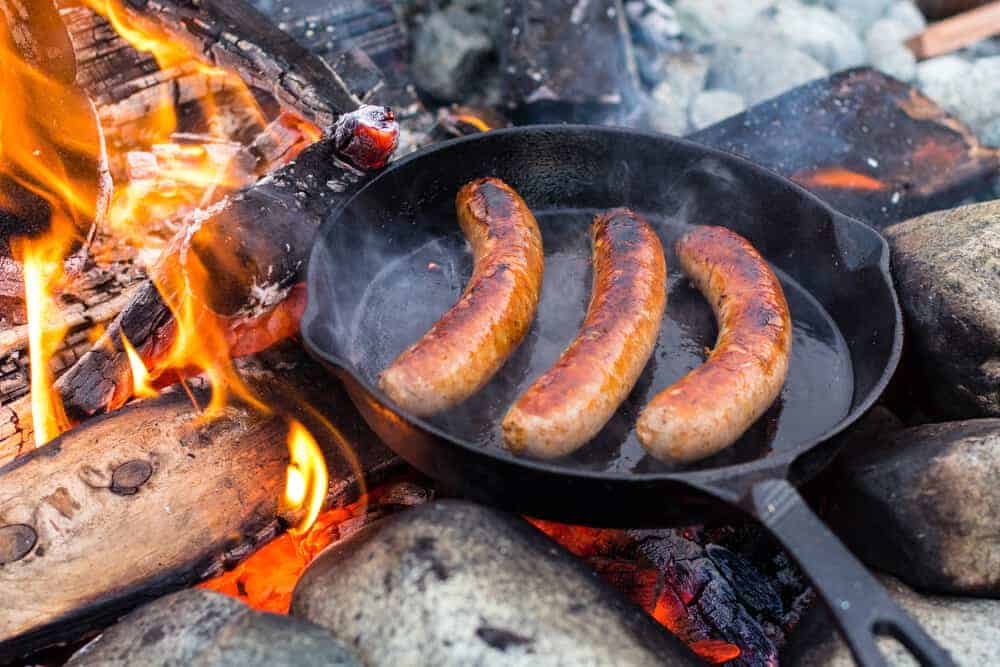 Tips To Use Cast Iron on the Grill (Step-by-Step)
1. Step Up the Heat
It's not necessary whether the grill has come from a cheap grocery store or an expensive monster – all the grills can provide more heat into the foods. Well, there are so many kinds of grills, especially the gas variety, can cause temperature problem in order to even cooking. But a cast-iron pan can solve this problem with much ease as it will absorb and distribute heat perfectly to every corner. Now take a heavy cast-iron skillet or griddle and place it over the flame directly and wait for ten minutes. The cookware will hold the temperature for a long period of time and you can also adjust the fire to high or low.
Read more: Best Griddle for Pancakes
2. Grill Then Sear or Sear Then Grill
The combination of high and low-temperature cooking would be great – when it's about many cuts of meat. Basically, the high-temperature blast sears and caramelizes the surface. And the low-temperature cooking period helps the meats to be cooked through as you wish. For almost any cut, this type of cooking is perfect but steaks and chops are excluded. And this could be a great way to make the perfect burger.
3. Grill Thin Foods, Such as Fish
Grilling could be fun, easy, and tasty if the food being cooked is thin or small. Vegetables, fish and seafood can be a bit difficult. But if you are using a cast-iron skillet – then this is going to make your cooking easy and effortless as well. Whether you are cooking over high direct heat or low indirect heat – using a cast iron pan on the grill gives much space to hold some troublesome foods safely.
4. Keep the Foods Warm
By using a cast iron pan, you can easily keep your cooked foods warm. Simply, set a piece of cast iron cookware on the edge of the grill, keep it far from the heat as much as you can provide for the perfect space to keep foods warm. This will keep the pan hot but make sure that the pan is not too hot that will burn the foods. Especially, while cooking a large number of items or any one thing, this is a perfect space to keep the meal at temperature while the other meal comes together.
I hope you liked the tips to use cast iron on the grill and now you how can you vastly improve the versatility of your cooking. And please let me know which tip you liked the most or if you applied any of these tips – then please comment below.
And if you have something that you want to share with me or have any problems or opinions – then please inform me as it would be an honor to help amazing people like you guys!