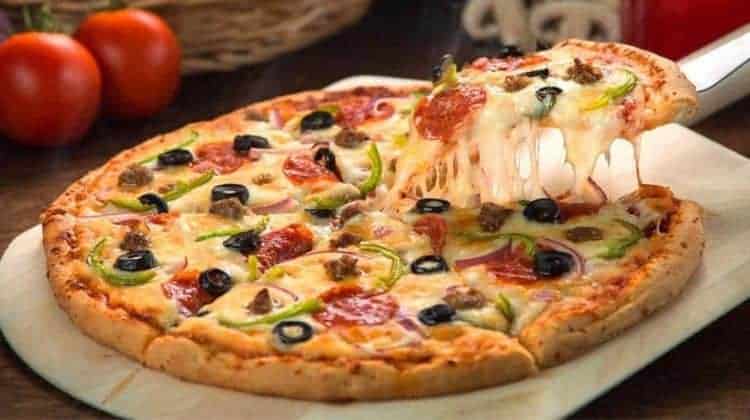 If you are wondering, "How to make cheese pizza or how tough or easy is it to make?" Cheese pizza is very much delicious, easy to make, and healthy as well. And the amazing thing is that you can make it at home easily using your regular kitchen gadgets.
Well, if you are wondering while choosing cheeses for your pizza, you want to have a lower moisture content and melt beautifully as well. However, this cheese pizza recipe uses fresh mozzarella, Grana Padano, and quark. Mozzarella is a soft cheese that Grana Padano, but because Grana Padano grated before being placed to the pizza it melts nicely.
How To Make Cheese Pizza At Home?
This delicious homemade cheese pizza is really easy to make. It's so easy to make in no time with some simple ingredients.
Ingredients
1 can crushed tomatoes (15-ounce)

1 lb Pizza Dough

1 tablespoon Italian seasoning (Oregano, Rosemary, Marjoram, Whole Dried Basil, Sage, and Thyme)

Grana Padano cheese (0.7 oz)

2 tablespoons quark cheese

Fontina Cheese (2 oz)

Fresh mozzarella cheese (4 oz)
Ingredients For Side Salad:
1 tablespoon creamy mustard sauce

1 head butter lettuce

1 apple

2 tablespoons roasted almonds

Carrots (6 oz)
Instructions
Preheat your oven to 475°F. Peel the garlic and chop them roughly. On the large side of a box grater, grate your fontina cheese. Make small pieces of your mozzarella cheese. Also, on the small side of a box grater, grate your Grana Padano.

To make the sauce, heat 1 tablespoon of olive oil in a small pot on medium-high. Season with salt and pepper after you add the chopped garlic. Cook and stir occasionally until slightly softened. This will take 30 seconds to 1 minute.

Season with salt and pepper after you add the tomatoes and Italian seasoning. Cook and stir frequently for about 4 to 5 minutes or until thickened slightly. Turn the heat off and mix the quark cheese and after that season with salt and pepper to taste.

Now, assemble your pizza for baking. Oil a sheet pan lightly. On a work surface, stretch and roll the dough to a 14-inch thickness with your hands and a rolling pin (you may also use a wine bottle). Place it to the sheet pan very carefully. And let it rest for about 5 minutes more if your dough is resistant. However, rub into your pan to coat the bottom in oil.

Around the edges, leave a 1-inch border and use enough sauces onto the dough to coat. Season with salt and pepper after you evenly top with the grated fontina cheese, half the grated Grana Padano cheese and torn mozzarella cheese.

The recommendation is to use Blue Apron's to bake for about 17 to 19 minutes. Or, bake until the crust turns golden brown and the cheese is melted. However, it takes 14 minutes generally. After you remove from the oven, let it stand at least for about 2 minutes.

Place your pizza to the cutting board to cut into pieces of equal-sized. Serve the salad on the side while you are serving the sliced pizza. Use the rest of the grated Grana Padano cheese to garnish the pizza.
Well, here is the complete recipe about how to make cheese pizza and hope you enjoy the recipe and this will help you to make your pizza easily in a short period of time. I have mentioned the salad ingredients so that you can easily make the salad to enjoy with your cheese pizza.