These super gorgeous and deliciously healthy pancakes are light, fluffy and perfect for any special treat or a holiday. Those of you who know me can relate that I have got a little red velvet obsession. I love the deep and stunning red colour with cream cheese glaze on the red velvet pancakes.
I clearly remember that when I was a little angel of my mom – she used to surprise me with these yummy red velvet pancakes on Christmas morning.
And one of the best things I love about pancakes is that you can enjoy several types of tasty pancakes instead of eating one kind of pancake. There are multiple variations about pancakes that you can make easily with a hand mixer or blender, and a griddle for pancakes – that's it!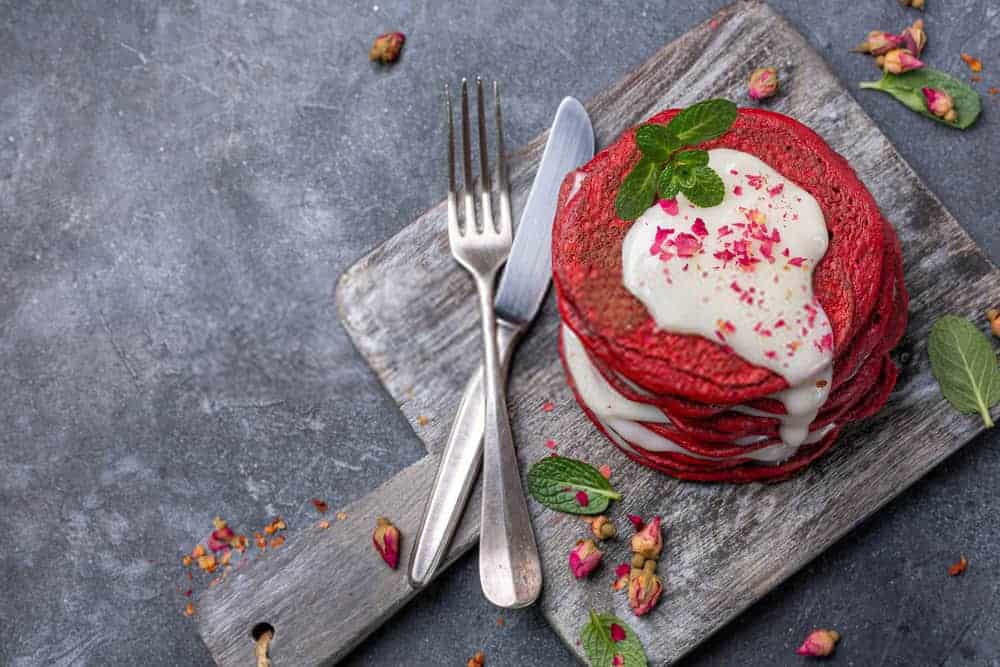 How To Make Red Velvet Pancakes
Basically, red velvet pancakes are all-time super delicious and healthy food – perfect for any celebrations or holidays. Kids are fond of pancakes – and I hope you are not out of this list.
Red velvet pancakes are deliciously healthy AND super easy to make – you just need to blend all the ingredients in a hand mixer or blender, use a pancake griddle to cook them.
Serve them immediately with the cream cheese glaze to taste the best out of it. Or you can put the pancakes in the oven to keep them warm at 200 F temperature.
Extra-Yummy Red Velvet Pancakes with Cream Cheese Glaze
Red velvet pancakes are great with mini chocolate chips and a cream cheese drizzle enough to make a beautiful-sweet breatfast for any day.
Ingredients
2 tsp unsweetened cocoa powder

3 tbspsugar

2 large eggs

1 ½ cups of all-purpose flour

1 ½ cups of milk

1 tbsp baking powder

¾ tsp salt

2 tbsp redliquid food coloring

3 tbspvegetable oil
FORCREAM CHEESE DRIZZLE:
3 to 4 tbsp milk

4 ounces cream cheese – softened

½ tsp vanilla extract

Pinch ofsalt

¾ cup ofsugar – powdered
Instructions
Takeyour electric griddle and preheat at 350 F. In a large mixing bowl – add thecocoa powder, sugar, baking powder, flour and salt. Whisk together untilcombined completely.

Inanother bowl – add the egg yolks, food coloring, vegetable oil, milk and whisktogether until combined totally. Now pour the wet ingredients into the dry ingredientswhile whisking the mixture and stir until moistened.

In another separate bowl – place the egg white and beat until stiff peaks form. Tolighten the pancake batter – mix one-third of the egg whites into the batter.Now fold the rest egg whites into the batter thoroughly.

If you are not using an electric griddle like me – heat a heavy cast iron ornon-stick griddle over medium heat. Brush melted butter or use non-stickcooking spray to oil the surface of the pan. Now use a measuring cup and pour 1/3cup of batter onto the griddle.

Before you put the batter on, ensure it is hot perfectly. Cook for 3 minutes oruntil you see small bubbles and the edges dry out. Now flip it to for more 90seconds. Keep the pancakes hot – use a baking sheet and place the pancakes inthe oven while cooking the rest of the batter.

Now you will need to continue the process and complete the cooking. At this point –you may need to oil the surface of the pan and reduce the heat temperature (Ialways reduce heat from medium to medium-low heat and I get fluffy pancakesevery time).

Forcream cheese drizzle: In a bowl – beat the vanilla, cream cheese, salt andpowdered sugar. To make a pourable consistency – use enough milk in the mixtureas well.

Now serve the beautiful and deliciously healthy pancakes with the cream cheese drizzle on the table immediately to enjoy the best taste out of it. Or, put thepancakes in your oven at 200 degrees Fahrenheit to keep them warm.
I hope you loved the yummy and deliciously healthy red velvet pancakes. Now you know how to make the pancakes tasty and give a stunning look as well. Actually, red velvet pancakes look super beautiful with the cream cheese glaze.
If you have made the pancakes – then please let me know how it turned out! And if you have any problems, suggestions or opinions – then please share it with me as it would be an honor for me to help amazing people like you guys.