Jump to Recipe
If you have a sweet tooth for cakes – and still you didn't try the chocolate whiskey and beer cupcakes also known as Irish car bomb cupcakes – then I would say that you've missed the most delicious dessert on earth.
We have followed this wonderful Irish car bomb cupcakes recipe from Dave Liberman at Smitten Kitchen. Thanks for his contribution to this amazing recipe.
Wanna try the top-notch sweet dissert ever made on the earth – then try these Chocolate Whiskey And Beer Cupcakes blindly.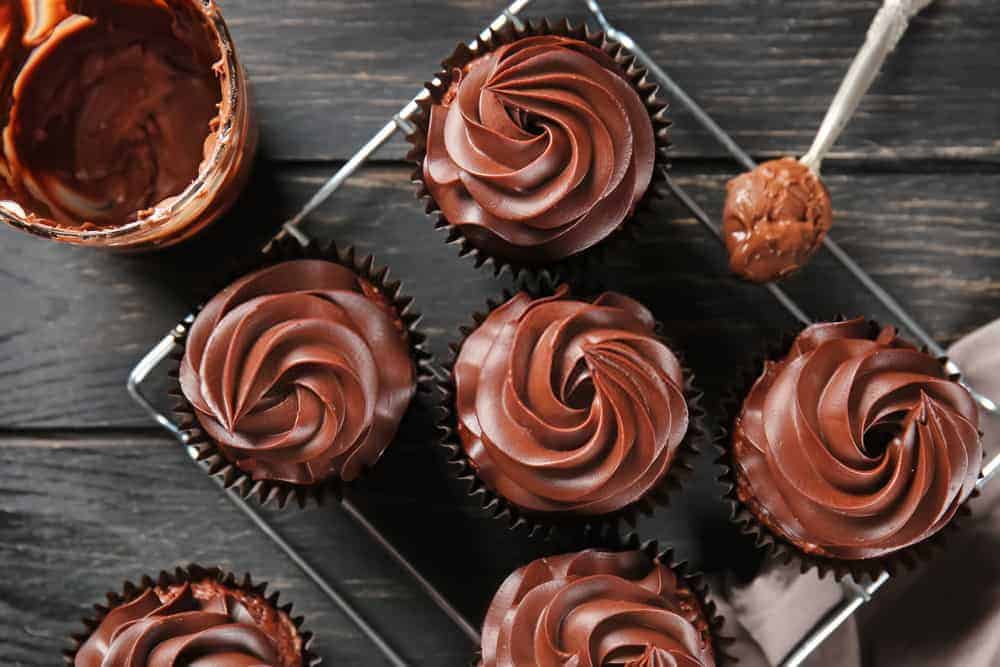 Dave has shown how to prepare and manage things properly – so that you can get not burnt, perfectly fluffy, and sweeten enough Guinness chocolate cupcakes with Irish whiskey frosting on the table.
Chocolate Whiskey And Beer Cupcakes
Best-Ever sweet dessert you have tasted ever on this earth. Guinness Chocolate Cupcakes with Irish Whiskey Frosting.
Ingredients
To prepare the chocolate cupcakes:
3/4

cup

(unsweetened) cocoa powder

2

cups

(all-purpose) flour

2

large eggs

2/3

cup

sour cream

1

cup

Guinness stout

1

cup

(unsalted) butter

2

cups

sugar

1 1/2

tsp.

. baking soda

3/4

tsp.

salt
To prepare the ganache filling:
2/3

cup

heavy cream

1 to 2

tsp.

Irish Whiskey

8 oz

bittersweet chocolate

2

tbsps.

butter, room temperature
To prepare the Baileys frosting:
3 to 4

tbsps.

Baileys

3 to 4

cups

confectioner sugar

1

stick

unsalted butter, (room temperature)
Instructions
For the cupcakes
Preheat your oven to 350 F. Along with liners – line 24 cupcakes.

Heat a large sauce pan over medium heat and bring the stout and butter to a simmer. Now add the cocoa powder it in and whisk together until smooth. Rest until cool.

In a separate bowl – add ¾ tsp. salt, sugar, flour and baking soda – whisk together until smooth.

In another separate bowl, beat the eggs and sour cream together using an electric mixer. Add the stout-chocolate mix to the bowl and combine.

Add the flour mixture and beat on slow speed. To fold batter easily – you can use a spatula till totally combined.

Into the lined cupcake tin – pour the batter, fill 2/3 or ¾ of the cup. Until the pick comes out clean – bake the cakes. Rest aside to cool completely.
For the filling:
Chop the chocolates and place them in a heatproof bowl.

In a separate bowl, heat the cream until simmering. Now pour the cream over the chocolate. Give a minute to sit and stir until mix completely.

Now transfer the butter and whiskey to the bowl and stir to combine totally
For the frosting:
Use an electric mixer to whip the butter in a bowl until it's fluffy and light. Add the powdered sugar slowly. When the frosting becomes thick, drizzle in Baileys & whip utill mixed completely.

Cut out the middle of the cupcake using a small round cookie cutter – so that you will the crevice with ganache.

Take a piping bag and place the ganache in it. Now Fill the hole to the top of each cupcake.

Use a separate piping bag to fill in the frosting and ice – now decorate your cupcakes as you wish.
If you've made the recipe – then please comment below on how it turned for you. We really appreciate sharing your experience with us.
And if you've any suggestions or problems while making the cupcakes – please share them with us, we really love to help hard-working people like you guys.