Dealing with a mouse infestation under your kitchen sink can be a frustrating and concerning situation. These unwanted guests can damage property, contaminate food, and spread diseases. However, with the right approach and a bit of patience, you can successfully eliminate the mice and reclaim your kitchen. In this guide, we will provide you with effective strategies and tips to get rid of mice under your kitchen sink. By following these steps, you can create an environment that is inhospitable to mice and ensure a mouse-free kitchen in the long run.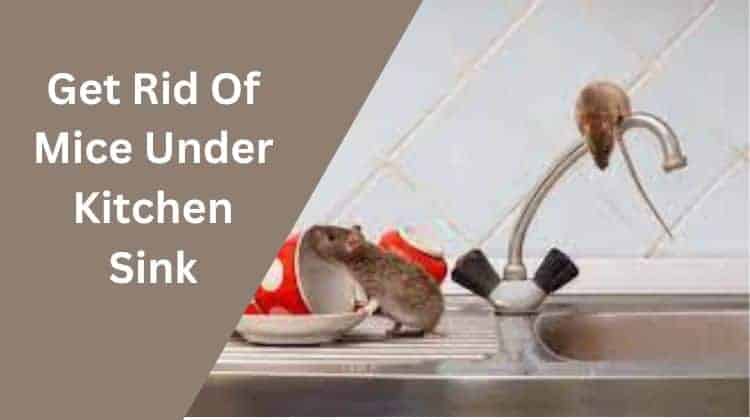 [11 Steps] To Get Rid Of Mice Under Kitchen Sink
Getting rid of mice under the kitchen sink can be a challenging task, but with the right approach, you can effectively eliminate them. Here's a detailed guide on how to accomplish this goal:
1. Identify the signs: Before taking any action, make sure you have confirmed the presence of mice under your kitchen sink. Look for droppings, gnawed packaging, urine stains, or any other indications of their presence.
2. Remove food sources: Mice are attracted to food, so it's essential to eliminate any potential food sources in your kitchen. Store all food items, including dry goods and pet food, in airtight containers. Clean up crumbs, spills, and food residues promptly.
3. Seal entry points: Inspect your kitchen for any openings that mice could be used to enter. Common entry points include gaps around pipes, holes in walls, or damaged vents. Seal these openings using steel wool, caulk, or metal mesh to prevent mice from entering.
4. Set up traps: Traps are an effective way to catch mice. Place snap traps or humane traps near the suspected mouse activity areas, such as under the sink or along walls. Bait the traps with peanut butter or chocolate, and check them regularly. Dispose of captured mice far away from your home.
5. Use repellents: Natural repellents like peppermint oil, mothballs, or ammonia can deter mice. Soak cotton balls in peppermint oil or sprinkle it around the kitchen sink area. Place mothballs or ammonia-soaked rags near the mouse activity zones. Remember to keep these substances out of reach of children and pets.
6. Employ ultrasonic devices: Ultrasonic devices emit high-frequency sound waves that are unpleasant to mice, making them leave the area. Plug in these devices near the kitchen sink, but keep in mind that their effectiveness can vary.
7. Keep the area clean: Regularly clean the kitchen sink and surrounding areas to eliminate any food particles or residues that might attract mice. Wipe down surfaces, sweep the floor, and vacuum regularly.
8. Dispose of trash properly: Mice are scavengers and can find food in trash cans. Use a tightly sealed trash can with a lid, and empty it regularly. Keep the trash can away from the kitchen sink area to discourage mice from being attracted to it.
9. Use deterrents: Consider using commercial mouse deterrents, such as ultrasonic repellents or granules containing natural repellent substances. Follow the instructions provided by the manufacturer for the best results.
10. Consult professionals: If the infestation persists despite your efforts, it may be necessary to seek professional pest control services. Pest control experts have the knowledge and tools to handle more severe infestations and can provide targeted solutions.
11. Prevent future infestations: Once you have successfully eliminated the mice, take preventive measures to avoid future infestations. Maintain cleanliness in your kitchen, seal any potential entry points, and store food properly to discourage mice from returning.
Remember, it's important to approach mouse control with patience and persistence. Each infestation is unique, so it may take time to completely eradicate the problem. By following these steps, you'll be on your way to a mouse-free kitchen.