Today, we are presenting Panasonic NN-SD681S review!
Cooking has become a little piece of matter after the invention of Microwave. And if your kitchen lacks it, you should definitely present one to your kitchen. You will find a variety of models out there in the market. But if you want a recommendation, I might suggest one model from the brand Panasonic: its NN-SD681S. So, you can definitely guess why you are reading the article. Yes, Panasonic NN-SD681S has grabbed a number of positive remarks for its functions and features. Thus, I will be highlighting them in this Panasonic NN-SD681S review so that you know more about this great guy.
Here is a complete Panasonic NN-SD681S review by the kitchen product reviewed. It has 1200 watts of sheer power is the top of the microwave wattage range, generous capacity, 13.375 inches diameter of the turntable, etc. To know more about your satisfaction visit our website and read the pros and cons.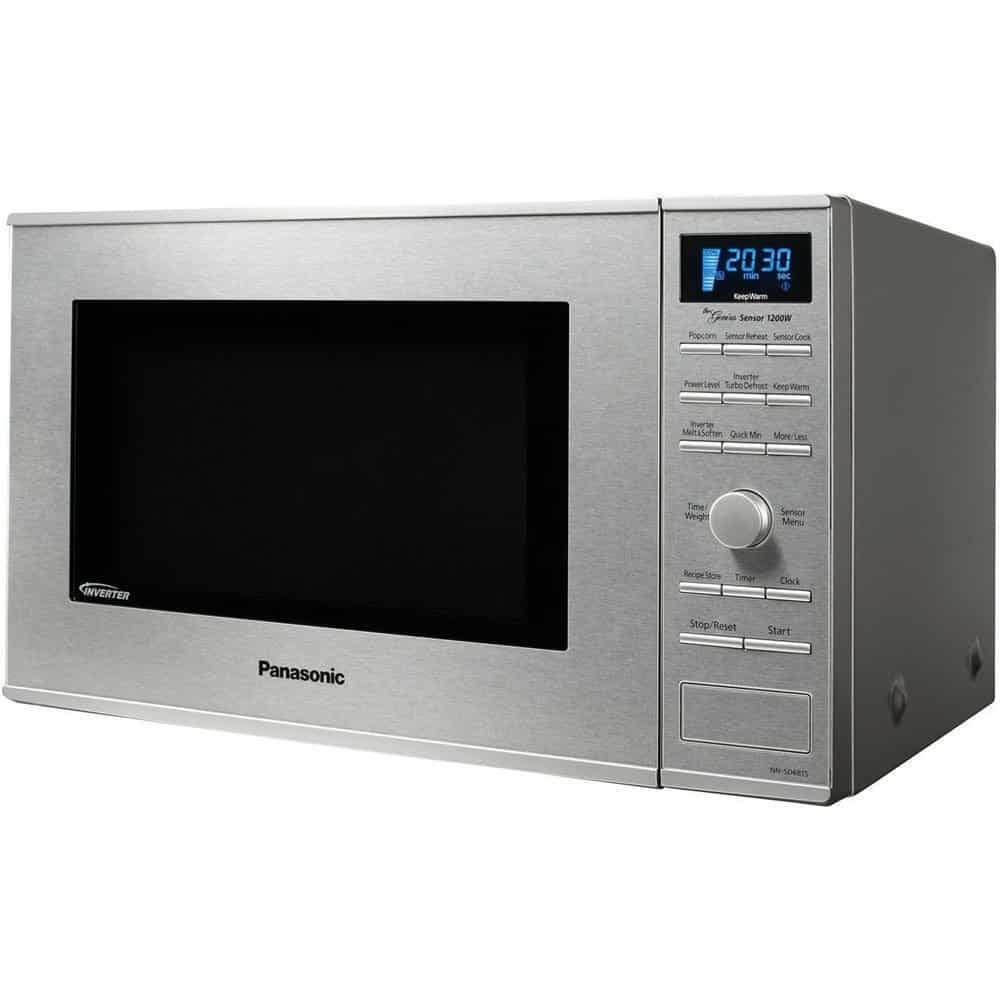 >>>Click Here To See Today's Price on Amazon<<<
From detailed inspections of the Panasonic NN-SD681S's features to advantages and disadvantages, and furthermore your most FAQs about this product, we have everything you need in our Panasonic NN-SD681S review to help you see the better picture.
Think first before you purchase the Panasonic microwave oven nn-sd681s, what features you actually are looking for in this microwave oven. The Panasonic microwave NN-SD681S has an "Add Minute" button, maybe it could be something to consider before you buy one for yourself. Let's start!
Features of Panasonic NN-SD681S
Here is this section, we are not highlighting the positive factors but also showing you the negatives as well. Let's start with the positive ones.
Impressive Inverter
Not many microwaves will give you a satisfying result just like you wish for. They rather tend to warm the outer surface of the food more than the inner area. As a result, you either have to eat the half-warm, half-cold cooked food or have to keep reheating the food. But Panasonic, promises to not annoy you with this hassle. It's because it comes with an impressive Inverter Technology that takes care of every issue elegantly.
So, you don't have to keep circling and heating your frozen pasta 3 to 4 times just to make sure that the outer side does not wrinkle up while the inner side stays frozen. So, this technology ensures to heat up the food evenly and quickly so that you can enjoy every bite of the food.
Housing Highlights
The most alluring factor about this guy is its size. You will find it pleasantly compact leaving much room for placing other stuff on your countertop. Worrying about its inner space? Well, you should not. Because this NN-SD681S can house your family-sized 12-inch pizza without any issue. So, you can undoubtedly have a great family get-together with a great meal using the oven.
Power Package
You definitely need to know why I am writing this Panasonic NN-SD681S review, it's for the 1200 watts of sheer power. I can bet that you will barely find any piece in the market that delivers the topmost range of wattage that this model does. Hence, you will have freshly cooked food in just a few fractions of time once you place it in the machine. Thus, put a big bag of popcorn, and wait for them to be fully popped in just 2 minutes so you can have it in your movie time.
>>>Click Here To See Today's Price on Amazon<<<
Cooking control
Cooking the food via using controls works just with your fingertips. There is a knob that you can turn for setting a cooking time either for heating or thawing. Talking about thawing, you should also use the Defrost function as well based on the continuous power of the Inverter. However, it thaws the food not only evenly but also quickly.
To add more, this microwave carries a Keep Warm feature as well so that you can keep your veggies, sauces, hors-d'oeuvres, gravies, desserts, or any kind of food warm inside the oven unless they are ready to serve. Not only that, you can also take the benefit of using more features such as its quick minute timer that allows you for setting cook and reheats times in single minute intervals. Besides, there is also a delay start feature that adds more convenience to the machine.
Knock the Lock
Well, if you have kids at home, there will be times that they would try to play with this machine. it will certainly cause harmful jeopardy. So for this, Panasonic has invested a child-lock feature that prevents the electronic operation to work. All you have to do is, poke the Start button 3 times, and voila! The machine will get locked. To unlock, you have to hit the Stop or Reset button 3 times again to use the microwave back again. Hence, These are some things that definitely are needed to be highlighted in the Panasonic NN-SD681S review.
Also, there is an updated model Panasonic Microwave NN-SD372S on Amazon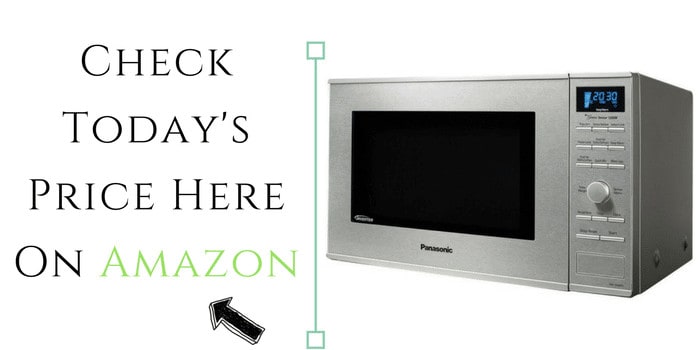 Also read: Breville BOV845BSS Review
Inverter Technology
Well, the inverter technology in this Panasonic microwave NN-SD681S perfects the art of microwave cooking. The technology delivers the tasty flavor, perfect shape, texture, and excellent color in the foods you would love to cook. And the inverter's consistent energy flow means your foods can simmer without the edges and surfaces overcooking. Moreover, your foods have the look and flavor of conventional oven cooking.
Inverter Turbo Defrost
You can prepare your foods more evenly and efficiently with the help of advanced Turbo Defrost. To efficiently thaw foods, the inverter uses a microwave sequencing system depending on its continuous power supply. You will get no overcooked edges or frozen centers with the help of the Turbo Defrost.
Convenience Cooking, No Guesswork
The Panasonic microwave oven NN-SD681S features setting power levels automatically, defrosting, reheating times, and adjusting cooking with a one-touch sensor cook and reheat. The sensor of this Panasonic NN-SD681S can measure the steam naturally was made while cooking and notifies the oven's advanced microprocessor so that it can calculate the rest of the cooking time automatically.
Interactive Menu Screen
Well, a helpful menu screen helps you to go through all the step-by-step processes for a full range of appetizers, casseroles, soups, sauces, side dishes, main courses, desserts, and more across the display in your chosen language like English, French, or Spanish.
>>>Click Here To See Today's Price on Amazon<<<
Sleek Controls
The Panasonic microwave oven NN-SD681S has a smooth, touch-button control panel, 14 preset menu options, pop-out control dial, and four digits display give automatic convenience for frozen, entrees, popcorn, potatoes, vegetables, hot cereals and omelets, frozen after-school snacks, and more.
Keep Warm Technology
The microwave oven can keep your meals warm and delicious until you are ready to serve the food such as soups, vegetables, gravies, hors d'oeuvres, sauces, and desserts for up to 30 minutes. To maintain constant temperature levels in your meals without overcooking, the Panasonic microwave oven provides a pulsing, automatic stream of low microwave power.
Maximum Interior
This particular microwave oven is smarter, lighter, and compact inverter power has enough interior space than other brands of microwaves. When it comes to placing the microwave on your countertop, it will add less weight and minimal exterior footprint to it.
Choose Countertop or Built-in
To help you maximize the countertop space, this particular model of countertop has a minimal exterior footprint. If you want a built-in microwave to a new or existing cabinet or wall, then the Panasonic offers you modern, good-looking, optional stainless-steel trim kits for your chosen built-in model and size.
Product Description
The Panasonic microwave oven NN-SD681S has dimensions of about 21 x 15 x 12 inches and it has a weight of around 26.5 pounds. It has wattage like 1200 watts and as it's made of stainless steel, the color would be silver or stainless, obviously.
Bonus:
You can cook a variety of food with this microwave.
The microwave cooks the food with pure silence.
It comes with generous capacity so you can place a 12-inch sized pizza easily.
It provides 1200 watts of power to heat the food quickly.
It has fast cooking, reheating and defrosting functions.
It is easy to clean the machine.
Minus:
No light when the door is opened. The interior light turns on only when it is cooking the food.
It cannot boil water using heat sensor.
The cord that comes with the microwave is a bit short.
There is no convection function in this machine.
Stainless front prone to display every fingerprint.
>>>Click Here To See Today's Price on Amazon<<<
Frequently Asked Questions(FAQs)
Does it have a light when the door opens?
Answer: No, it does not light up when you open the door. The interior light only illuminates when it is cooking your food.
Can I see through the door?
Answer: Yes, you can see through the door as it has an interior light that turns off while it is in operation.
Does it feature a 30-second button?
Answer: No, the microwave does not have a 30-second button.
What's the diameter of the turntable?
Answer: The diameter of the turntable is 13.375 inches.
Final Thought
There you go. How was the Panasonic NN-SD681S review? The NN-SD681S has some really groovy features that have impressed us greatly. Despite having some of its downsides, it still manages to perform really well. Especially its Inverter technology, that does most of the job to give you a satisfying result with its perfectly cooked food.
Not only that, its 1200 watt range of pure power would be another reason to love the machine. So, if you think you want one for your kitchen, you can have this model from the brand. Trust me, it will not let you down. So, hope this Panasonic NN-SD681S review has helped you know about the existence of this great model.
Related Buyer's guides