In every kitchen, an oven is one of the most useful stuff. It helps us a lot to cook the best recipes. Now the problem is we actually know the basic use of it but most of us don't know how to cook best convection oven recipes? To solve this problem. Here are the best convection oven recipes from experts to help you to make the best recipes in your cookware or oven.
10 Best Convection Oven Recipes from Expert
Lemon Squares
Roasted Tomatoes
Baked Swordfish
Coconut Granola
Coconut Granola
Peach Pie
Roasted Cauliflower
Sweet Potato Fries
Filo Wrapped Brie
Cannelloni with Roasted Carrot and Butternut Squash
1. Lemon Squares
Ingredients:
Sugar- 1 cup
Butter- 1 stick
Powdered sugar- ¼ cup
Lemon peel- 1 tsp
Flour- 1 and ¼ cup
Lemon juice- 3 tbs
Baking powder- 1 Tsp
Directions:
• Make a fluffy paste of powdered sugar and butter. Gradually add 1 cup of flour and keep mixing.
• Take a casserole baking and place the mixture. Bake it for 10 minutes.
• Now in another bowl mix the remaining flour with baking powder, eggs. Mix it and then one by one add all the other ingredients.
• Pour this mixture over the crust and again bake for 15 minutes.
• Cut them into a square and serve them.
2. Roasted Tomatoes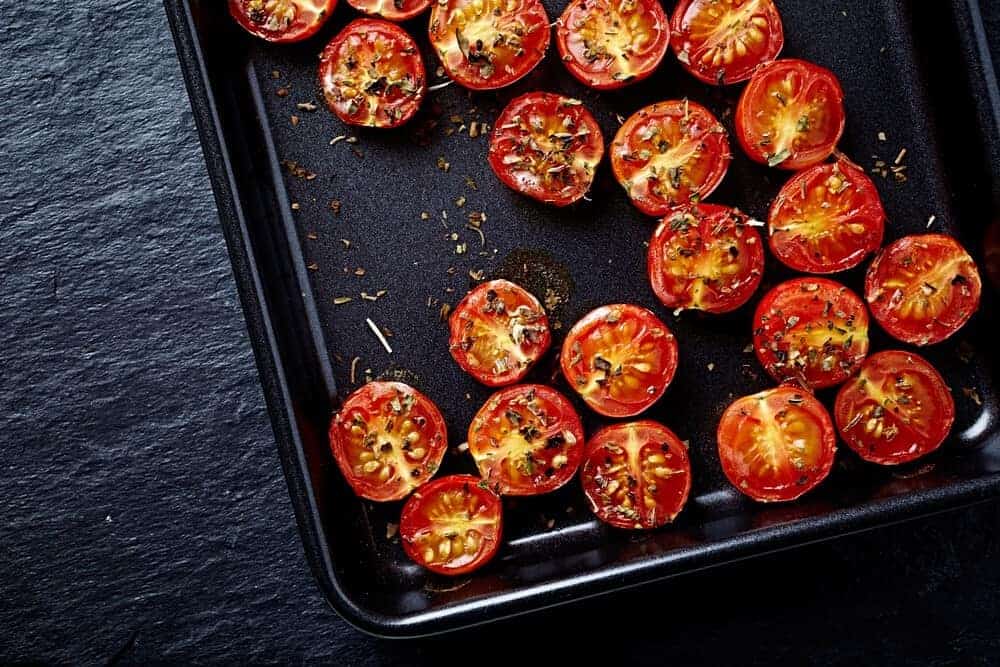 Ingredients:
Large shallots- 2
Tomatoes- 5 pounds (halved and peeled)
Olive oil- ½ cup
Salt and pepper- to taste
Anchovies- 2 ounce
Drained capers- ¼ cup
Directions:
• Prepare the oven by preheating it to 275 degrees. Take a bowl and toss the shallots with some olive oil. Place the shallots in parchment paper and then in the same bowl toss the tomatoes.
• Sprinkle some salt and pepper all over it.
• Place the tomatoes over the shallots and bake it for 3 hours.
• Next, take a big glass bowl and make layers of the tomatoes and shallots along with the anchovies and capers. Pour some olive oil and keep it in the refrigerator for 30 minutes.
• Serve them with bread.
3. Baked Swordfish
Ingredients:
Garlic- 2 cloves
Olive oil- 2tbs
Swordfish- 4
Lemon juice of 1 lemon
Chopped parsley- 2tbs
Salt- to taste
Directions:
• Preheat your convection oven to 350 degrees. Take a non-stick skillet and put the chopped garlic cloves with a sprinkle of salt.
• Place he swordfish steaks. Pour some olive oil.
• Rub the steaks nicely so it is nicely coated with the oil and garlic.
• Bake it in the oven for 15 minutes.
• Add some lemon juice and serve it with chopped parsley.
4. Coconut Granola
Ingredients:
Coconut oil- ½ cup
Agave nectar- 2/3 cup
Oats- 3 and ½ cup
Coconut flakes- 2 and ½ cup (unsweetened)
Pecans- 2 cups
Sesame seeds- ½ cup
Kosher salt- 1 tbs
Ground cinnamon- 1 tsp
Egg white- 1
Directions:
• Whisk the agave with some oil in a large bowl. Mix the oats, coconut flakes, pecans, rice cereal, sesame seeds, salt, and cinnamon. Stir nicely so that all are combined.
• By this time preheat the oven to 300 degrees.
• Take the egg white and whisk it with some water. Mix the oat mixture with it.
• Divide the whole mixture into two parchment pieces of paper and bake it for around 30 minutes.
• When the granola becomes cool transfer them into airtight boxes.
5. Parmesan Scallops
Ingredients:
Scallops (muscle removed) – 16
Butter- 4 tbs
Lime juice- 4 tbs
Parmesan cheese- ¾ cup
Directions:
• Firstly, wash the scallops nicely and then gently dry it.
• Place the butter over the scallops and then pour the lime juice.
• Add the cheese and bake it at 350 degrees for 10 minutes.
• It's ready to serve.
6. Peach Pie
Ingredients:
Cream cheese- 8 oz.
Sugar- 1 and ¼ cup
Ripe peaches- 6 cups
Orange juice- ¾ cup
Corn-starch- ¼ cup
Lemon juice- ¼ cup
Directions:
• Bake the pastry at 375 degrees and then let it cool.
• In a bowl make a mixture of cream cheese, ½ cup sugar and spread this on the cool pastry.
• Now blend the peaches with remaining sugar, orange juice, and cornstarch and make a smooth mixture. Cook this mixture in a pan for 5 minutes so that it becomes thick.
• After getting cool add this mixture with the cream.
• Serve them chill and uncovered.
7. Roasted Cauliflower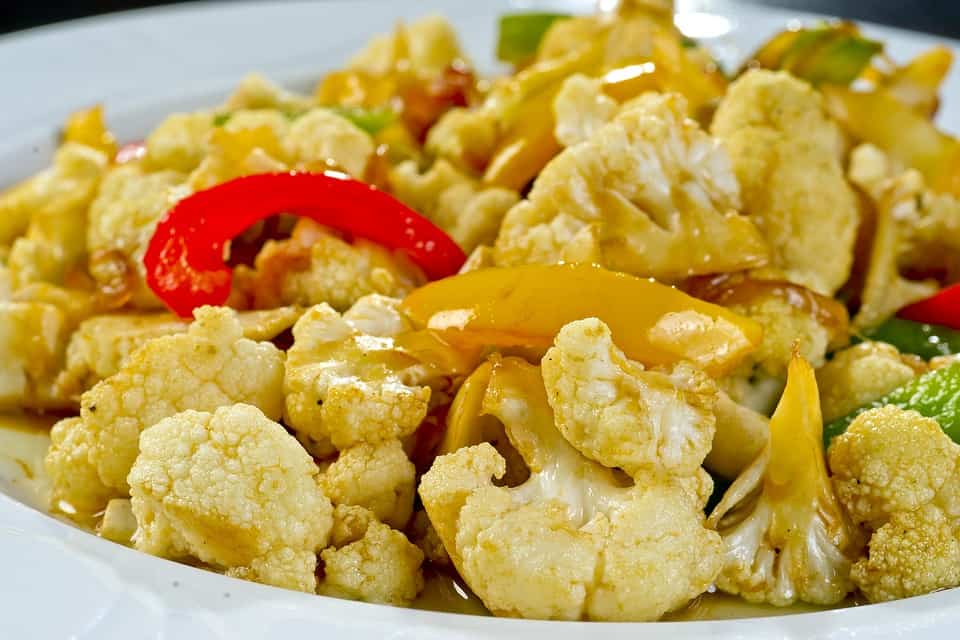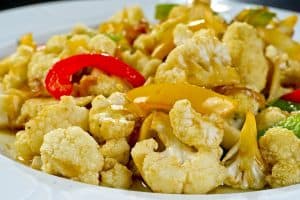 Ingredients:
Coriander seeds- 1 tsp
Olive oil- ¼ cup
White peppercorns- ½ tsp
Garlic- 1 tbs
Turmeric- 2 tsp
Red pepper- ½ tsp
Cauliflower- 3 pound
Salt
Shallot- 1 (medium)
Kumquats- 4
Cilantro- ¼ cup
Directions:
• Toast the coriander seeds and peppercorns lightly in the oven. Make a powder of all the spices and put it into a bowl.
• Pour some olive oil, garlic, turmeric, and red pepper.
• Now take a large baking sheet and place the cauliflower. Brush it with olive oil and the season it with all the spices. Bake it until it becomes fully tender.
• Serve warm.
8. Sweet Potato Fries
Ingredients:
Olive oil- 1 ½ tbs
Sweet potatoes- 2
Salt- taste
Ground cinnamon- ½ tsp
Ground ginger- ¼ tsp
Directions:
• Make ¼ inch long slices of the potatoes.
• Take a bowl and combine there all the ingredients.
• Coat the potato slices into the mixture nicely.
• Bake them for 15 to 20 minutes.
• Serve the crispy fries with your favorite dip.
9. Filo Wrapped Brie
Ingredients:
Pine nuts- ¼ cup
Dried tomatoes- ½ cup
Butter- 2 tbs
Filo dough- 4 sheets
Basil leaves- ¼ cup chopped
Brie cheese- 1 round
Oil- 1 tbs
Directions:
• In the oven bake the nuts for 5 to 7 minutes.
• Meantime, in a small bowl mix the tomatoes with some oil and melted butter.
• You need to cut the filo sheets into 12-inch squares. Brush each square with some butter.
• Now spread the tomato with the baked nuts and basil into the center of the sheets. Place the cheese over it.
• Now at a time fold, one corner of the sheet and every time brush it with some butter.
• Place the wrapped filo into the oven and bake for 25 to 30 minutes.
10. Cannelloni with Roasted Carrot and Butternut Squash:
Ingredients:
Big Carrots- 3
Garlic Cloves- 4
Butternut Squash- ¾ pound or 2 cups
Thyme leaves- 1 tsp
Parmesan cheese- 6 tbs
Salt and pepper- according to taste
Mushrooms- ½ pound
Chicken stock- 1 cup
Swiss chard- ¾ pound
Unsalted butter- 1 tbs
Small sage leaves- 24
Pasta sheets- Eight 4 inch square
Directions:
• At first, preheat the convection oven to 400 degrees. Now take a baking sheet and toss the squash and the carrots along with the thyme, garlic, and 1tbs of olive oil. Mix it nicely and then season some salt and pepper.
• Now roast the vegetables for around 20 minutes. You will see it will become all nicely tender and golden. End of this, turn the oven down to 350 degrees.
• Take a small bowl and put the garlic cloves and mash them. You can use a back of a fork to mash them. Transfer all other vegetables and stir ¼ cup of the cheese. Sprinkle some salt and pepper.
• Take a large skillet and stir the mushrooms. Add the chicken stock, mashed garlic and Swiss chard. Keep this warm.
• In another skillet cook the sage leaves and then drain it on paper towels. By this time cook the pasta sheets in salted boil water. Put 2 and ½ spoon of the squash and carrots into the center of each sheet and make rolls. Place the cannelloni beside it.
• Brush them with a little water and with remaining cheese. Bake it for 5 minutes and serve it with crisp sage leaves.
Shop Related Products