I love to grill. My mom gave me one of her stovetop grill pans but it was my bad luck that I did not use it. After I researched and learned more about grill pan and their benefits, I just become fond of using a stovetop grill pan.
However, being apartment dwellers, we don't have any outdoor space, right? And I am sure that most us are living in critical situations like this, don't we? Though a grill pan with raised ridges which is not the only thing a grill make, let's be honest!
Now we will be discussing on the benefits technically the pros and cons of a grill pan especially the stovetop grill below.
We talk a lot on these famous pans (read about stovetop grill pan, cast iron pans or griddle for pancakes as well.)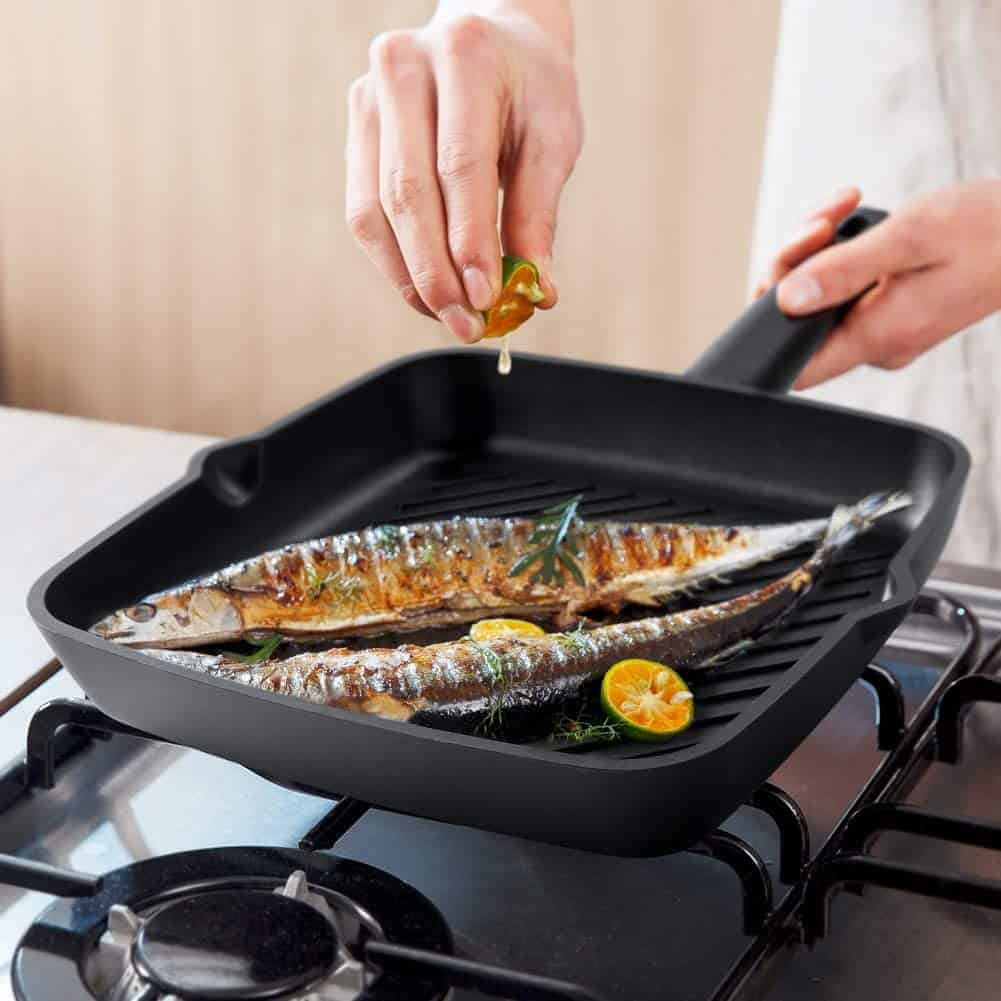 But genuinely what you are getting is a heavy, cast-iron sauté pan which makes grill line on your meal like restaurant food. But this won't give you the exact smoky flavor that you get on an outdoor grill (please don't be upset.)
So, here are some of the pros and cons of grill pans.
Pros:
Yes, of course. Grill marks look nice on the food and the dents are satisfyingly crusty.
You will get a lot of the surface area if you have a two-burner grill pan as we have. You can easily cook several things in one go like many chicken breasts, kabobs, or vegetables.
If your grill pan is flipped over easily to be a griddle, I mean if it's a reversible one, then you can also make a lot of bacon and pancakes too.
Grill pans are heavy in general and heat evenly – just like any other cast-iron pan.
The grill pans ridges allow the fat to flow off your meal. And between the grates of a grill – it would drip. It also means, your delicious burgers would not sit and boil in its own juices.
Cons:
No, wood chips, no charcoal, no outdoorsy flavor.
We found that after placing the double burner pan over our gas stove grates, the middle of the pan stays cool which effect on your cooking.
There would be a lot of smoke in your tiny kitchen if you are planning to cook a lot of meat on high heat.
It's also difficult to cook some meats properly before the outside is burned or dry. Using a oven can be a great alternative to solve the problem if you were using a small grill pan. As like you can close the cover of your grill, you can't put a top on.
We find difficulties to clean grill pan and it's hard to store as well.
Well, we have shared what we were our thoughts. Though these are not the only Pros and Cons of Grill Pans, we tried as much as we can explain. So, please let us know what you think as we are pretty sure that we have missed some points, right?
So, you are always welcome to share your opinions, problems or suggestions and we would definitely hear from you. 😊