Do you want to cook and broil at the same time? Why not? Everyone wants an easy cooking way so that one can cook perfectly by saving time as well. In that case, you must need an appliance which will help you to cook properly in a very short time.
So, if you want that kind of kitchen appliance, the Panasonic NN-GN68Ks countertop microwave oven would be the perfect choice for your cooking task. And to know more about this microwave oven, we are going to share with you a review of Panasonic NN GN68Ks.
In this article, we will provide you in detail information about this countertop oven including its features, specification, pros, and cons, etc, that will assist you to decide whether this microwave oven is perfect for your usage or not.
So, let's have a quick view of the Panasonic NN-GN68Ks review.
We've covered Panasonic NN-GN68KS Review as this is the most powerful, convenient, and user-friendly countertop oven in the market.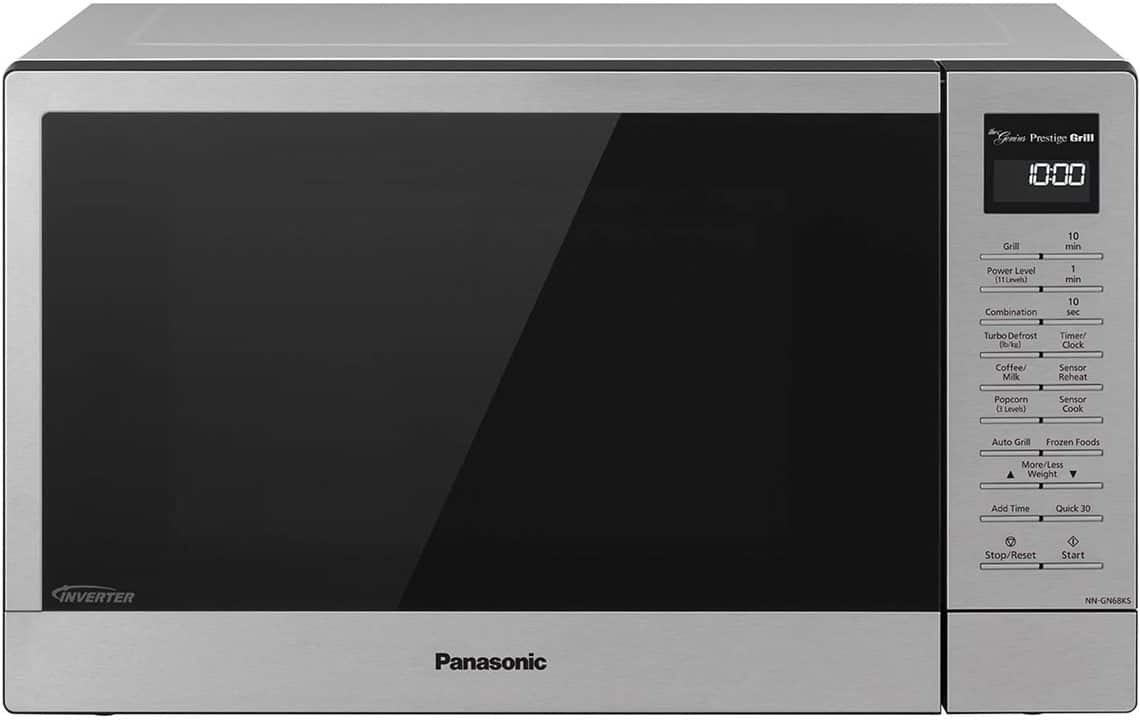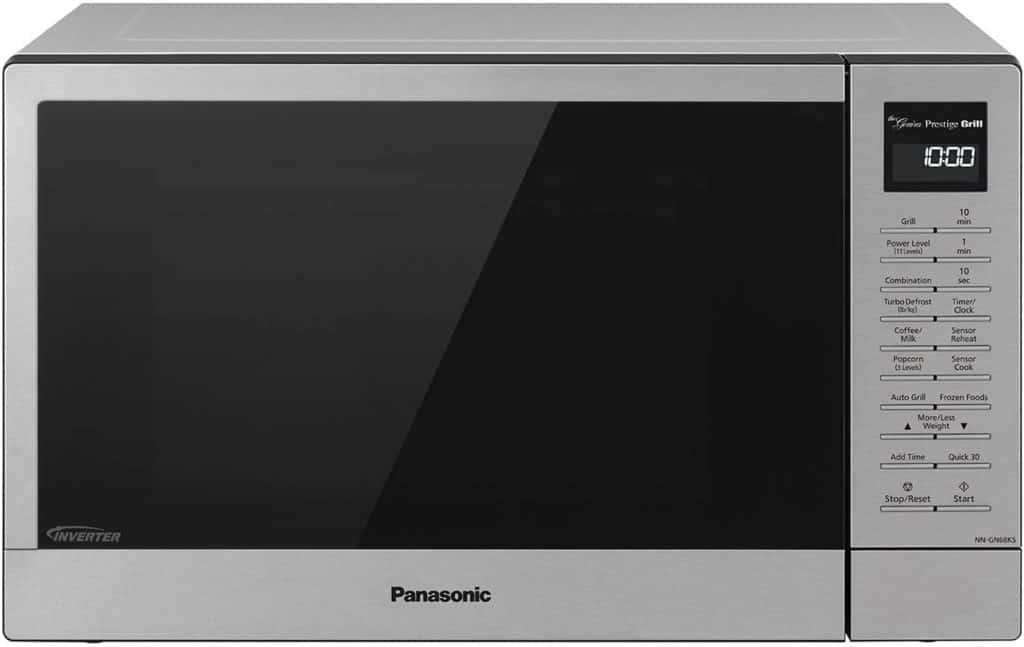 Click Here To See Latest Price on Amazon
There have been so many reviews on Panasonic microwave ovens available on the website. Yet, this Panasonic NN GN68Ks microwave model has added so many exclusive features that will let you feel comfortable with a great service.
The Panasonic model NN GN68Ks comes with some exclusive features. These amazing features include FlashXpress Broiler, Genius Sensor for Cooking and Reheating, inverter microwave cooking plus instant broiling at the same time, rated output 1000W power, etc.
All these features make this model a super-powerful countertop microwave oven that you must want to have in your kitchen.
So, here, we will provide the in-depth features of this Panasonic NN GN68Ks model that you will want for your microwave oven. Let's dive into the Panasonic NN GN68KS Review:
FlashXpress Broiler
If you are a food lover and have a craving for crispy food like French fries, fried chicken, nachos, etc, then this Panasonic oven is just for you. It has come with a FlashXpress broiler feature that can heat your oven instantly.
It implies that you don't need to warm up the oven when you are going to use it. You can crisp and warm, as well as brown your flavored meal, snacks, etc with ease by using this broiler feature. The broiling rack design of this microwave oven is unique. It assists you with lifting food closer to the infrared flame broiling component for caramelizing your food properly.
Inverter Microwave cooking plus instant broiling at the same time
The brand Panasonic uses Inverter technology in this Panasonic NN GN68Ks microwave oven. Due to having this technology, this oven can cook as well as broil the food instantly at the same time.
It can prepare your meal evenly by creating a seamless and continual power stream to cook the food. You will not find any cold spots in your food. Thus, this countertop oven gives you a wide range of cooking methods.
Measurements and weight
The dimension of this oven is 15.8 x 20.7 x 12.2 inches. It is not so heavy and weighs only about 34 pounds. So, you can easily fit this oven, even if your kitchen size is small. The color and material of this oven model are silver stainless steel and Aluminum accordingly.
Accessories:
One 13.4 inch Turntable
One Wire Rack
Rated output 1000W power
The Panasonic NN-GN68KS comes with a high-rated output of 1000 Watts power. So, if you want to cook your food in a short time, this oven will help you out. Thus, you don't need to hang tight for a long time to prepare your food. Besides, it also comes with a 'keep warm feature' that can keep your food warm for as long as possible.
You can also read another updated model: Panasonic NN-CD87KS Review
Genius Sensor for Cooking and Reheating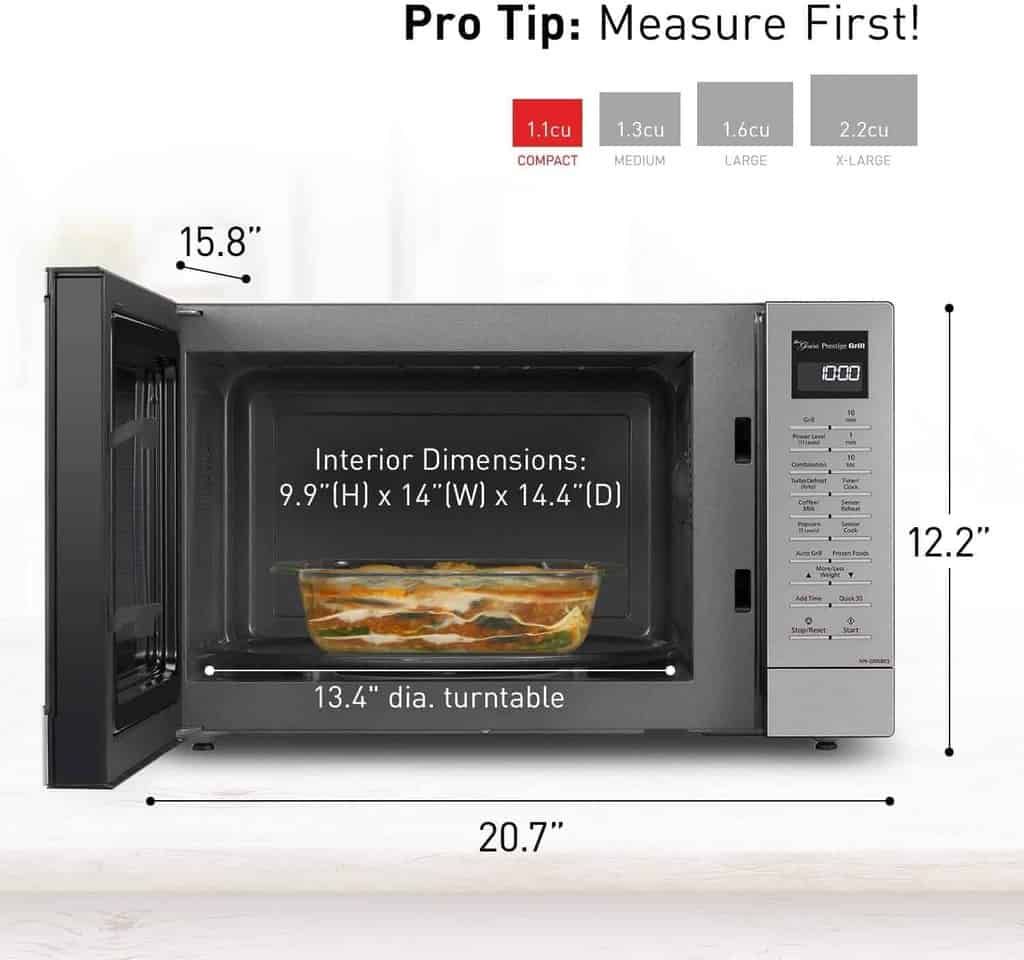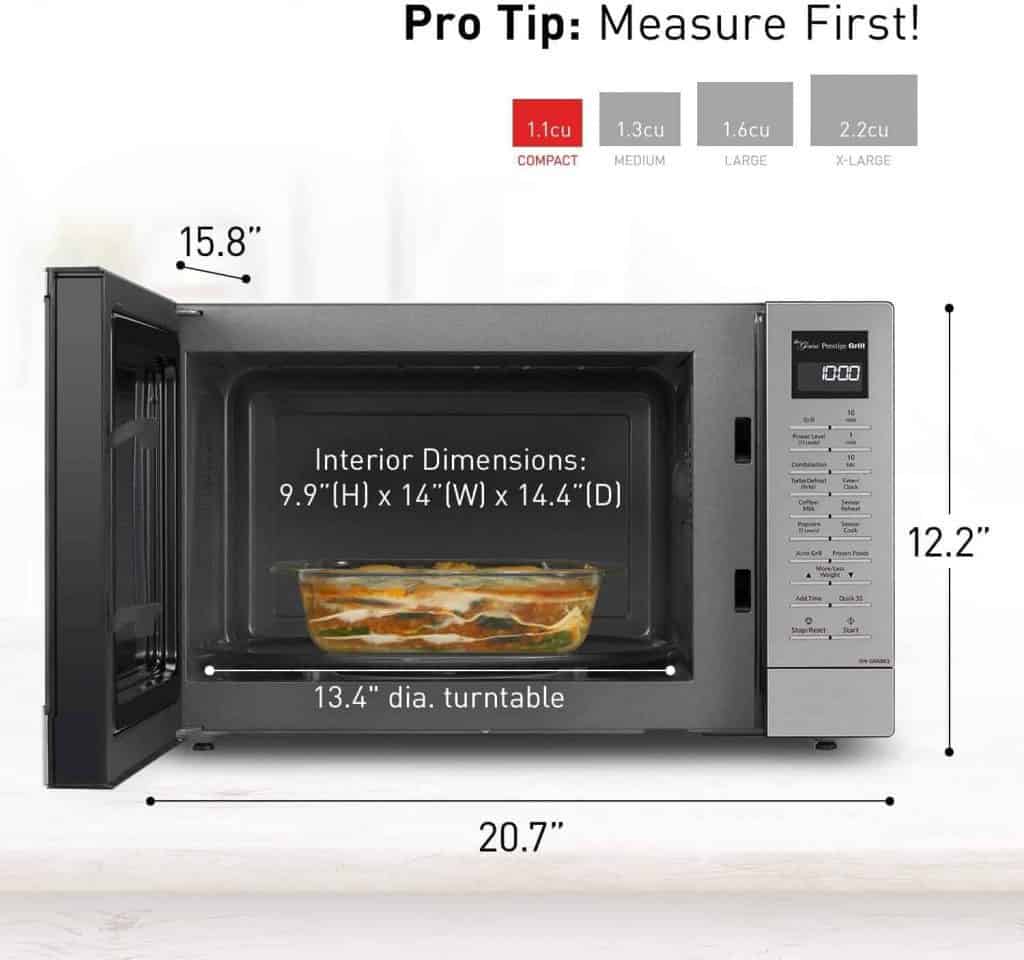 One of the most striking features of this Panasonic oven model is having the genius sensor for cooking as well as reheating your food. This feature can adjust not only the cooking time but also the power needed to cook the food. You don't have to worry about your snacks getting burned. This genius sensor can measure the amount of emitting steam continuously.
It can signal your oven's microprocessor automatically. There are 7 auto cooks as well as 18 preset menu items with delay start and timer, quick 30 Sec minute timers, and child safety lock in this oven for different types of food including popcorn, potatoes, frozen pizza, chicken, and many more.
Click Here To See Current Price on Amazon
Specifications:
It comes with a Flash press broiler feature that allows the oven to broil the food with a crispy brown finish.
It has a Genius sensor that adjusts the heating power and times depending on the food to be cooked.
It comes with mixed infrared as well as microwave heating combination auto settings.
This oven features inverter microwave cooking plus instant broiling technology at the same time
You will get 13. 4 inches turntable and one wire rack.
The burner type of this oven is -double infrared heating burner
The capacity of the oven is 1. 1 -cubic-foot
The dimensions: 15.8 x 20.7 x 12.2 inches (h x W x d) for the exterior, and 12. 2 x 22. 3 x 20. 7 inches (h x W x d) for the interior to finish your kitchen decoration.
Pros
Comes with FlashXpress infrared technology
Has a lot of cooking options
7 auto cook, and 18 preset menu items
Microwave cooking and instant broiling both at the same time
Made from rust-proof stainless steel
Adds a touch of modernism for kitchen decor
Easy to operate
Easy cleanup
User-friendly
Cons
Let's watch a video review!
Also read: Panasonic NN-SD775S Review & Panasonic NN-SD372S Review
Frequently Asked Questions (FAQs)
How can I adjust the temperature and time of the Panasonic NN GN68Ks microwave oven?
Answer: To adjust the temperature and time of the Panasonic NN GN68Ks microwave oven, first, you have to press the time cook button to set the time in minutes and seconds.
After that, you have to adjust the temperature that you need to prepare your food by pressing different temperature adjusting buttons including high, medium, low, defrost, warm, etc with the desired power level between 1-10, and then have to press the start button.
How to reset this Panasonic oven?
Answer: Some steps you need to follow to reset the oven-
The oven needs to be plugged-in.
Has to press the stop or reset button.
The door needs to be opened
Press the start button for more than 2 seconds
Needs to press the stop or reset button for 3 times
Does the Panasonic NN GN68Ks have a "keep warm" function?
Answer: Yes, it has a keep-warm function to keep your food warm.
Is there a swing open door in this Panasonic model NN GN68Ks?
Answer: No, there is no swing open door in this oven. The door is designed in such a way that the hinges are located on the door's left side. So, you can't move the hinges to the right side.
Panasonic ensures their product quality and they work so preciously compared to all of the brands out there.
Click Here To See Today's Price on Amazon
Conclusion
Overall, this Panasonic NN GN68Ks is one of the best-rounded countertop microwave ovens available in the market. This broiler oven is pressed with many cooking options and is intended to be as easy to use as possible.
We attempted to give you a full review of this oven so that you can decide to take this oven as your kitchen appliance. Hope this Panasonic NN-GN68KS review helped you to get a better solution for your countertop microwave oven.
Last update on 2022-06-09 / Affiliate links / Images from Amazon Product Advertising API