Cooking is no more hassle nowadays, thanks to the microwave oven. This small piece of the box has become a life savior to many home cooks as it made cooking way easier than before. Not just that, it made cooking more interesting & more enjoyable. Now anyone can cook within no time.
But when you are bringing such an important thing to your home, don't you think you need to do a little research? As every microwave oven is different & so are their features. Getting the right one is not an easy task. But we can help you here!
Here we will tell you about a top-class microwave oven that comes with good finishing and great quality. We are going to share our best experience of Panasonic NN-CD87KS, which is so far the best one with a wonderful outlook & great quality. So, let's not waste time & take a look at the Panasonic NN-CD87KS review.
Hope this Panasonic NN-CD87KS Review will help you If you are wondering whether the Panasonic NN-CD87KS microwave is good for you or not.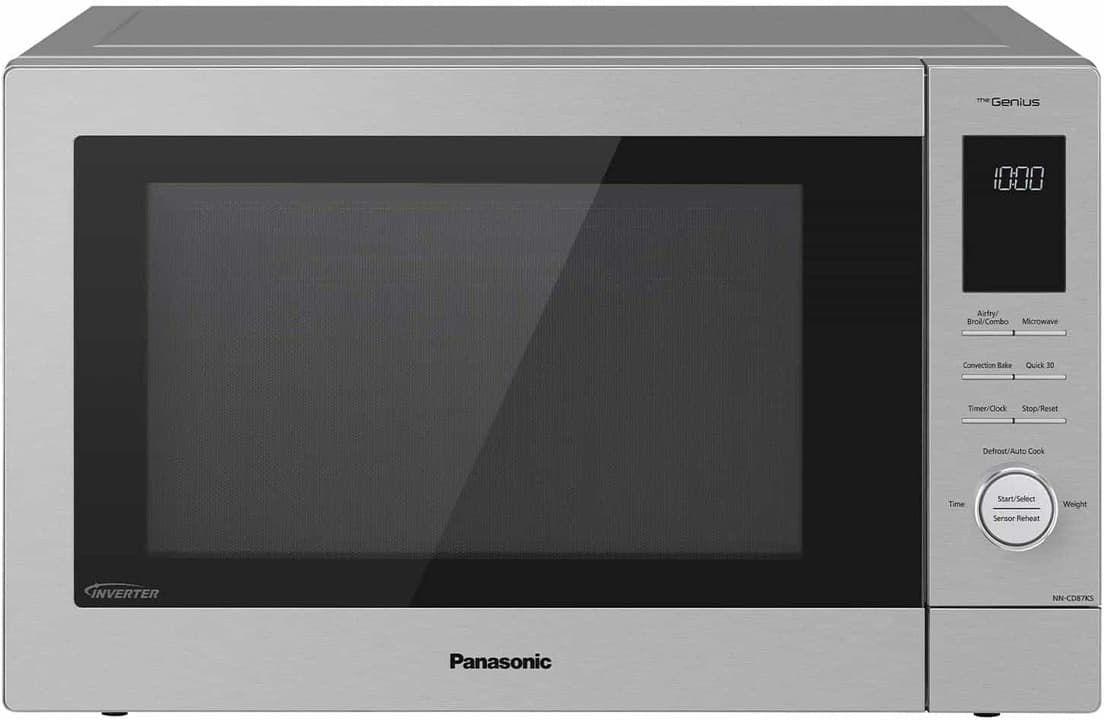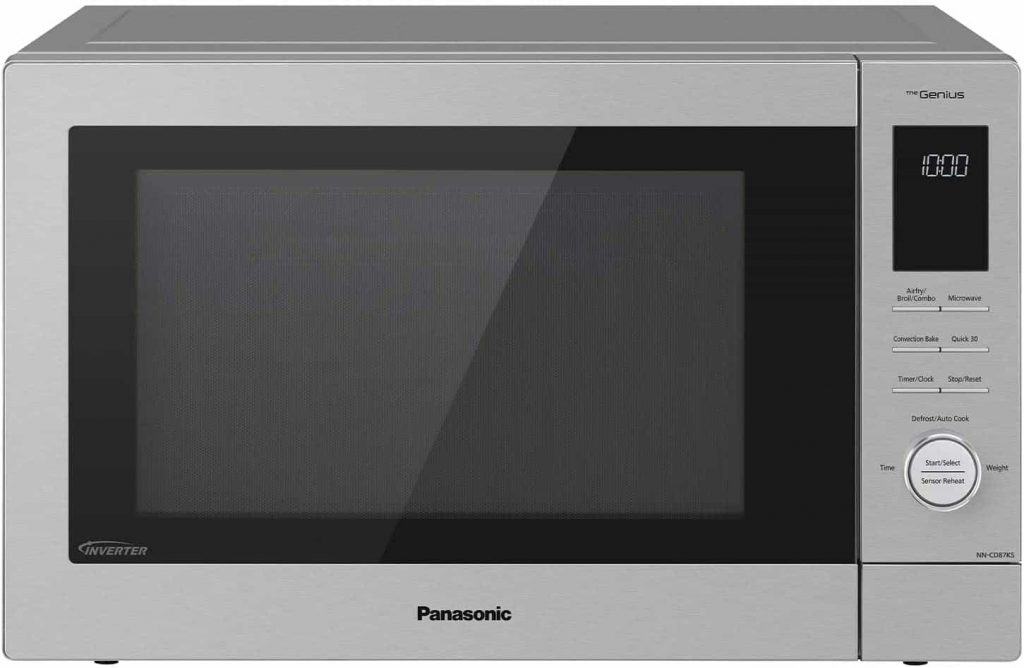 Click Here To See Latest Price on Amazon
The world-class brand Panasonic is well known for all its top-class home appliances, and one of its great creations is this Panasonic NN-CD87KS microwave oven. Its great outlook & wonderful features make it more special than others. It can be a perfect companion for your busy life.
Panasonic NN-CD87KS is mainly well known for its multiple features, which are unique & helpful. Its nice sleek look is a real pleasure to the eyes. Its perfect little shape can fit anywhere in your kitchen. Easy to clean, easy to use. Ultimately a complete package for your ideal kitchen.
Now let's know a little more details about the product.
Features Of The Panasonic NN-CD87KS Microwave Oven
Panasonic NN-CD87KS comes with some interesting features which are very uncommon & beneficial. You will get almost everything in this oven which you were looking for so long.
This Panasonic NN-CD87KS review will uncover all those interesting features this item got. Let's take a round of it:
Multifunctional Oven
Panasonic NN-CD87KS microwave oven is a multifunctional oven, or you can say 4 in 1 oven as it offers you 4 cooking options.
This is not only a microwave oven but also a broiler, an air fryer & a convection oven too, which means you are getting 4 types of food in your Panasonic NN-CD87KS microwave oven. You can choose any of the functions or a combination to cook your food.
All In One
This microwave oven offers you 4 types of cooking facilities, almost impossible for any other microwave oven.
So now you don't need to go elsewhere for any purpose. This oven is enough for all types of cooking. All facilities in one oven. That's why it is so popular among people.
Healthy Cooking
Panasonic NN-CD87KS is concerned about your health. All the foods cooked in this oven are healthy & fresh enough to keep your health better. The air fryer fries your food without oil; thus, you get low calories food.
Moreover, its microwave has dual infrared technology, which maintains the natural freshness and crispiness. This way, you can easily get fresh, healthy & tasty food.
Inverter Technology-Based Oven
Panasonic NN-CD87KS is an inverter technology-based oven which also comes with the Genius Sensor to give you even, smart, reheating, defrosting cooking & at the same time keeping food warm holding the freshness inside.
Air Frying Facility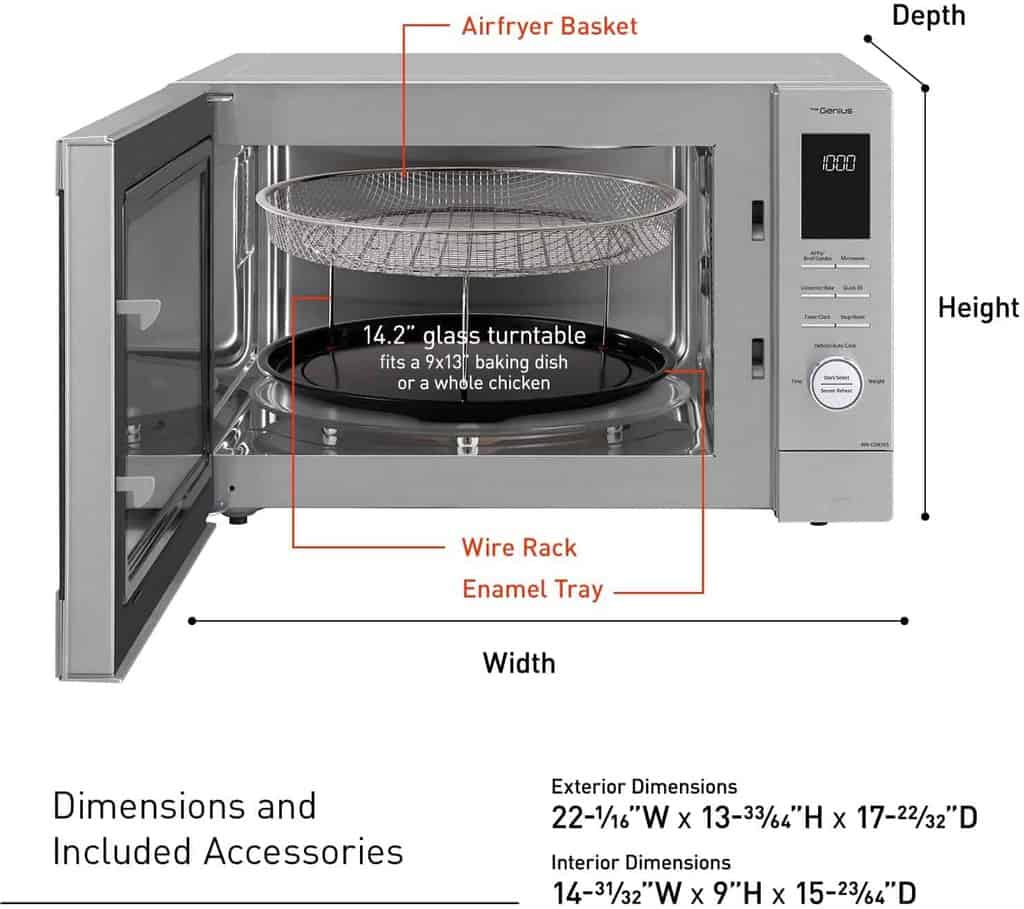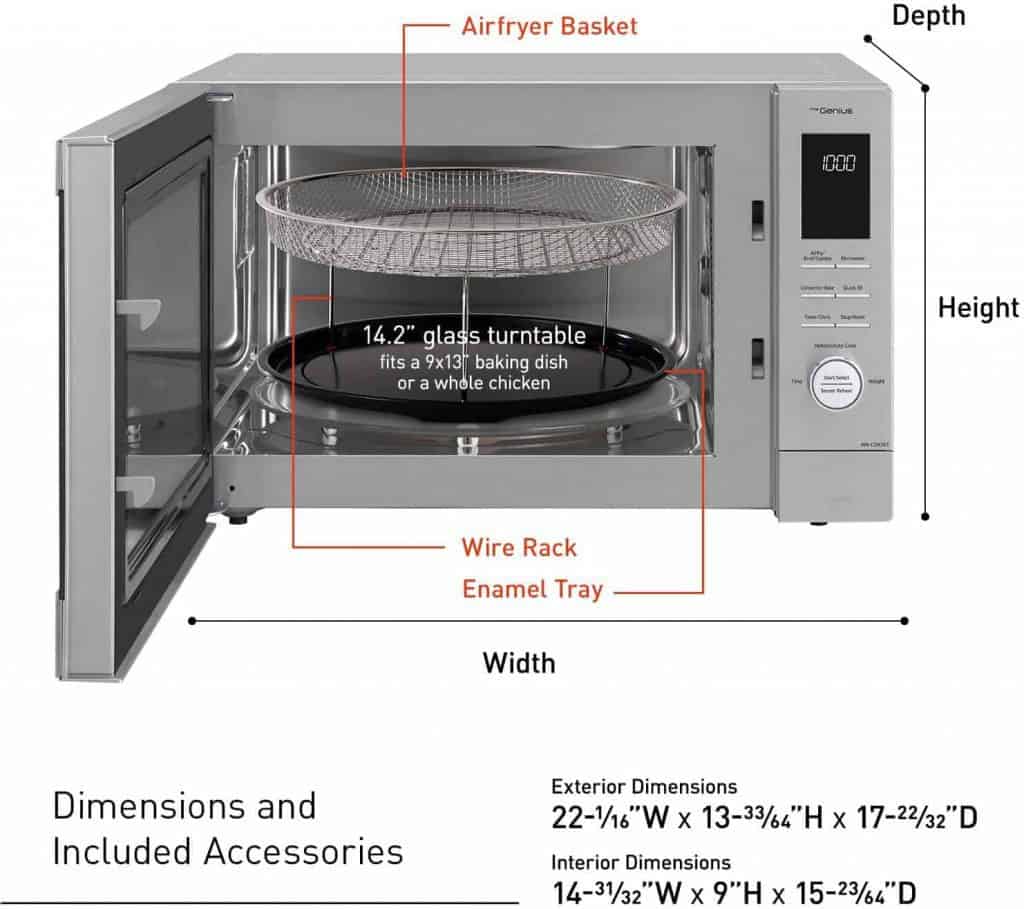 To give you healthy & tasty food, the Panasonic NN-CD87KS microwave oven came with an Air frying facility. Now you can fry anything in this oven quickly & without any oil. You simply need to put your food inside the air fryer basket & then inside the oven, select the air fryer option, which will quickly circulate hot air all around your food & it will be done in no time.
This way, you can easily have your French fries, nuggets, wings, and other delicious foods without using oil.
Click Here To See Today's Price on Amazon
Also read: Panasonic NN-SD775S Review
Specifications
From this Panasonic NN-CD87KS microwave oven review, you will get to know some specifications of this microwave oven, which are unique enough to attract you. Let's take a look at those:
Most of the ovens are hard to clean, but this microwave oven is made of stainless steel from both inside & outside. This stainless-steel interior of the oven helps you clean the oven easily no matter how tough, stuck-on mess it gets.
When there is a child at home, everybody needs to stay alert, but it is not always possible to keep an eye on them. A safety child lock can decrease the possibility of accidents a way more. This microwave oven comes with a child safety lock, which will protect your baby from all kinds of danger.
Another very important feature of this oven is this silent mode. You can set the oven on silent mode while the babies are asleep or for those who get irritated with the oven's beep tone. All you need is to turn off the beep & cook on silent mode.
You can get a stainless-steel trim kit NN-TK81KCS for your Panasonic NN-CD87KS microwave oven if you want to get a custom built-in Look.
To make your cooking far easier, to give you fresh & delicious recipes, Panasonic has associated with recipe apps "Drop" & "Side-Chef." Now you can easily download these apps & get delicious, yummy foods faster.
Details:
This item is made by Panasonic.
Its weight is near about 39.1 pounds.
It is 14.97 x 15.36 x 9 inches.
It is made of pure stainless steel.
Touch-pads are used to give a command.
An air basket, a wire rack, an enamel tray & a glass turntable are included.
14.2″ glass made turntable & 9″×13″ baking dish has been used here.
It uses almost 1000 watts of electricity.
This oven has a 1.2 cubic feet capacity.
Customer's Review:
4.4 out of 5
Pros:
Air fryer & combination mode gives you healthy & fresh food by decreasing oil & fat.
Smaller in size thus takes less space.
Easy to use, easy to clean.
It cooks quickly, heats quickly.
It gives you 4 different cooking options: air fryer, broiler, microwave & convection mode, thus getting 4 types of foods.
Cons:
It may feel a little heavy & noisy.
It is a bit costly.
Let's watch a video review!
Also read: Sharp KB 6524PS review & Nuwave Bravo XL 20801 Review
Frequently Asked Questions (FAQs)
Is this oven good to make toast?
Ans: This oven can't be replaced by a toaster. You can toast bread with its Broil function, but it will do it only on one side. It can be used to make snacks, browned meals, pizzas, flatbreads, appetizers, casseroles, and desserts. It is good to make these. But toast is not a good option here. Better you use a toaster to get perfect toasts.
What is this Silent Mode for?
Ans: If you have little kids at home or anyone who hates to hear the beep tone when the food is done, this thing will help you a lot. To turn on the Silent Mode, you need to press Start 3 times till you see the beep on, then press the timer to turn the beep off. Press the Stop or Reset button to exit.
How much space you need to keep around the oven to ensure the proper airflow?
Ans: Keep 6 inches (15 cm) of space above the oven, 4 inches (10 cm) behind, and 2 inches (5 cm) to both sides. When one side of the oven is placed flush to a wall, then never block the other side or top side. Never remove feet.
To know more About Panasonic Brand [click here]
Click Here To See Current Price on Amazon
Wrap Up
Good things always come at a good price. So, if you want to spend money on a quality product, you won't find anything better than this Panasonic NN-CD87KS.
As you know, the microwave oven is getting an extreme need for this generation for its time consuming & helpful features. So, for your everyday cooking, a microwave oven is a must & this Panasonic NN-CD87KS is an all-in-one item, so you won't need to look elsewhere if you buy this. I hope this Panasonic NN-CD87KS Review will ease your decision & help you buy the best one.
Last update on 2021-11-30 / Affiliate links / Images from Amazon Product Advertising API