You will definitely have Jollof rice with roasted chicken when celebrating in an African home, right? In many African countries – the Jollof rice recipe is a very common dish whether they are having a birthday party, home celebration or any kind of get-together.
I personally like to prepare Nigerian Jollof rice and a chicken recipe for my guests and whenever I want to enjoy something healthy, tasty, and delicious.
And the best part is that you can make this amazing delicious roasted chicken and rice Jollof recipe at your home just like you used to make your other favorite recipes at home using the oven, stovetop grill pan, pancake griddle, or bread machine. It's as simple as that but more delicious, right?
If you love African food but didn't taste the Nigerian Jollof Rice with Chicken recipe yet, you are missing a lot. So, let's try it!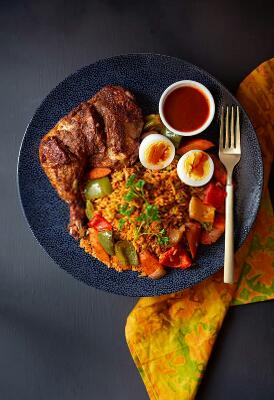 Nigerian Jollof Rice With Chicken Recipe
Basically, this popular and wonderful African chicken and rice Jollof recipe are very common in every African home. Whether you are a guest in there or guests are coming to your house – this Nigerian fried chicken and rice Jollof is an ideal food you would ever make.
Ingredients:
2 cubes crushed chicken bouillon
3 tbsp vegetable oil
3 cups parboiled rice
1 tsp herbes de Provence
2 diced garlic cloves
1 piece peeled & thinly sliced fresh ginger root – 2 inches
1 pinch black pepper, freshly ground
1 pinch cayenne pepper
2 lb chicken drumsticks
1 cup of water
1 tsp salt
½ tsp black pepper, ground
1 package frozen mixed vegetables, 10 ounces (peas, corn, carrots)
4 peeled and cut diagonally rip plantains – ½-inch slice
½ cup canola oil
1 can coconut milk, 14 ounces
1 can tomato sauce, 14 ounces
½ large diced onion
1 tbsp curry powder
Gadgets You'll Need To Make The Recipe
Directions:
Preheat a large Dutch oven over medium heat and place the chicken drumsticks in it. Also, add ½ onion, crushed bouillon cubes, ginger, garlic, cayenne pepper, curry powder, black pepper & 1 tsp herbs de Provence, and mix them. Now cook the chicken for 5 minutes or until the chicken is sticking to the bottom of the Dutch oven. Again, cook for another 15 minutes after pouring some water into it, mix it, cover the top & this will bring it to a gentle simmer. Now it's ready, thus, remove it from the heat.
Now, use a slotted spoon to place the chicken to a baking dish. Again, use a fine-mesh sieve to strain the cooking liquid. Discard solids after you reserve 1 ½ cups liquid.
Well, now you need to preheat the oven to 400 degrees F.
Bake the chicken in the oven (that you just preheated) for 30 minutes or until the middle of the chicken gets pink and the juices run clear. Now insert a thermometer into the thickest part of the chicken and it should read 165 degrees F.
Use a large pot to heat 3 tbsp vegetable oil over medium-low heat. Now, cook ½ onion around 5 minutes or until they become soft but not browned. Well, you need to add tomato sauce and stir for around 7 minutes or until slightly thickened and infused into the oil.
Now, add the reserved coconut milk, salt, pepper, chicken broth, and 1 tsp herbes de Provence into the pot. Add rice after you bring it to a simmer. Well, stir often and cook for 15 to 20 minutes or until the rice is almost tender. Now add the frozen vegetables and cook for 5 minutes more until the rice is creamy and tinder as well.
Use a nonstick pan and heat ½ cup of canola oil over medium heat. Now, add plantains and fry around 2 to 3 minutes each side so that both the sides turn golden as crispy as well.
Here you are ready to garnish the Nigerian roasted chicken & Jollof Rice.
Well, that's how you can make the amazing and wonderful delicious Nigerian roasted chicken and rice Jollof recipe at home as an ideal food recipe for any kind of party. You can make it in a short period of time and surprise your guests with the magic of your hands. This is something that everyone loves and enjoys more than anything.
Please share what you think about the recipe and your experience as well. I would love to hear from amazing people like you guys. Thanks.