Cast iron skillet is my favorite one when it comes to kitchen tools. It's the most used kitchen equipment in my kitchen as well. I love my cast iron skillet very much because it's the most suitable vessel to crisp up some chicken thighs, cook pork chop and bake a batch of brownies. I can transfer things from stovetop to oven with much more ease.
And best of all, cleaning the skillet is super easy, I can clean it in less time and get back to my other important works in a very short time, hurrah!
Moreover, a cast-iron skillet can be used for almost anything – you just need to take good care and maintain it and make sure to keep it in good condition.
And that's why I'm going to share with you how can you season your favorite cast iron skillet effortlessly and last but not the least, how can you keep your cast iron skillet in great working order.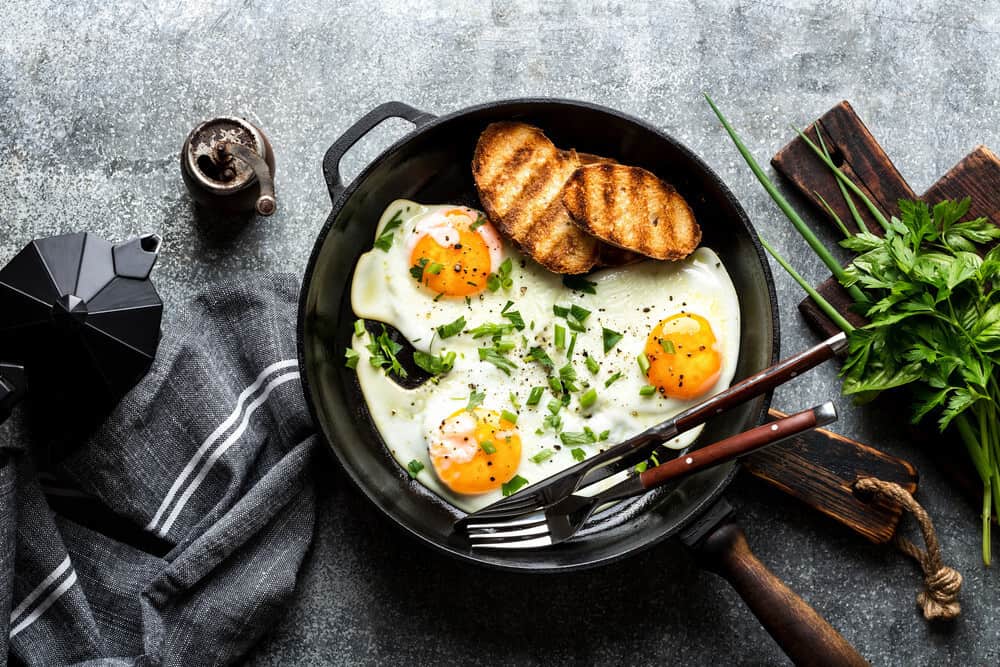 However, the cast iron pan will last for not only one but many lifetimes if seasoned appropriately. I'm pretty sure that most of you have memories of your grandparents or even great-grandparents frying up dinner with their heavy-bottomed skillets. And the reason why these best cast iron grill pans get passed down from generation to generation – I have already mentioned it, right? Only you need to know the right process of seasoning it and the science behind the seasoning process.
Without further ado, let's jump in the seasoning and see how it works!
How To Season a Cast Iron Skillet
Necessary Materials
Aluminum foil
Dish soap
Vegetable oil or any oil you prefer
Clean and dry cloths or paper towels
Read more: Best Griddle For Pancakes
Directions:
1. Get ready: Get all the supplies together and after that preheat your over to 350°F.
2. Wash the skillet: Take the sponge or stiff brush and now wash the skillet with warm, soapy water. In general, you should not use the soap to clean the cast iron skillet, but it's fine here as the pan is about to be seasoned.
3. Rinse and dry: Now rinse the water and dry the skillet thoroughly with a dry, clean cloth or paper towels.
4. Add oil: Well, pour some melted shortening or a little bit vegetable oil into the skillet. According to Lodge, you can use any oil you prefer. Though vegetable oil or shortening is the most commonly recommended oil that people use for seasoning.
5. Rub: To rub the coat around the entire skillet, use a clean cloth or paper towel.
6. Flip the skillet over: You must oil the bottom of the skillet – don't forget the outside. You want a thin coat of oil to the entire piece, right?
7. Bake the skillet: Now transfer the skillet on the center rack of the oven and make sure the upper side is down there. In order to catch any drip from the skillet, place a sheet of aluminum foil under the rack. Bake for around an hour.
8. Let the skillet cool: You are almost done. Turn the heat off and allow the skillet to be cool completely before you remove it from the oven. And when the skillet is totally cooled down, you are done!
Read more: Best Stovetop Grill Pans
Note:
When you will notice that the food is sticking to the surface or if the skillet appears rusted or dull – it's the time to re-season. Basically, a seasoned skillet is smooth, shiny, and nonstick as well.
Well, I hope you understood how to season a cast-iron skillet and now you have a better understanding and steps to follow as well. If you have seasoned your favorite cast iron after reading this article – then please let me know how it turned out for you?
And if you have any questions related to seasoning cast iron or others – please share it with me as it would be an honor for me to help wonderful people like you guys!