When it comes to cleaning a cast-iron skillet often includes a lot of don'ts: Don't put in the dishwasher, don't use steel wool, don't use soap, and many more. And these are enough to scare a cook-off from using a cast-iron totally.
But you can follow these simple yet powerful steps to clean your skillet, keep it rust-free, and well-seasoned as well.
And don't worry, in case, you take off your skillet's smooth a little bit, as it's not a big deal to re-season the skillet after cleaning it and it's not so hard at all.
Well, the brush is key to foolproof effortless, and easy cleaning. So, don't hesitate to clean your wonderful skillet. And best of all, there is no better tool to remove sporting than an amazing, sturdy scrub brush – if your skillet is sporting stuck-on food. And there are specifically designed brushes to clean cast iron.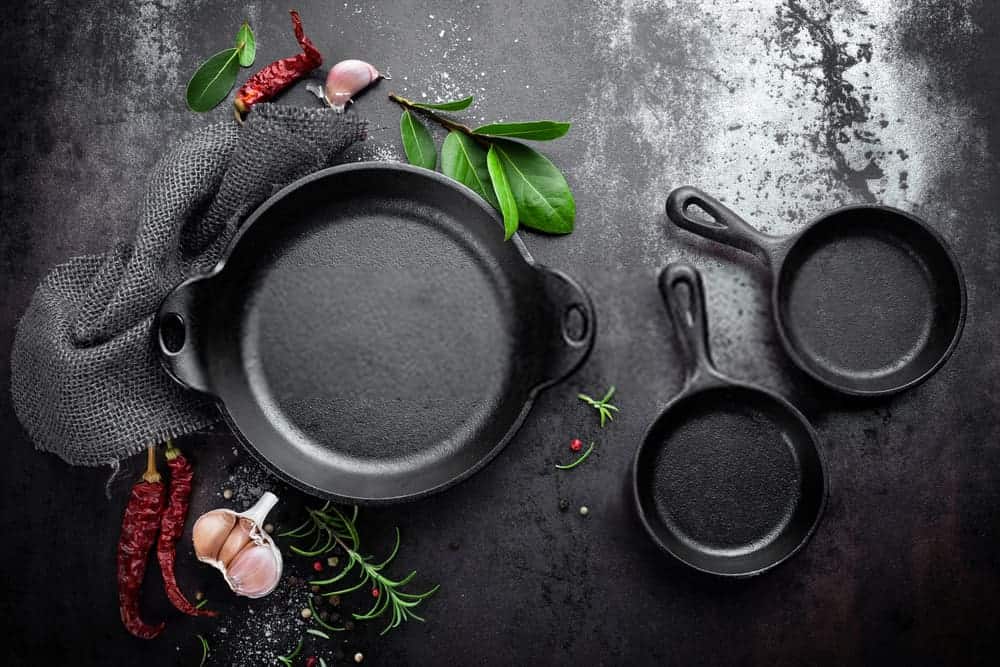 How To Clean A Cast Iron Skillet
In order to clean your cast iron skillet – you will need some required materials and equipment as well.
Materials
1. Cast iron skillet
2. Paper towels or dry cloth
3. Vegetable oil or shortening
4. Sponge or stiff brush
5. Kosher salt – optional
Equipment
Stove – optional
Read more: Best Griddle For Pancakes
Directions:
Once you have finished your cooking – it's necessary to clean the skillet immediately while it is still hot or warm. Make sure that you don't leave the pan or soak it in the sink – as a result, it may rust!
Use hot water to clean the skillet. You need to use a hand along with a stiff brush or sponge. It's okay if you wear gloves or use tongs – when the water is way too hot. It's recommended to avoid the steel wool, soap or dishwasher – because these may ruin the seasoning of your skillet.
Well, if there is stuck-on food on your skillet – use a paste of coarse kosher salt and water to scrub the pan. Now use a paper towel or simply rinse it with clean water, okay. But if you notice stubborn food residue – then boil some water in the pan as it will loosen the stubborn food residue and the cleaning process will be easier.
To dry the skillet, use dry towel thoroughly over the skillet or you can also place it on the stove over low heat.
Now use some vegetable oil or melted shortening to the inside of the skillet – and apply it with a cloth or paper towel, whatever you prefer! However, there are some individuals who also like to oil the outside of the skillet as well. Buff to remove any excess.
You are almost done – find a dry place and store it there until you need it for the next cooking.
Read more: Best Stovetop Grill Pans
Notes For A Cast Iron
In case, if you have used steel wool, soap, or any abrasives – then you may need to re-season the skillet for sure. If you are using a cast iron from years and the skillet is well-seasoned as well – then you can actually use a little bit of mild soap to clean the cast iron skillet without doing much damage, right? Make sure that you have oiled the skillet after cleaning, rinsing, and drying it.
If you are experiencing stubborn rust and want to remove it – rub it with a sprinkle of baking soda along with half a raw potato, believe me – it works great! However, you may need to re-season the skillet once you finish your cleaning.
I hope you like the idea of how to clean a cast-iron skillet and now you know how to make the process simple and powerful. And if you are facing stubborn rust, then boil some water in the skillet, use half a raw potato and a sprinkle of baking soda to clean the rust.
If you have used these techniques – then please let me know how it turned out for you.
And if you have any suggestions, opinions, or problems that you want to share with me – then please let me know as it would be an honor for me to help amazing people like you guys!
Have a great day
Cheers!