Do you want an elegant blender for a smart kitchen? Then Read this Vitamix v1200 review. Well, it comes with an elegant button, simple design & smooth performance. In this article, we will cover the detailed features, performance & cons of this blender. That will help you to make the right decision whether Vitamix v1200 can meet your requirements or not.
The best thing about this model is it introduces some latest innovative features at an affordable price. Besides, it can deliver unbeatable performance with exclusive versatile features. Moreover, this blender also brings low noise technology.
Guess what, you can enjoy a superfast blending without loud noise. Not only these, but it's also a durable & money-worthy blender. Let's start the full review to learn the details & decide whether It's worthy or not.
A complete Vitamix v1200 review to know why it's value worthy & how it differs from other ascent series models!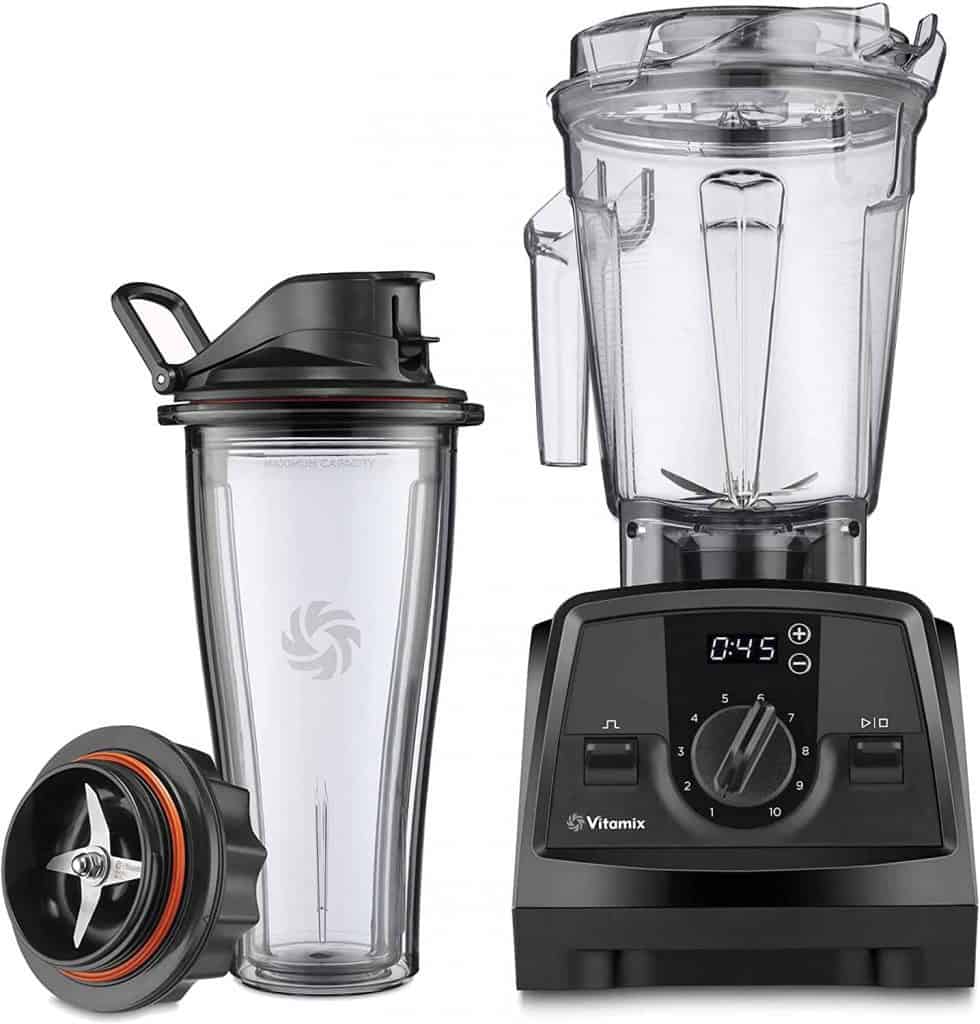 Click Here To See Latest Price on Amazon
We share the Vitamix Venturist V1200 review because it is one of the best blenders at an affordable price. We are coming with the low noise blender review. Already we share the Vitamix 7500 review. But this model brings something more than 7500 to deliver the best services.
Well, Vitamix v1200 not only comes with low noise technology. But also ensure faster & efficient blending power. It brings some advanced smart features to deliver the best blending experience. Jump to the article to explore those features.
Versatility
This powerful blender can meet versatile needs. Even you can make hot soups without a stove with this blender. Besides, it is guaranteed it makes perfect smoothies without grain. Yes, it not only makes perfect smoothies but also makes amazing frozen desserts.
You can make ice cream, snow cones, or yogurts, or Hot soups within 30 seconds only. Besides, ice blending will be fun with this masterpiece blender. Moreover, it allows making perfect grinding, baby foods, sauces & more. If you want a versatile blender then Vitamix v1200 smart appliance is for you.
Efficient Speed Control
Well, Vitamix v1200 is one of the powerful blenders. We share the Vitamix Venturist V1200 review because of Its amazing blending performance. It comes with an easy speed dial knob for controlling the speed to ensure even food processing.
You can make smooth & fine chunky salsa with its efficient speed control features. It provides 10 different speed control modes to ensure depth controlling.
Pulse features
Well, Vitamix v1200 is an improvised series for efficient blending. It brings pulse features to ensure smooth purees for any kind of food. Also, it handles even food distribution for delivering results. Guess what you can blend a variety of food with proper texture & perfection.
Digital Timer
Vitamix v1200 provides a built-in digital timer to solve your guesswork risks. You can process your recipes with perfect texture without manual guesswork. Isn't it excellent? Besides, you can easily control the timer with the "+" "-" touch button. It only focuses on the customer's convenience.
Self-detect technology
This smart blender comes with self-detect technology. That is called wireless connectivity features. It also provides a 20- ounce self-detect cup to make small batches. You will be surprised to know the motor base automatically identifies the container sizes & sets the required speed & blending times. That solves your risk of over blending or under blending. As a result, this blender only delivers perfect food with the perfect texture.
Easy clean
Well, this blender also comes with dishwasher safe materials. You just take some warm water & a dishwasher. Then hit the blender at maximum speed for 60 seconds. It will automatically clean up the blender without manual scrubbing.
Laser Cut blades
Vitamix v1200 comes with stainless steel laser-cut blades. That ensures a long-lasting smooth blending guarantee over years. There is no risk of dulling or bending. This laser cut blend will give outstanding blending from the first day to last.
Also, there is an updated model: Vitamix E320 Reviews
Powerful Motor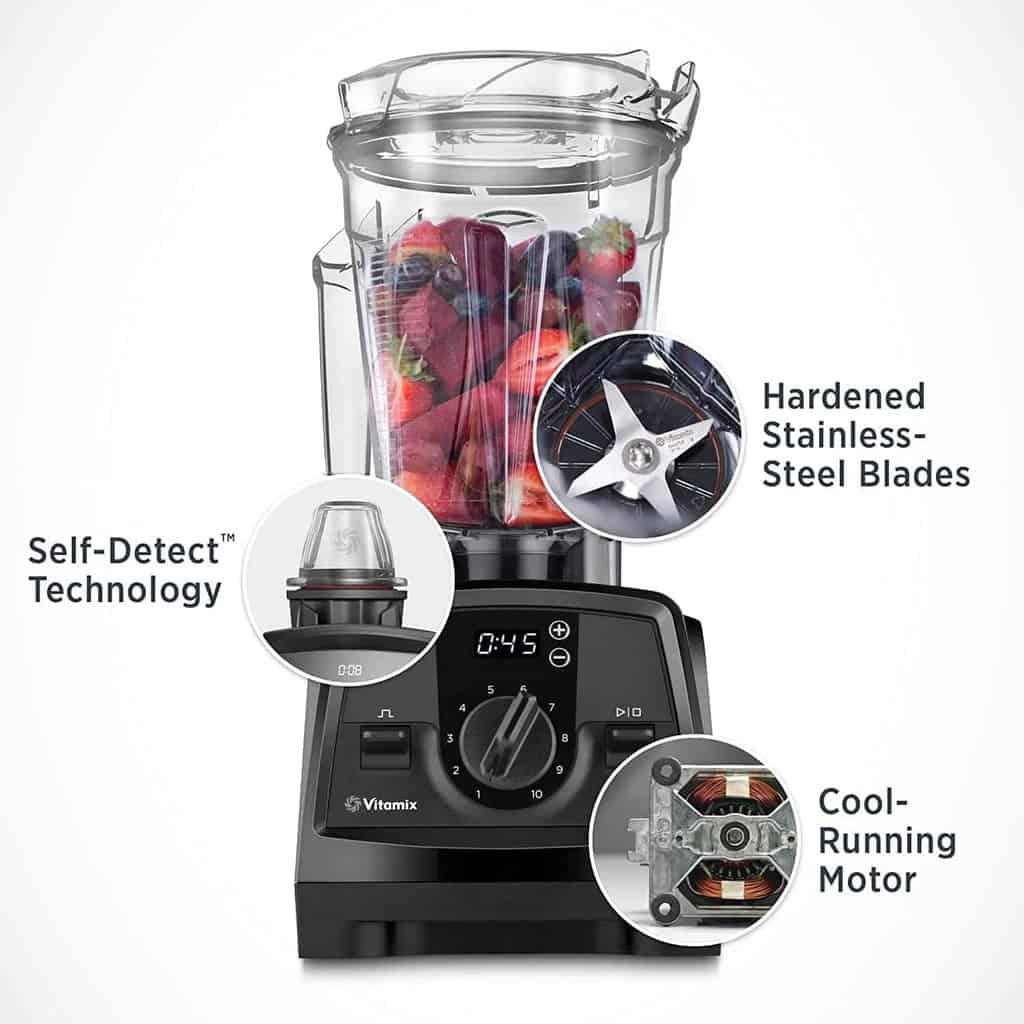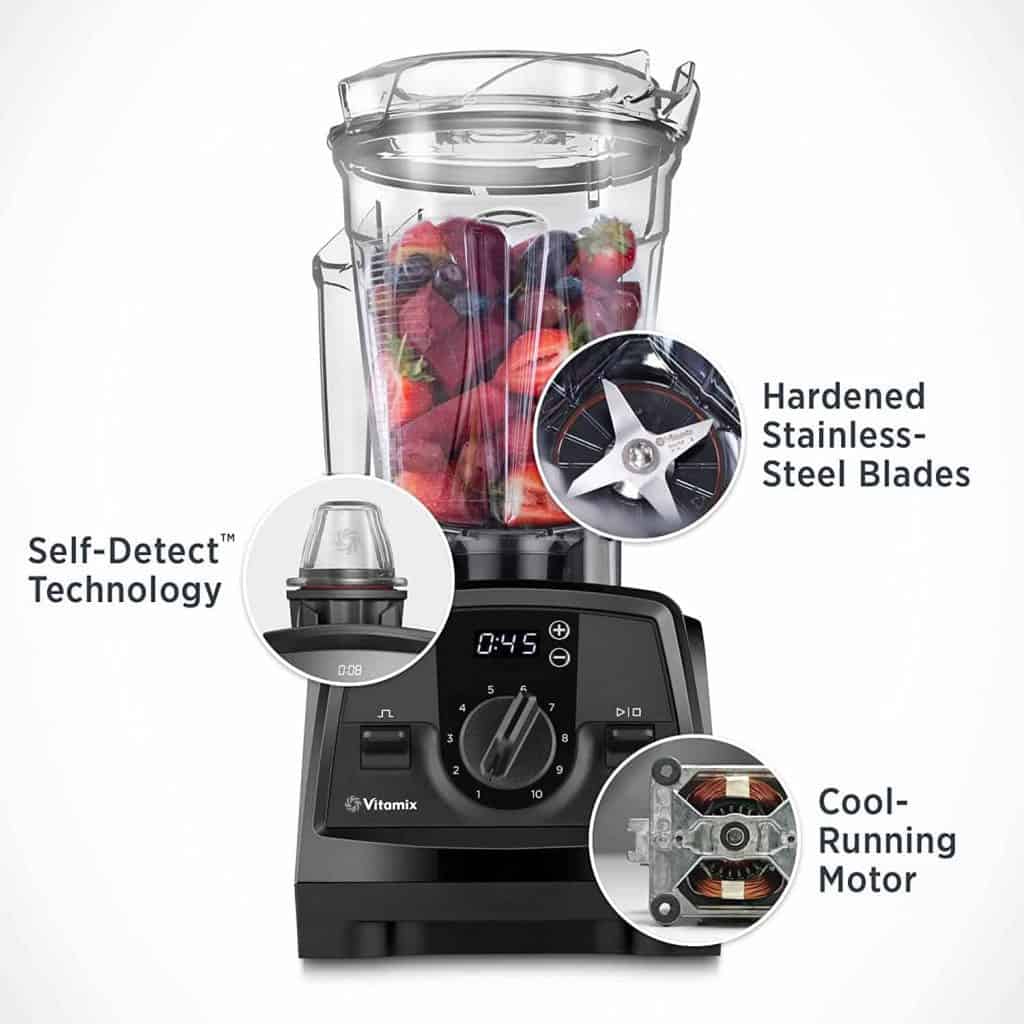 This smart blender comes with a high-performance motor. That ensures low noise at high speed. But capable to process food within a glimpse of eyes. The best part is you can avail the fastest performance with minimum noise.
Besides, this superior motor is capable of grinding heavy powder or any frozen nuts within a minute. In fact, It can transform any toughest ingredients into smooth blends within a few minutes.
Click Here To See Current Price on Amazon
Measurement & weight
This is a large size blender. It has dimensions of 10.5× 8× 17 inches. That can meet medium or large family needs. Besides, it is a professional-grade blender that can handle robust food.
It comes with a 64-ounce container. The weight is 19.4 pounds.
Accessories
Motor base
Low profile 64 oz. Container
Cookbook
Self-detects 20 oz. Container cup.
Low-profile tamper.
Specifications
This blender can meet versatile needs such as smoothies, hot soups, baby foods & more.
It has a digital timer with an easy touch button to ensure convenient food processing.
Also, It brings variable speed control to deliver a perfect blending experience.
You will also get pulse mode to ensure even blending.
It comes with a high-performance motor to ensure smooth blending power for any ingredients.
This blender comes with a laser-cut stainless-steel blade for a long-time perfect blending.
The dimension is 10.5× 8× 17 inches.
It comes with a self-detect cup & 64 oz. low profile container to process robust food at once.
Also, it comes with self-detect technology for convenient & perfect blending.
Pros
Sufficient space.
Faster blending.
Versatile food processing with perfection.
10 different speed controls with pulse mode.
A digital timer.
Well-built design.
Easy cleaning.
10 years warranty.
Self-detect technology ensures a perfect result.
Self-detect container for convenience.
Cons
Let's watch a video review!
Also read: Vitamix A2500 Reviews & Vitamix A2300 Reviews
Frequently Asked Questions (FAQ)
Is this Vitamix v1200 different from A2500?
Ans: Well, basically it is the cheaper version of the A2500 model. It comes with all high-quality plastic. But both machines are the same. But some features such as Bluetooth, a metallic body is not similar. Vitamix v1200 is providing high-end services at a low cost.
How does the 20 oz cup work?
Ans: The 20 oz cup is a self-detect cup. Basically, the blades screw on it. You will find arrows that help you to activate the cup perfectly. Just fill the cup & put it on the base & hit the blender.
Does v1200 provide preset options?
Ans: Unfortunately, it won't come with preset menus. But you will be glad to know it can handle versatile foods perfectly. It comes with self-detect technology for convenient food processing.
Will Vitamix v1200 make a loud noise?
Ans: Well, it introduces low noise technology. Among all other Vitamix models, v1200 will generate low noise. Yes, it makes a bit of noise at high speed but compared to other models it is low.
However, you can make up to 500 recipes with this amazing Vitamix E320 model. [Click here]
Click Here To See Today's Price on Amazon
Conclusion
Vitamix v 1200 is a fantastic blender for people who are looking for high-performance blenders. The best part is you will get this high end & best blender comparatively low price. This smart blender brings all the convenient features to remove your stress from blending.
The self-detect container, digital timer & low noise technology makes Vitamix v1200 the best. So before choosing any model read the full Vitamix v1200 review to find the best product within budget. I can bet no other model can bet it's blending performance.
Last update on 2022-06-09 / Affiliate links / Images from Amazon Product Advertising API