A slide-In gas range is a popular choice for convenient cooking. But with Its popularity, there are so many low-quality model launches in the market. You should buy the latest & high-quality gas stove to get the best services. How to find the right gas stove? To assist you, we are going to share an unbiased Samsung NX58R9311SS review. We will discuss all the depth features, performance & cons. As a result, you can easily decide whether it is suitable for your needs or not.
Well, it is not only the latest gas range version but also comes with some modern facilities. This is a 30-inch gas range with five different sizes of burners. Guess what? It allows using different sizes of cookware easily.
Besides, it brings a powerful burner, shimmer burner & many more to ensure efficient & healthy cooking. Well, if you want a modern & sleek gas range with versatile function, read the full review.
If you are totally confused by seeing numerous gas ranges on the market then read Samsung NX58R9311SS Review for a better understanding.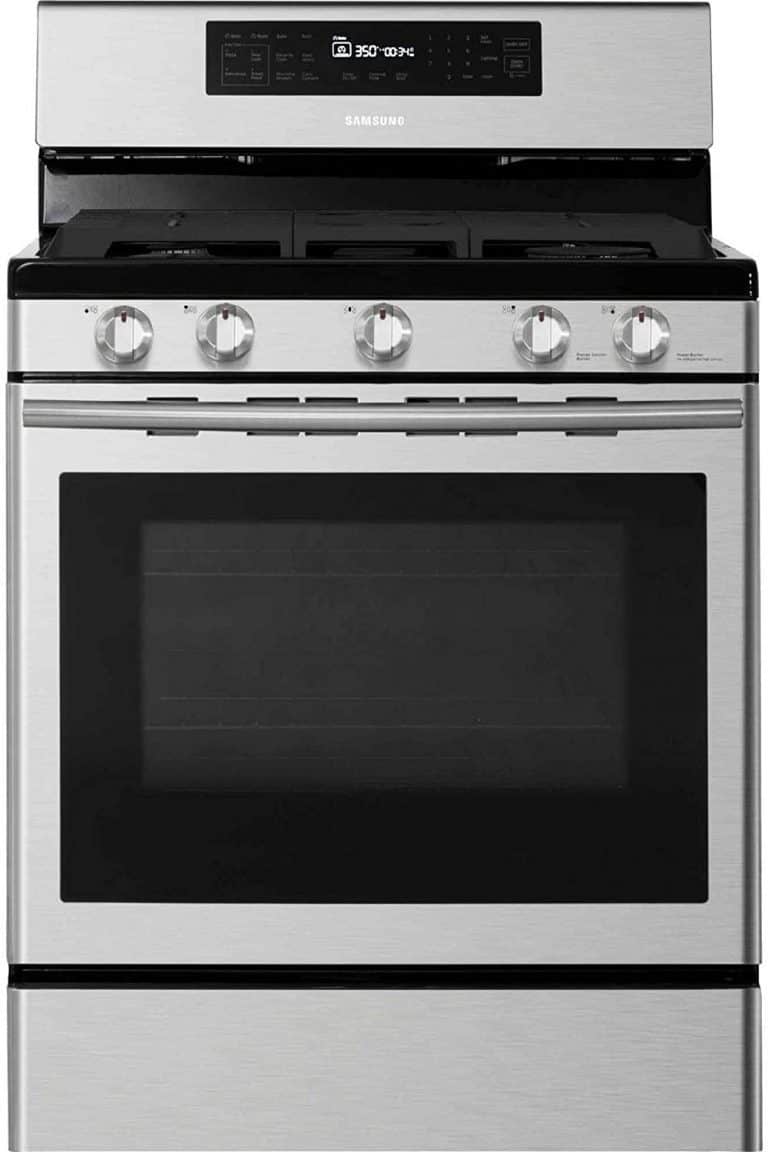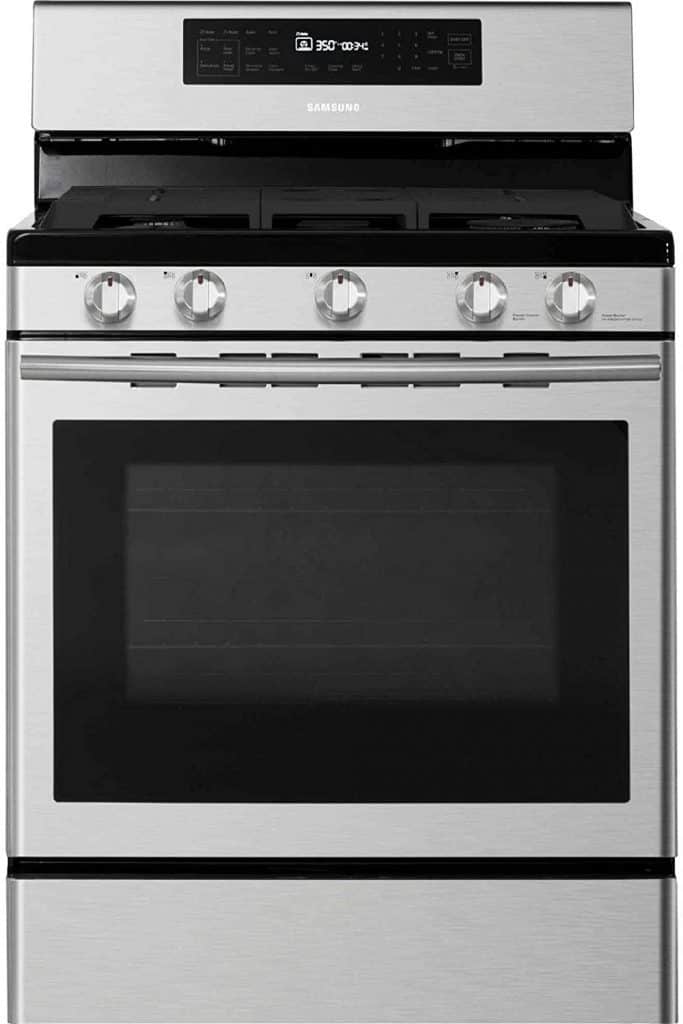 Click Here To See Latest Price on Amazon
Samsung NX58R9311SS is a 5.8 cu. ft large gas range. That comes with an LP conversion facility, Sabbath mode, self-cleaning & many more. The performance of this versatile gas stove & smart features forces us to share Samsung NX58R9311SS review.
It is a combination of beauty & performance. Well, it is one of the best performing gas range that provides some smart advanced features. Also, it is a well-built, durable oven that makes your purchase lucrative. Let's look at the full review to explore the depth of functionality.
Smooth Cooktop
Samsung NX58R9311SS introduces a flexible cooktop with five powerful burners. Also, it brings different sizes of burners for your cooking flexibility. Guess what, it keeps sufficient space between the burners so that you can fit your cookware easily.
It makes boiling super faster with a 17k BTU high-power burner. I can bet no other gas range can defeat. It's a burning ability. Besides, it provides a simmer burner to deliver perfect melting with a 5k low-power burner. Moreover, it also includes a large oval burner to process vegetables or heat a casserole dish.
However, we have discussed another updated model Samsung NX58K9500WG Review, also available on Amazon!
High-quality Grates
Simultaneously, this powerful burner comes with continuous grates to ensure easy moving. The high-quality, heavy-duty cast-iron grates also ensure the long durability of your stove. The best part is all the burner delivers even & efficient heat to deliver a healthy meal. Besides, the grate helps to wipe out dust from the stove effortlessly.
Self Cleaning
Samsung NX58R9311SS introduces improvising self-cleaning features. Well, this feature can keep your oven clean without any manual scrubbing. It is more efficient & accurate than any other model self-cleaning system. This system includes high heat options to burn off grease & remaining food inside the oven to clean out quickly. The whole cleaning process you can set for 2, 3, or 5 hours for a complete wash.
Safety & Extra advantages
It also ensures users' safety. You will get child safety lock features to avoid any unwanted accidents. Besides, it introduces auto shut off, delaying start to provide maximum cooking convenience.
Window
It provides a wide window to ensure a clear interior view. That is helpful to observe your cooking progress. Also, you don't need to open the door to leak heat. It allows observing cooking progress & setting temperature accurately without guessing. You can observe the progress & set the accurate time after watching.
Storage Drawer & warming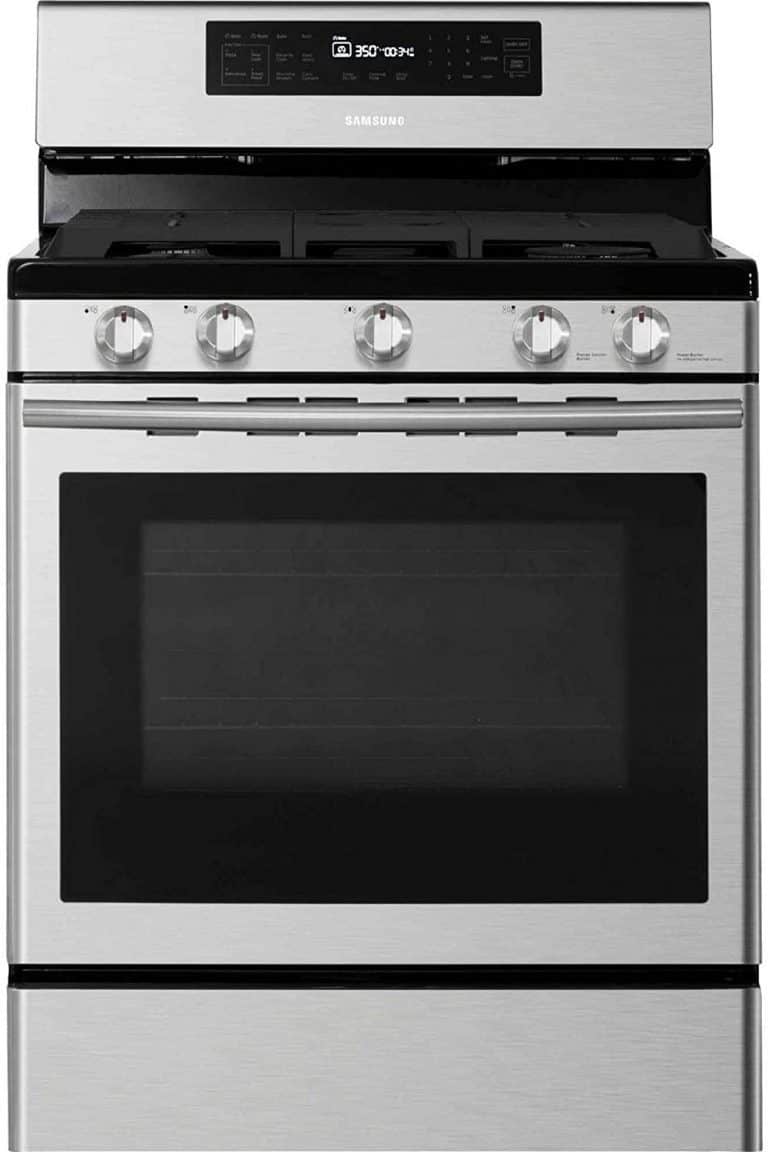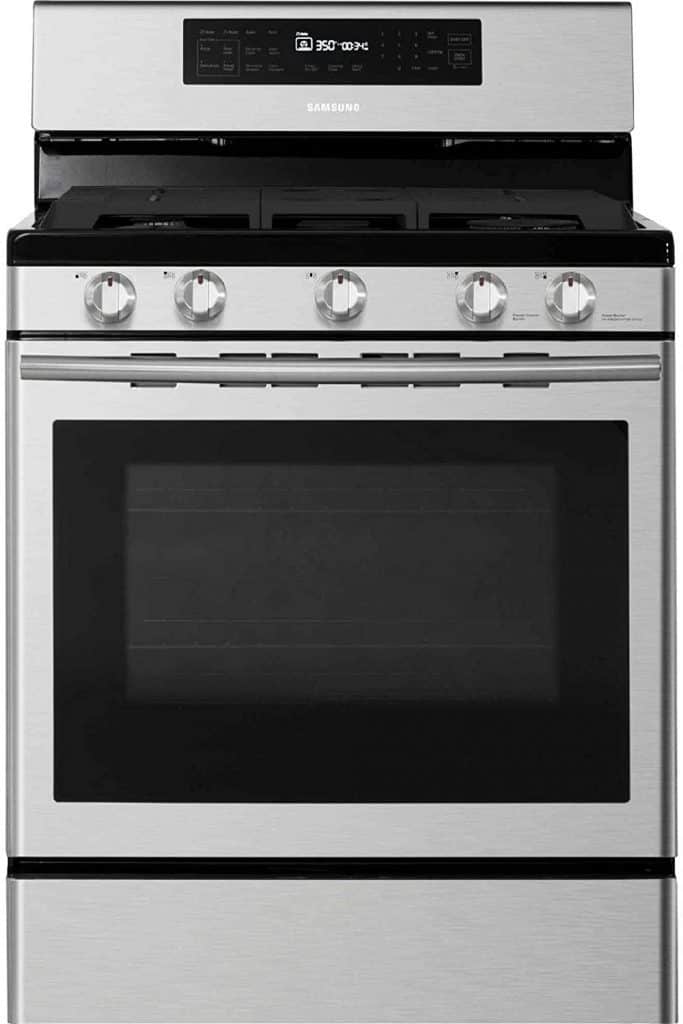 It comes with a large storage drawer. It helps to store your kitchen appliance in the drawer. That saves kitchen space & helps to make the kitchen more organized.
Another exciting feature is the warm ability. Guess what it has the feature of storing food at an ideal temperature to keep it warm. As a result, you can serve warm food without further hassle. It is a beneficial & essential function for a gas stove.
Click Here To See Today's Price on Amazon
Dimensions
Samsung NX58R9311SS is a large oven. It provides a 5.8 cu. ft cooking capacity. That allows cooking whole day meals at once. It is a versatile oven that allows cooking a big roast, multiple casserole & cookies at the same time. It has a dimension of 29 15/16 W* 28 11/16 D *37 H inches. I guess it is large enough to meet your cooking needs. Also, it provides two oven racks to manage sufficient food.
Specification:
It provides a 5.8 cu. ft. cooking capacity for handling multiple dishes at once.
This large oven comes with continuous heavy-duty iron grates for easy cookware moving & stove cleaning.
It comes with 5 powerful & efficient burners to ensure faster & healthy cooking.
This oven comes with child safety features to ensure maximum safety.
It provides advanced self-cleaning features to ensure easy cleaning.
Also, it comes with a large window to allow easy observation of food processing.
It provides a smooth glass touch control panel, digital display to ensure easy & smooth functionality.
Besides, it comes with 5 smooth knobs to ensure depth & efficient temperature control.
Also, it provides triple-layered glass for easy observation.
You will get a keep warm option to serve warm food.
This oven provides a large storage drawer to store essential items.
Pros:
Powerful burner.
Quick boiling.
Easy cleaning.
Large storage.
Enough capacity.
Easy operation.
Cons:
Let's watch a video review!
Also read: GE PGS930SELSS Review & LG LSG4511st Review
Frequently Asked Questions (FAQ)
Does Samsung NX58R9311SS generate excessive heat while baking that makes the handle hot?
Ans: Well, this sleek design oven is powerful & capable of generating sufficient heat on your cookware. But it does not make the handle hot. It is better to use a kitchen hood to ensure perfect ventilation to avoid any unwanted heating.
Is the Samsung NX58R9311SS oven electric & the burner power by gas?
Ans: No, it is not an electric oven. Both the burner & oven are powered by natural gas. You will be glad to know this powerful gas range is capable of meeting electrical oven needs. It performs better than an electric oven for baking.
Does Samsung NX58R9311SS provide an LP conversion kit?
Ans: Fortunately, this natural gas range provides an LP conversion kit. You can easily switch natural gas to LP according to your needs. But it is wise to read the instructions carefully because the conversion process is a bit hard.
How does the preheat work?
Ans: The preheating does not take a long time. This oven can preheat within 5-8minutes. I guess it has faster-preheating power than any other gas range. Also, it is capable of delivering consistent output for baking.
Click Here To See Current Price on Amazon
Conclusion
It is a sleek design well-built gas range. That comes with a premium glass touch control panel to ensure an easy-to-use facility. Besides, this glass panel is simple to clean. Without its easy operation, it also offers self-cleaning, a wide window, a powerful burner, a large capacity & many more. In short, it is a premium gas range that comes with all the essential & convenient features.
We try to cover all the functionality, pros & cons in this Samsung NX58R9311SS review. We give time for our testing to represent accurate data. I hope it can guide you to choose the right gas range model according to your needs.
Last update on 2021-11-30 / Affiliate links / Images from Amazon Product Advertising API