A good gas range is a smart investment. You will be glad to know a good gas range can give smooth services over decades. But it's difficult to discover the right model among millions of options. How can you choose the right model with the required features & durability? Well, to help you we are coming with a Samsung NX58H5600SS Reviews. It will help you to find the best gas ranges in the market.
Well, Samsung is a powerful & convection-style oven that can ensure 30% faster cooking than other ovens. Guess what it requires less time to finish your cooking & save valuable time.
Moreover, it is a 5.8 cu. ft large oven that allows cooking a whole day meal at once.  This five-burner oven can meet all types of cooking needs. If you want versatile cooking with perfection then this Samsung NX58H5600SS Reviews is a must for you.
We tested different gas ranges & share the Samsung NX58H5600SS reviews because it has everything that a customer looks for in a great gas range.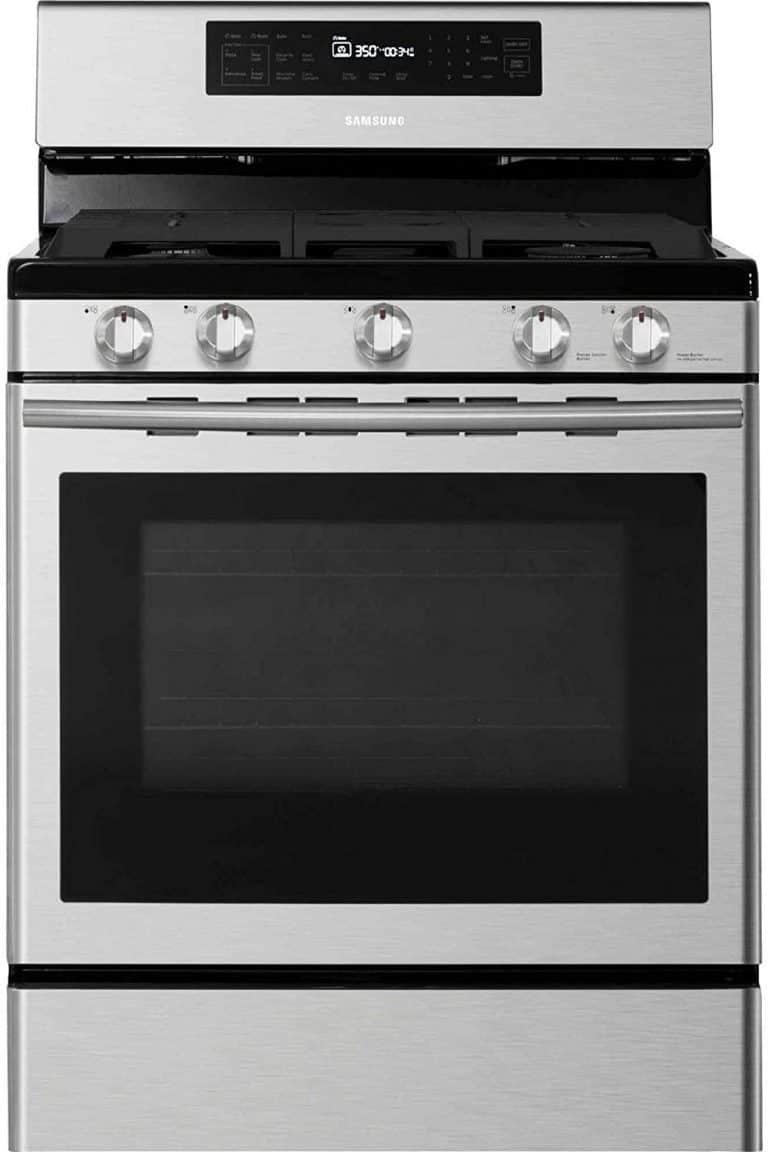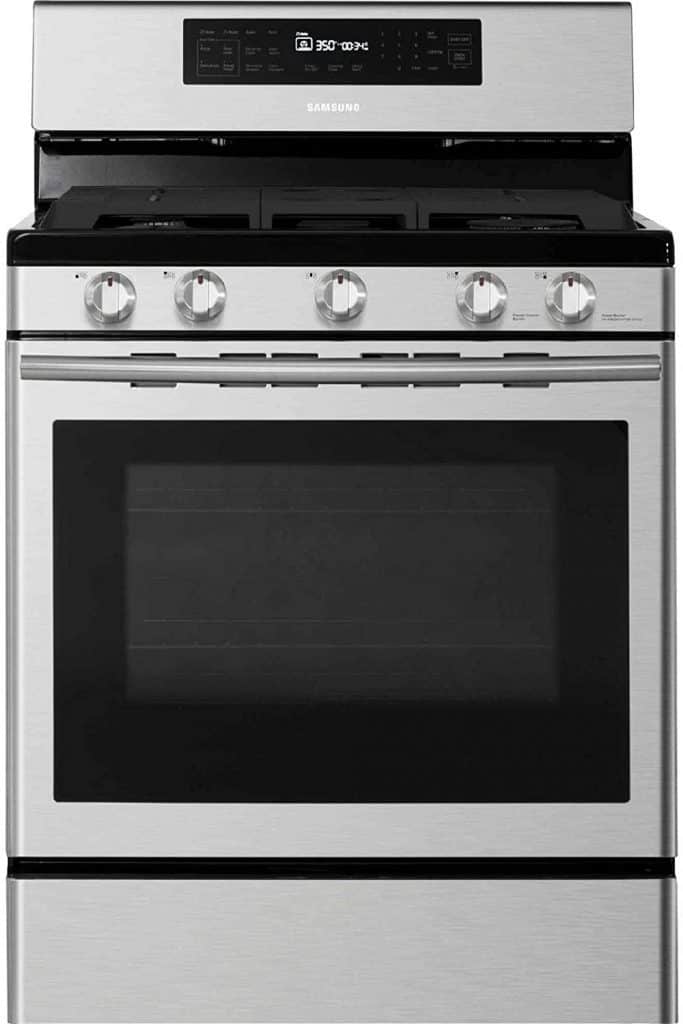 Click Here To See Latest Price on Amazon
It ensures even heat distribution & delivers perfect baking, roasting, or boiling within a short duration. Aside from all of these it introduces many more advanced features. Let's read the full Samsung NX58H5600SS Reviews to know the detailed features, pros & cons to pick the right gas oven.
Well, Samsung NX58H5600SS is a large gas range that can make cooking fun. If you need to cook robust foods then this model is for you. Guess what, it allows you to cook different dishes at different temperatures at once. It introduces some amazing features for optimal & healthy cooking. Dive into the article to learn the exclusive features.
Cooking performance
This oven provides 5 different gas burners to allow boiling to roast. Even you can derive professional baking with this masterpiece oven. The different size burner makes the heat controlling more efficient & accurate.
The back burner in the back is small with the 5000BTU rear burner. Besides the left rear burner comes with 9500BTU. The front burners are the most powerful that comes with 17000 BTU & 15000 BTU capacity. This oven provides four powerful standard burners to ensure superfast cooking.
Also, it provides an extra-large oval burner in the middle. That offers 9500 BTU capacity & it allows to cook with griddle. Also moving pots from the burner is smooth for its cast-iron grate. Moreover, it is dishwasher safe. So the cleaning process is easy & simple.
However, we have discussed another updated model Samsung NE58K9430SS Review, also available on Amazon!
Convection Cooking
Samsung NX58H5600SS Gas range provided 5.8 cubic ft. Cooking capacity. That introduces convection technology to ensure even heating & faster cooking. Guess what it allows you to cook 30% faster. We try to roast a whole chicken & cake baking in this oven.
You will be surprised to know that roasting only takes 60 minutes. Even it comes with delicious, crisp & perfect. If you want a versatile gas range with excellent performance then Samsung NX58H5600SS  is for you. We try 100+ other models but no other model can bet it with performance. That insists we share this Samsung NX58H5600SS reviews.
Easy clean
Well, this powerful oven also provides self-cleaning features. You can simply put out the rack. Then press the self-clean button with a 4-hour cycle. When it completes the cycle, your oven will come out perfectly clean. Use a wet cloth to simply wipe out the oven.
Delay Start
Samsung NX58H5600SS also provides a programmable delay start button. You can fix a particular time for starting the cooking at your convenience time. It helps to set the cooking schedule & get out of the kitchen to attend to other tasks. You don't need to worry about running to the kitchen to start the oven. It automatically can start the cooking at your preferred schedule.
Drawer
It also provides a 0.7cu. Ft. extra storage drawer. You can store your kitchen accessories in this large drawer. But it is not providing any warming drawer.
Measurements
This large Samsung NX58H5600SS provides a 5.8 cu. ft. cooking capacity. That can meet large family needs & suitable for a professional or newbie chef. It has a dimension of 24×30×46 inches. This a free stand stainless steel oven that can use for decades. It requires no installation. It comes with a sleek design & precise power control for convenient cooking.
Extra Convenient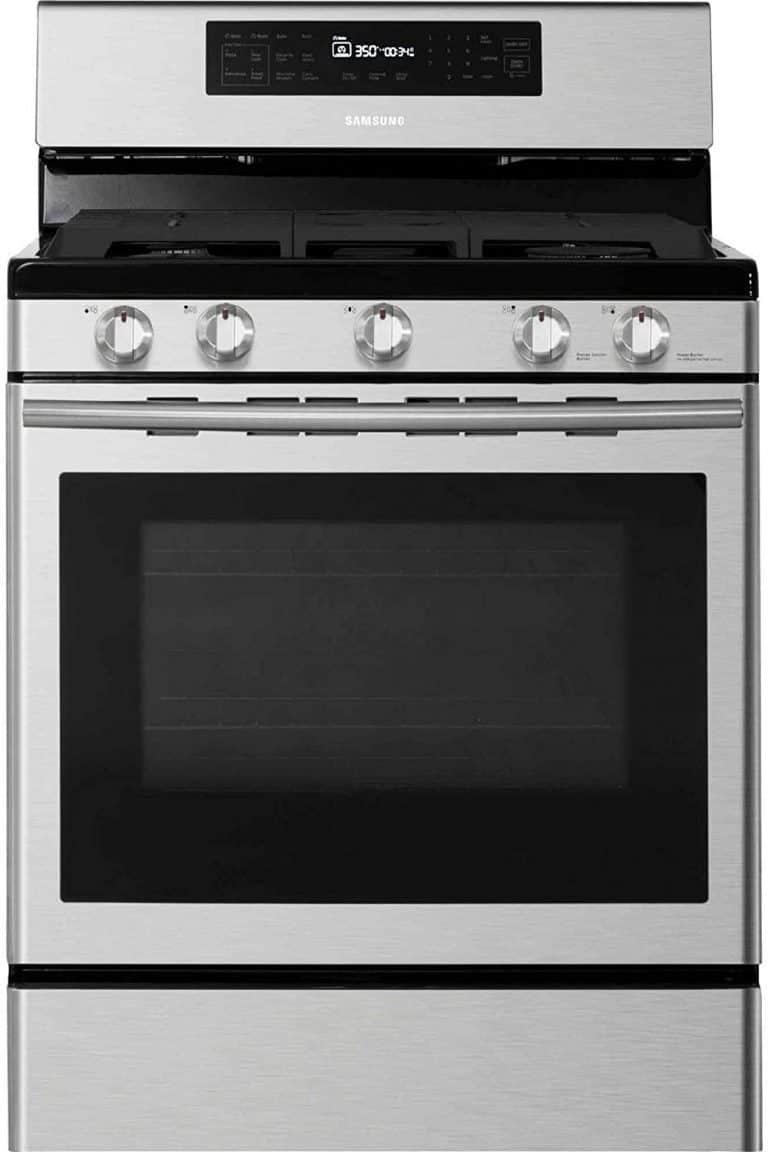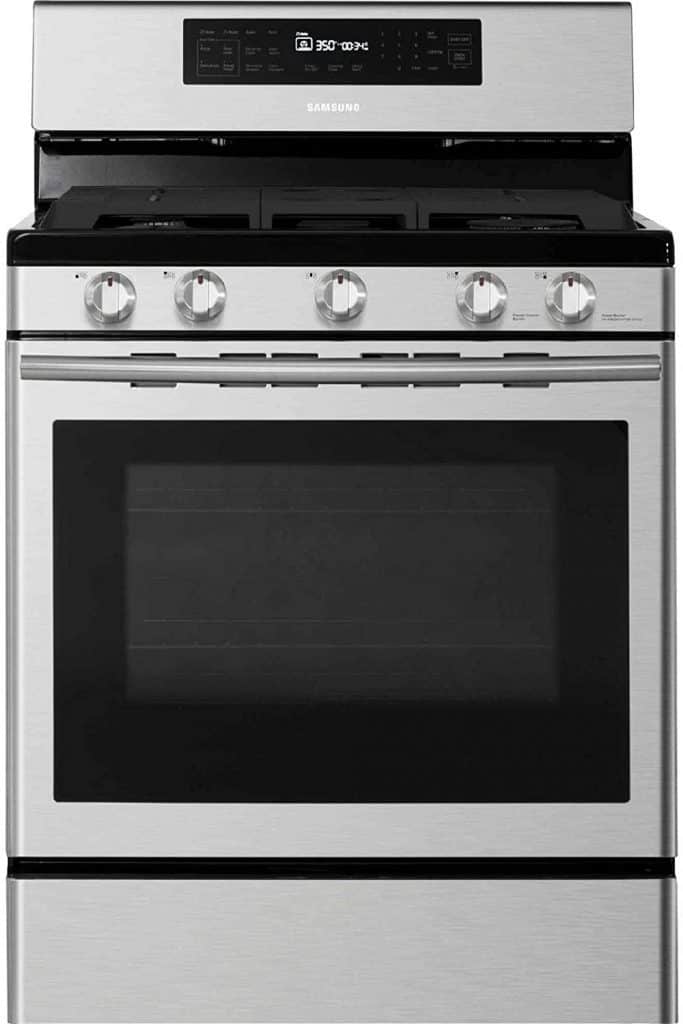 This oven introduces easy preset cooking features. The best part is this preset can automatically choose time & temperature for delivering excellent foods. Guess what it reduces the risk of overcooking or undercooking. If you buy Samsung it is guaranteed to get only perfectly cooked food.
It also introduces a top broiler, two chrome cooking racks & auto shut off features. Besides, it provides a proofing option & Sabbath mode. Sabbath mode allows the use of burner without auto shut off & timer features for depth manual controlling. Moreover, it provides auto-light features to check your meal easily.
Click Here To See Today's Price on Amazon
Specification
It provides a 5.8 cu. ft. cooking capacity for handling whole day meals at a time.
This large comes with 5 different size burners that give a total of 56000 BTU power to deliver 3000% faster cooking.
It introduces convection features for even heat distribution & ensures perfect cooking.
You will get self-cleaning features for easy operation.
It is dishwasher safe so the outer maintenance is also easy.
You can bake, broil, roast & many more with perfection.
It introduces convenience preset options, Sabbath mode, auto shut off for hassle-free & even cooking.
This oven also provides a large storage drawer for storing necessary items.
It comes with programmable delay start features to allow convenient cooking.
Besides, it provides auto light features to check your meal.
It comes with a sleek design that enhances kitchen beauty.
Pros:
Powerful & quiet oven.
30% faster than other ovens.
4 auto preset features.
Self-cleaning.
Programmable delay start features.
Convection technology.
Excellent performance.
Proofing, auto shut off, auto light features.
Large storage drawer.
Cons:
Fingerprints are visible.
Lack of warming drawer.
Also read: Thor HRG3080U Review & Frigidaire FFEH3054US Review
Frequently Asked Questions (FAQ)
Is this Samsung NX58H5600SS oven handle gets hot during baking?
Ans: Well, this powerful oven also comes with high-quality stainless steel. You don't face hot handles issues with this model. It only generates heat on the cooktops.
Can I use propane with this Samsung NX58H5600SS oven?
Ans: Yes, this gas Oven comes with a propane conversion kit & instructions guide. It is easy to convert & match the flames. You can do it like a pro.
How long does it need to preheat?
Ans: It is one of the powerful & faster gas ranges. So, it does not need much time for preheating. It will preheat within a few minutes up to 6-8.
Does this oven provide self-cleaning features?
Ans: Yes, it comes with a self-cleaning mode. You just need to bring out the racks then switch on the cleaning mode. Besides, it is dishwasher safe. You can easily clean the top with a warm cloth & dishwasher.
Click Here To See Current Price on Amazon
Conclusion
This sleek powerful gas range is a must-have kitchen appliance for convenience & perfection lovers. No other gas range can meet all types of cooking needs with protection like Samsung NX58H5600SS. It is a versatile gas oven that comes with some amazing convenience features. Moreover, it transforms cooking into fun & removes your cooking issues.
It is an unbiased Samsung NX58H5600SS reviews to represent its performance, features, pros & cons. I hope this review helps you to find a value-worthy gas oven. This high-performing oven also comes with an impressive design & high-quality material. It will be a lucrative investment if you buy Samsung NX58H5600SS.
Last update on 2022-01-29 / Affiliate links / Images from Amazon Product Advertising API