Are you a Meatloaf Maestro? Sausage Aficionado? Or, Burger Boss? By grinding your own meats at home, you can take your home cooking up a notch and really make a great impression.
You get higher quality sausages, burgers, and more when you grind the meat on your own and as a result, your food tastes better and you save plenty of money too.
Though there are two types of meat grinder: electric meat grinders and the manual ones. Best of all, the best meat grinders for bones is the highest powerful machines in the market today.
Maybe you just bought or been gifted a meat grinder for your loving kitchen but you don't have any idea how to use this wonderful gadget and also the optimal ways? Well, you are not alone. There are some common issues, you may be already facing, experienced by many meat grinder users.
And if you want to get the most out of your kitchen utensils, then the question of how to use a meat grinder is one which must be answered and the meat grinder tips that will help you to use it like a pro. So, without further ado, let's jump into the most common issues and explore some potential solutions to get you on your way.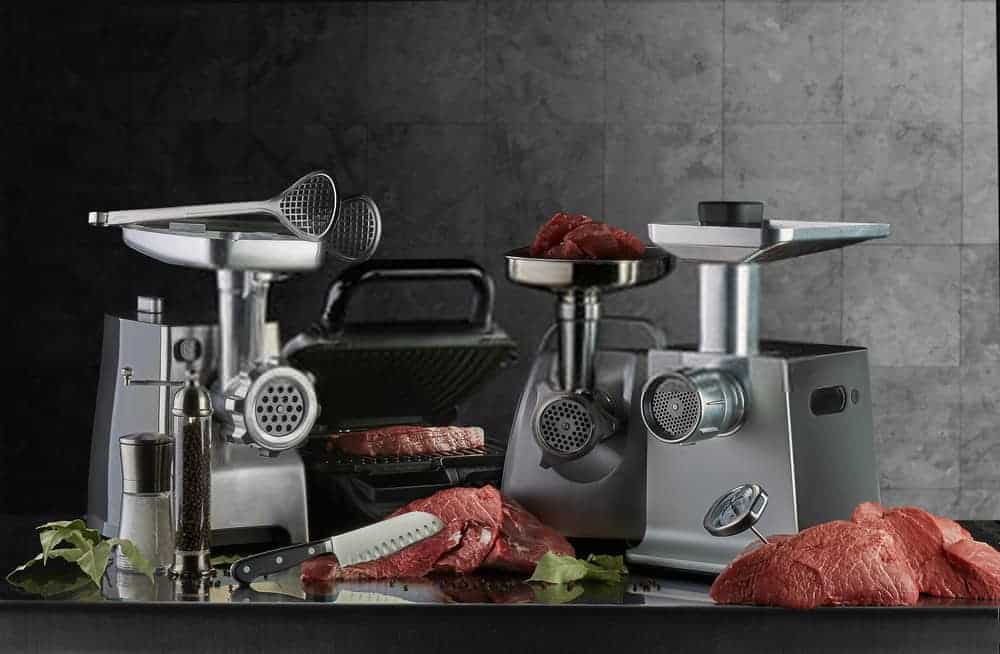 5 Meat Grinder Tips To Help You In The Kitchen
1. Use Enough Cold Meat And Equipment
Before you start grinding your meat, first of all, you need to ensure that the meat is cold enough. Basically, if you don't use cold meat, then it could get stuck in the head and clogs up your meat grinder. Moreover, if you are using fatty meat, then you may find this step crucial and this is going to make your meat more hygienic as well.
As I already mentioned above, make sure you put the meat in the refrigerator first, then put the cold meat through the machine. Half an hour is okay to keep the meat in the fridge and grind the meat which ensures you get a better result. For better performance, the equipment also needs to be cold enough.
2. Right Cut Of Meat
It's very important to choose the right cut of the meat when it comes to grinding meat. The right cut is necessary depending on the dish you are planning to cook, right? So, plan before you go ahead and decide which cut is suitable for your particular recipe.
And there are some of the best cuts for your delicious burger that you can easily make at home like the chuck steak (best for hamburgers), boneless short rib (when you need high-fat and extra tasty burger), and round (a wonderful looking, affordable, lean cut).
3. Prepare The Meat Before Putting Into The Grinder
To avoid any kind of issues and make sure everything goes perfectly, ensure you cut the meat into thin strips before putting into the grinder. For example, 3 to 5 cm length is a great shape to start grinding the meats.
Prepare the meat ahead of time and chop the meat finely before you put it in the refrigerator along with the parts of the grinder.
Since dry meat will slow the process down and malfunction can happen to the grinder – you can use fat or olive oil to the meat before you put them for the grinding procedure.
4. Repeat The Grinding Process Multiple Times
You should put the meats several times through the machine to get perfectly ground meat. And this is one of the most common problems that people feed the meat through the machine just once and as a result, they don't get finely ground meat that makes the cooking process slower as well.
Thus, grind the meat two times at minimum – especially, if you intend to make hamburgers with the ground meat.
5. Play Around With Meat And Seasoning
It's always better to season your meat before putting them into the meat grinder. Now you might be thinking that it's better to season the meat after grinding it so that the seasoning can combine well but it's not like that. You have to rub the seasoning into the meat and mix well to get the best flavor before you put it through the meat grinder.
However, if you are planning to go for a meat grinder which will stay for many years and cost you fewer money, then you should go for the best manual meat grinders for sure.
Well, I hope you get the ideas of how to use a meat grinder and the meat grinder tips as well so that you can use it like a chef. If you have anything to ask – feel free to comment below and it would be an honor for me to help wonderful people like you!