In the present day, an outdoor kitchen represents the height of luxury and entertaining life for many people. Whenever you are dreaming of an outdoor pizza oven you can add more living space with an outdoor kitchen. Here you'll find easy steps on how to design an outdoor kitchen?
There are several necessary things to consider keeping in mind when you decide to make a new kitchen. You need to consider many factors such as right space, where it is located, and different outdoor kitchen appliances to be needed in the kitchen like stovetop grill pan, bread machine, convection oven, griddle pan, and other things and how to hold them to design a long-lasting and functional kitchen.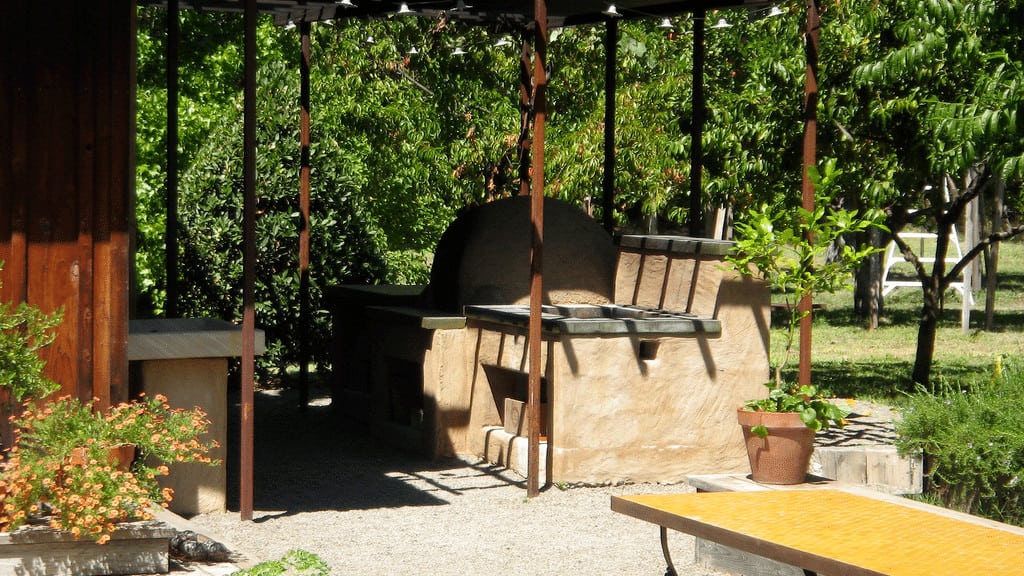 Tip To Design an Outdoor Kitchen
You can follow some easy steps to create an awesome and outstanding outdoor kitchen in your home of your own which are mentioned here:
Extend your living space
One of the main benefits of an outdoor kitchen is that it will extend space in your living area. By planning a shade and shelter for your space you can utilize it in the most effective manner. In the summer, cooking the meal in a shaded kitchen can give you more pleasure and relief. You can plant some trees for shade and shelter and it will also give an attractive and beautiful design to your kitchen area. You can also consider a patio umbrella for sitting arrangements.
If you are planning an outdoor kitchen in a cooler temperature then you can build your own fire put to get best entertain in the cool weather. But if this option will not suitable for you then you can asl o go for an outdoor heater and use it when needed. This will make your day best and you will love to enjoy with your friends and family in an efficient manner. Another option that you can choose is an outdoor gas heater. For those, who have a low budget can easily use it to get the most use of their investment. By adding some comfort creature, you can get a cozy and comfortable kitchen in your outdoor area in any season.
Consider the surrounding
You can easily extend your indoor living space by having an outdoor kitchen. It will need to fit well in the yard and area in the surrounding. While going to design the outdoor kitchen, you need to think about your home's exterior to get a perfect and stunning look and choose the color and textures that extend the style of your home.
Plan your layout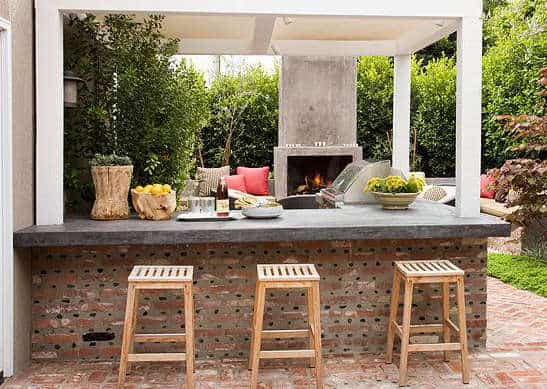 A layout is one of the most important things to consider while going planning for an outdoor kitchen. You know that the layout of the indoor kitchen is usually defined by the walls, doors, and windows of the kitchen but in an outdoor kitchen, space defines it well on its own.
Due to this reason, people mostly choose L-shaped outdoor kitchen designs but along with this, there are many more things to be considered while setting up a kitchen in the outside area. You need to figure out the best location for cold and hot zones such as it is better to avoid placing a gas grill next to a refrigerator unit because they need to work hard during summer. You need to manage the proper space for food prep.
Consider the right appliance that you want
It is necessary to choose the right type of appliances that you would want to build in your outdoor kitchen. It is very complicated and you need to take a wise decision because there is a wide range of appliances that you can go with. You have to consider the best which can give you more useful in your work and perfect for your work. Here are some appliances that you can choose for your outdoor kitchen area:
Many people opt for a grill to cook a meal in their outside kitchen area. You can see different types of grills in the marker suitable for the outdoor kitchen area but you need to do some research to buy one best type of grill for you.
If you need lots of ice then it is a wise decision to invest some money in an ice maker for your outdoor kitchen. There are a couple of options available in the market for design purposes in which you can choose one best and suitable for you. It is better if you consider a portable ice maker that continually makes ice and you can store it away when not required. As you can also enjoy super deliciously healthy cannabis juicing and enjoy your evening, right?
A built-in refrigerator is a good option to choose for an outdoor kitchen area. It makes convenient and comfortable to have water bottles, juice, and sodas located near for your guest and easier to get it for everyone. It also prevents you from constantly going in and out of the home.
During the design process, you need to make sure that you are looking for outdoor kitchen appliances because they are different from the indoor kitchen and designed for particular outside areas.
Choose the right material
An outdoor kitchen required to be hardworking to bear different weather conditions such as heavy rain, extremely hot and high winds etc. While looking best design for your outdoor kitchen, you need to select the material that is taught enough and being low maintenance for easy care. Stainless steel can be one of the great options for the outdoor kitchen countertops because it is highly durable and tough. They are easy to clean as well as give a sleek look to your kitchen.
Tiles are also a great alternative to choose for outside kitchen countertops. The colors and texture of tiles come in wide varieties which give a different look and style to your outdoor kitchen.
Add some lighting
Lighting serves a dual purpose as it gives a nice and elegant look to outside area of your home and also gives shine on cooking and food prep surface. Lighting will give maximum effect in your outdoor kitchen and an addition of some candles and LED lights can also create a stunning and outstanding look which is perfect for a party. Once your outdoor kitchen is built perfectly, then you can host the party with your friends and family in the most effective manner.
Now, you know almost all about how to design an outdoor kitchen and the step by step work process to make the best design to enjoy your moments.
Last update on 2022-06-09 / Affiliate links / Images from Amazon Product Advertising API