Before you purchase a meat grinder for your kitchen, you must know some important facts about the grinder like what should you look for in the machine, or what qualities should the machine have, right?
Moreover, meat grinders are most common piece of equipment you might find in a kitchen as well as they are incredibly useful for a huge variety of general food preparation tasks.
Well, don't need to worry about it, we have discussed in detail how to choose the best meat grinder below. Let's dive into the complete review, shall we?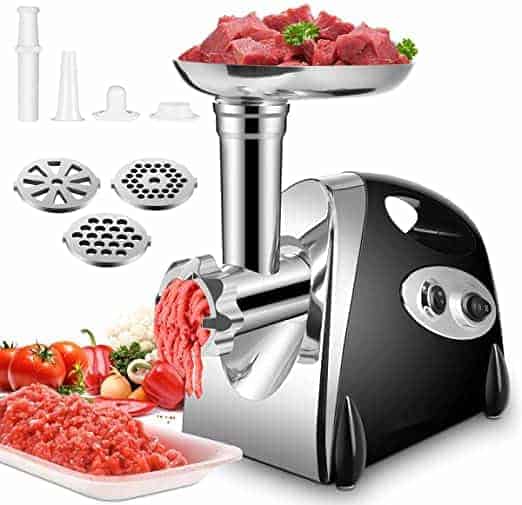 First of all, ask the following questions to yourself
What type of meat you need to grind?
What is the amount of meat you need to grind per hour?
Why do you need the meat grinder – for home use or commercial?
After you answer these questions, you will have a clear idea of the meat grinder you want, right?
There are two types of meat grinders – the electric & manual one. If you are going to choose the electric one, then you have to consider these things:
1. The Motors
The motor of a meat grinder determines the amount of meat you can grind per hour.
There are two different ratings like some motors come with a rating of 350 watts and the others come with up to 750 watts.
Well, it means that some meat grinders will allow you to grind 200 lbs per hour while the high-end meat grinders will allow up to 720 lbs per hour.
Hence, you should go for a meat grinder that has a powerful motor so that you can grind more meat and save your time as well.
2. Accessories
Well, there are some particular units included in a meat grinder such cutting blades, grinding plates, kubbe and sausage attachment and many more things.
You should grab the meat grinder that has all the attachments you wanted in your grinder. For example, you love homemade sausages, then you must appreciate when a grinder comes with set sausage attachments.
Grind Your Own Meat:
3 Pro Tips from a Butcher
3. Construction
Well, the construction of a meat grinder is very important thing to consider before you go to grab one, right? Different meat grinders have different type construction. Some grinders are made of steel casing and metallic. And if you are looking for a durable meat grinder then you must go for metal or steel housing.
On the other hand, these types of meat grinders are easy to clean. Though the most common construction material is stainless steel, you should check the construction by your own for the betterment.
4. Warranty
When you are planning to have a meat grinder, you must look for its warranty. There are several grinders come with limited time warranties like 1, 2, 3 or even 5 years.
If your meat grinder has a limited time warranty, then you will get free repair or if you have any problems then you will also get free replacement somehow if your grinder accidentally breaks.
5. Budget
Well, it's important to have a certain amount to buy the high-end model of a meat grinder. You should check the price and compare with the features you want in your meat grinder, right?
But, don't need to worry about it as there are variety of grinder models on the market that come at different prices. So, you won't have much problems while buying your meat grinder that you desired.
I recommend to focusing on the features rather than the price, right? Well featured meat grinder will cost a reasonable price, won't it?
Well, there are manual meat grinders that you can go for. You will need to use your hand to grind the meat instead of the electric feature. If there is much more electricity problem in your living area then it would be better to go for a manual meat grinder.