Blendtec Designer 650 is a high-end blender. It introduces 6 pre-programmed cycles. That makes it possible to process everything within a minute. Guess what? This exclusive blender allows you to make smoothies, hot soups, salsas & more.
Despite its smart functionality, it comes with an attractive design & high-quality material. It is a durable blender that provides sufficient blending capacity. Also, it delivers the perfect quality blending of any food, even the hardest one.
This programmable, high speed & high performing blender introduces many more convenient features. That can meet your kitchen needs. In this Blendtec Designer 650 Review, we will discuss all the details, features, pros & cons. It is a complete guide to buying a lucrative blender.  It will help you to find a value-worthy blender.
Buying a quality, well-performing blender within your budget isn't so easy – but this Blendtec Designer 650 Review covered all your needs.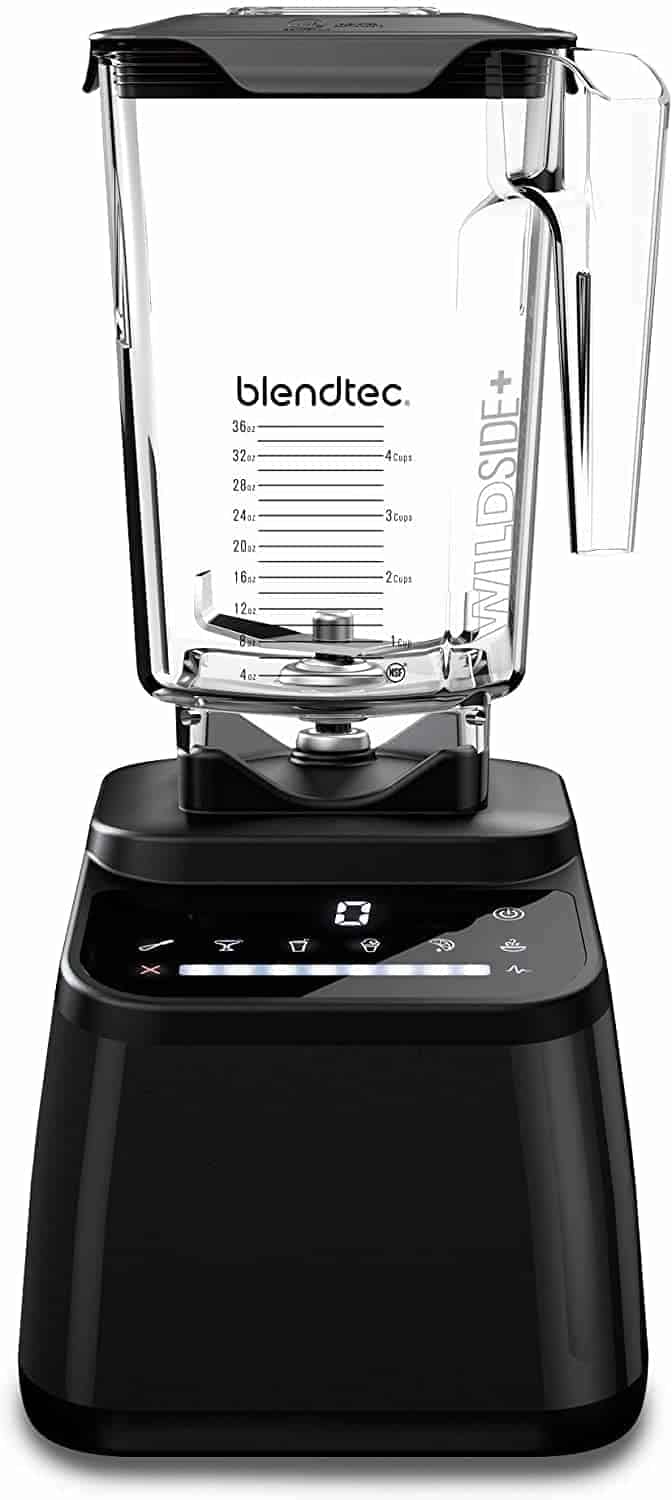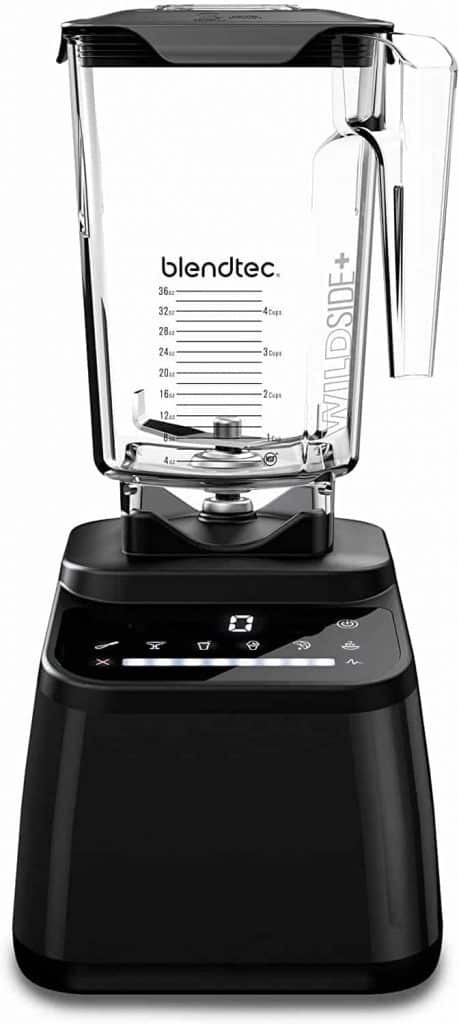 Click Here To See The Latest Price on Amazon
Blendtec designer 650 is a well-built programmable blender. It not only focuses on versatile functionality but also ensures long durability. This high-speed blender can give a stable blending experience even at high speed. If you want healthy food effortlessly, then Blendtec designer 650 is for you.
Well, this versatile blender can handle frozen or fresh fruits, even the hardest ones, without preparation. If you want a quick & fast blending, then read this full Blendtec Designer 650 reviews. It brings some useful & smart features to ensure healthy dishes.
Easy to Use
This well-built Blendtec 650 brings a smooth touch easy operation system. The touch screen is heat resistant. Also, you can start the blender with a single touch. Ultimately, the easy touch control makes the using process more convenient. Also, the touch screen is easy to clean with a wet cloth. Moreover, It helps to reduce irritated motor noise & ensure a happy blending.
Powerful
It comes with a 1560-watt 3HP motor. That allows for blending everything you put, including the toughest ingredients. It is guaranteed to get a smooth blending. Also, It is more powerful & can blend quickly than any other blender. Besides, It will save your time & handle multiple tasks in a short duration.
Smart Function
Well, Blendtec introduces a programmable preset to introduce smart & safe blending. It comes with 6 built-in buttons such as smoothies, ice cream, milkshake, juices, hot soups, salsa. It makes your blending accurate & free from chunky or error. This button comes with advanced technology to say goodbye to guesswork.
You can make a perfect morning meal with a blink of an eye with these features. It just takes a button touch to finish your smoothies or whatever you need. It automatically turns off when your food is ready. You will be surprised to see the quality of blending & the fastest power of this blender. To make your morning hassle-free, it is a good choice.
Variable speed
This powerful blender comes with a smart led display. You can monitor time on the display so that you can easily control it. It provides 8 different speeds for depth controlling of speed to achieve the accurate texture. Also, it provides a pulse button for manual controlling of the power. All this helps to derive healthy food without any risk of over-processing.
Easy to clean
This sleek, attractive blender also provides a self-cleaning opportunity. Guess what? You can clean the jar in less than one 1minute. It is a safe dishwasher blender. However, you can mix soap & warm water to start the self-cleaning process. You can end your morning work within a short gap if you pick this blender.
Warming
Well, Blendtec 650 not only goods for the blend, grind, chop, or puree; it introduces great warming features. It can deliver warm meals or beverages through a blade friction heat within 6 minutes. Also, you can start your day with hot soups within a few minutes. The best thing is the accuracy of the presets. You don't need to bother about blending time or speed.
Measurement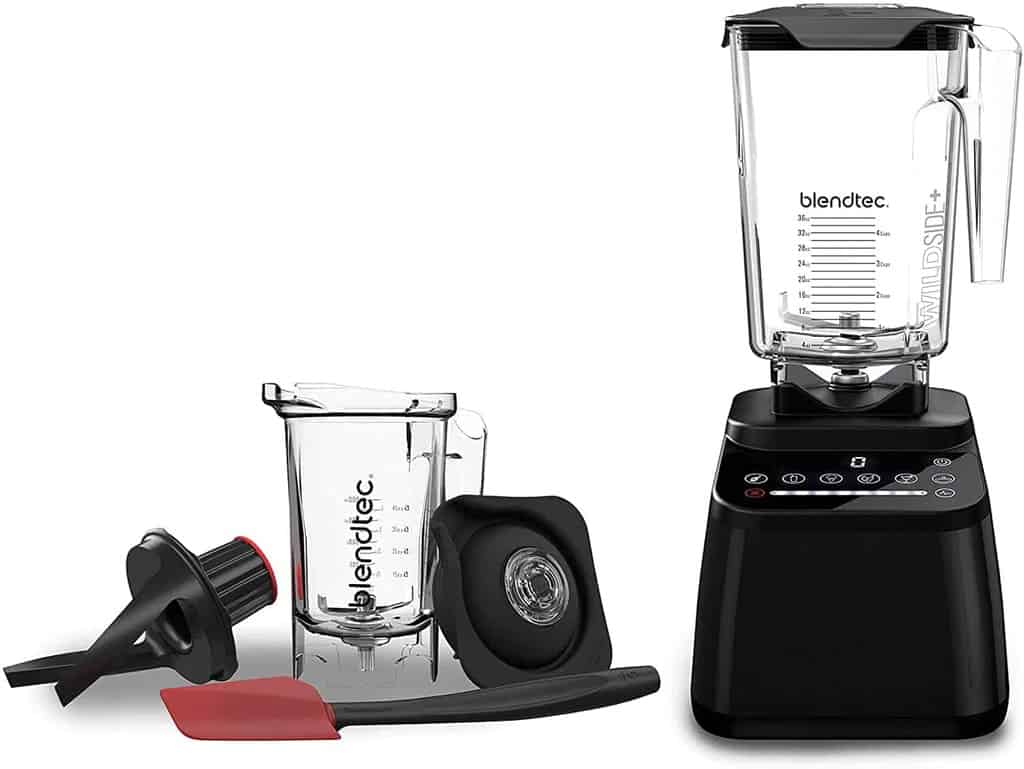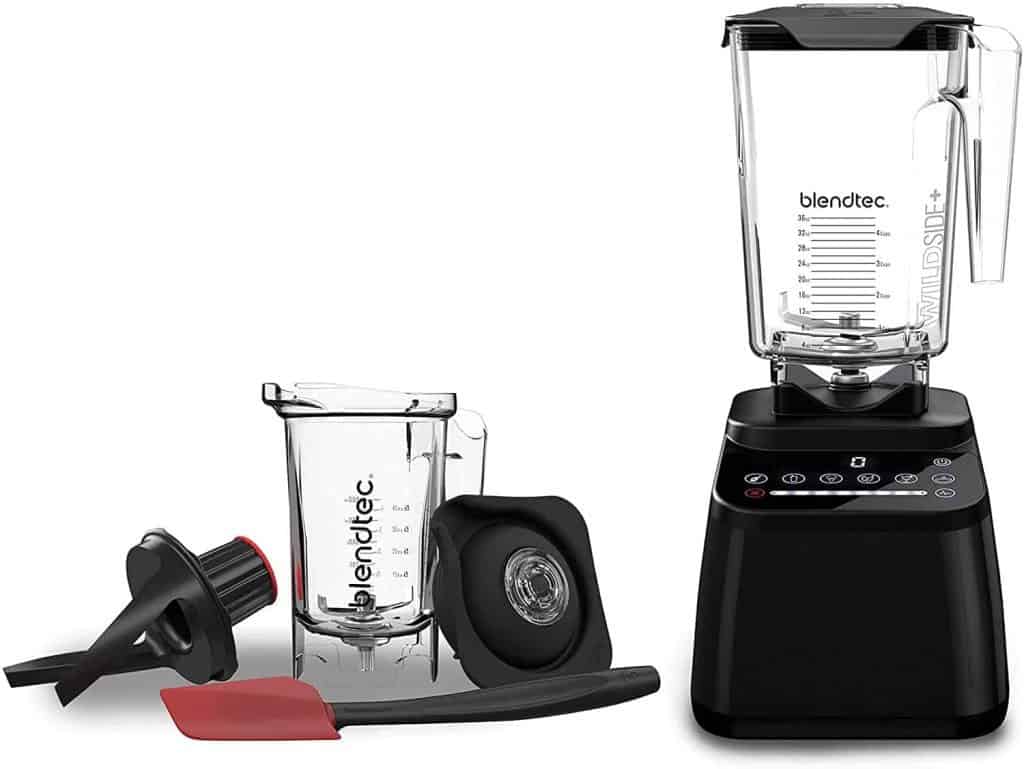 Blendtec Design 650 comes with two jars. It has dimensions of 14.25× 11.75× 9.75 inches. It provides a 90 oz large Wildside jar to meet large family needs. Also, this Wildside jar can reduce wastage. It can provide a 36oz blending capacity.
However, it also provides an additional 36-ounce jar to process small batches. It provides a 16oz blending capacity. Both the jar is made of high-quality plastic that is BPA-free. This small twister jar is suitable for making bread, cookie crumbs, nut butter, or baby foods.
Click Here To See Today's Price on Amazon
Specifications:
This blender comes with a powerful motor that ensures the fastest blending of any food.
You will get six programmable presets such as smoothies, hot soups, ice creams, etc., to derive efficient & easy meals.
It has a dimension of 14.25× 11.75× 9.75 inches.
You will also get two BPA-free different sized containers to process different quantities & types of food.
It provides eight variable speed control & pulse features to ensure the healthy & accurate texture of food.
Also, it comes with high-quality thick blades to ensure faster & efficient blending power.
It provides an easy self-cleaning feature to ensure easy cleaning.
This blender provides a smooth touch control panel to ensure easy operation & reduce noise.
It also comes with a smart display & easy functionality.
Also, it comes with an exclusive design & high-quality material to enhance kitchen beauty.
You get an automatic turn-off facility for safe blending.
Pros:
Versatile functionality.
Easy operation.
Digital display.
6 programmable preset.
Food warming features.
Two different sizes of container.
East cleaning.
Attractive design.
Efficient blending.
Powerful motor & blade.
8 years warranty.
Cons:
Let's watch a video review!
Also read: Blendtec Classic 570 Reviews & Blendtec Classic 575 Reviews
Frequently Asked Questions (FAQ)
Is Blendtec designer 650 really blend without a chunk?
Ans: Blendtec 650 is one of the powerful & stable blenders. It is guaranteed to get a perfect blending. It provides a 1560-watt motor & high-quality blades with advanced technology to ensure perfect blending. There is no risk of over blending or chunky smoothies, even for any toughest ingredients.
Does Blendtec designer 650 provide a tamper?
Ans: Unfortunately, it does not provide any extra tamper. But it provides two different designs & sizes that ensures great blending. The high-quality blade is powerful. That does not require the use of a tamper to ensure even blending. You just put the ingredient according to the instructions. I hope you will be impressed with the result. Also, it provides a spatula to bring out your puree or butter.
Does Blendtec designer 650 work as a food processor?
Ans: Well, the pulse features work great for small quantity food. You can occasionally use it as a food processor. But unfortunately, it is unable to handle large batch food. I will suggest buying an extra food processor.
Is Blendtec designer 650 provides a glass jar?
Ans: No, it provides two high-quality Tritan plastic jars. Both are BPA free & highly durable. It can handle different quantity foods & ensure an excellent result.
However, you can try up to 500 recipes with this wonderful Blendtec designer 650 model. [Click here]
Click Here To See What Customers are Saying on Amazon
Final Word
Blendtec designer 650 is a well-built durable blender. That comes with some great features with excellent performance. But this durable time saver blender is ideal for regular use. It is not for occasional use as it is an expensive blender. It can make sauces, crushed ice, smoothies & many more automatically. Perfection is the key that makes Blendtec designer 650 is different from other models. Try it if you want no chunky smoothies or crunchy frappes anymore.
Well, I hope after reading this Blendtec Designer 650 review now you can feel the uniqueness of this blender. It is also comparatively quieter than any other blender. Similarly, it ensures ultra-smooth faster blending power.
Last update on 2022-06-09 / Affiliate links / Images from Amazon Product Advertising API